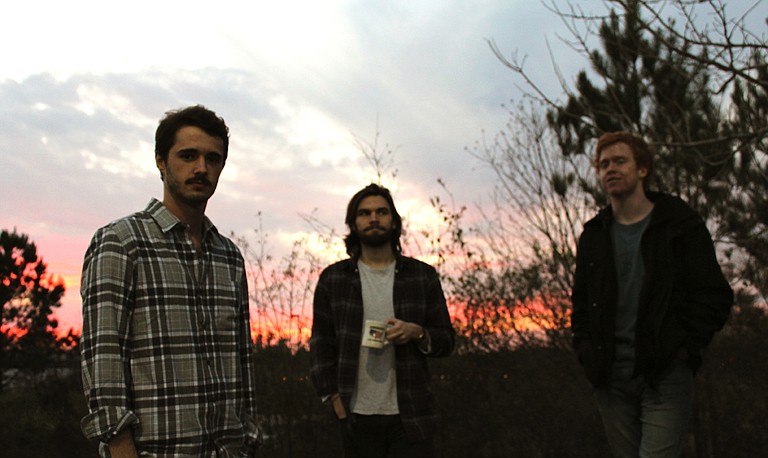 From its fruit-emoji cover to its tongue-in-cheek song titles, including "George Bush Controls the Weather," it is obvious that the latest album from Oxford, Miss., prog-rock trio Carlos Danger, "Now That's What I Call Carlos Danger, Volume Two!", which the band released May 13, isn't exactly serious. That's very much the point, guitarist and vocalist Alex Thiel says.
"It's obviously music that we're really proud of, but it's music that we can't take too seriously," he says. "It's really self-indulgent and just really loud and in your face, and we kind of wanted the artwork to be like that and the song titles to catch your attention. It's super gimmicky—I'll fully admit that—but it's fun."
Making the EP still required serious work, of course. While listeners only got their hands on the trio's previous studio project, "The Return of Carlos Danger," in January, Thiel, bassist Reid Haynie and drummer Lee Ingram were already writing songs for the new EP that they felt were more indicative of where they are as a band.
"I feel like with our last album, we were on the verge of finding our sound," Haynie says. "Half the album is reflective of that, and the other half of the album reflected our evolution to that point. With this album, I feel like we knew who we were. We knew what we wanted to sound like and the kind of music we played well together."
To fully realize that, the musicians, all Jackson natives, decided to move fast instead of waiting to record a full-length, and they also decided to record the six-track EP themselves. The trio worked with producer Andrew Ratcliffe of Tweed Recording Studio in Oxford on "Return," but Thiel took the reigns on "Now That's What I Call Carlos Danger" to allow more time for experimentation in the studio.
"We kind of hinted at what direction we were pointing (on 'Return')," Haynie says. "I mean, we came out of the studio and wrote 'George Bush Controls the Weather' that week. We had really gotten into a groove by the time we went into the studio and recorded our old material, and since then, we've almost shed that album from our set list and have really been going into this maybe a little heavier, maybe a little groovier, longer song."
It's a direction in which the musicians say Carlos Danger was headed since forming in 2013. When Thiel and Haynie, who were roommates, began writing music, they reached out to Ingram, whom Haynie had jammed with since 10th grade, to see if he'd join on drums. Despite different influences, the band worked. Thiel says Ingram's style transformed Carlos Danger into the heavy, groovy and gratuitous rock entity it is today.
"The transition was basically that Lee came onboard, and Lee played drums so loudly that we were like, 'We have to play as loud as possible,'" Thiel says. "It's kind of taken off from there. We joke with Lee that the reason we're so loud and heavy is that he's the drummer."
"The space around Lee's drum kit is just a graveyard of past drumsticks," Haynie says. "He really pushed us in that direction. We had to double down on our speaker gear. I've blown out two bass cabs at this point, just trying to keep up."
"Now That's What I Call Carlos Danger Volume Two!" is the culmination of their development as a unit, but it's also somewhat of a roadmap to where they're going next, now that they've figured out exactly who Carlos Danger is, Thiel says.
"I think at every point as a band when we've decided to just sort of indulge ourselves and sort of ignore what people think, it's generally worked out for us," he says.
"Now That's What I Call Carlos Danger Volume Two!" is available for download at carlosdangerms.bandcamp.com.