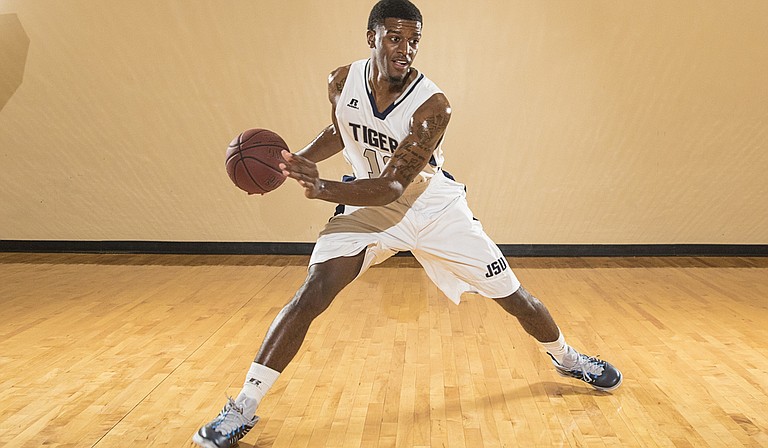 Thursday, January 28, 2016
As February descends upon us, March Madness awaits. Conference play in college basketball is in full swing, and the push for the postseason begins now.
In the SWAC, the only way to reach the NCAA Tournament is to win the conference tournament. Jackson State University is currently 10-10 overall and 5-2 in SWAC play for No. 4 in the conference, two games behind Texas Southern University for the top spot.
Paris Collins leads the Tigers on the court at 14.8 points per game but is getting a major contribution from Raeford Worsham. Worsham has been on a tear since late December, when he scored in double figures for seven straight games. He broke his streak in a game against Grambling State University Saturday, Jan. 23, scoring just nine points.
Before Jackson State, Worsham was a standout at Wayne County High School in Waynesboro, Miss., where he led the team to a 5A State Championship with a 31-1 record as a junior. Nicknamed "Gator," Worsham led Wayne County to a 32-2 record during his senior year from 2011 to 2012. As the team captain and Most Valuable Player, he averaged 19 points, 10 rebounds and four assists per game. He also received the team's Best Rebounder Award.
As a high-school senior, Worsham was also named All-State and All-Conference, and he took part in the Mississippi Association of Coaches All-Star game.
The 6-foot, 4-inch, 192-pound guard originally decided to play college basketball at Arkansas State University. He played in 29 games during his freshman season from 2012 to 2013, where he averaged 6.4 points and 3.1 rebounds per game. He also finished third on the team in blocked shots with 13 for the season and sixth in steals with 22 for the season.
During his sophomore season from 2013 to 2014, Worsham played in just seven games before he suddenly "quit" the team, Red Wolves head coach John Brady said in a press release in December 2013.
"The coaches, his teammates, the administration and the university as a whole gave this young man a wonderful opportunity," Brady said. "We believe some NCAA rules may have been breached as it relates to tampering, and we will use all avenues to protect the investment we made."
Before Worsham left the team in mid-December, he was averaging 6.4 points and 2.2 rebounds per game.
He transferred to Jackson State and began playing for the Tigers during the 2014-2015 season. He played and started in 19 games as he led the team in scoring with 13.5 points per game and 7.9 rebounds per game. He also finished his first season at JSU with 41 assists and 27 steals.
This season, Worsham has played in 19 out of 20 Tigers games. He missed their bout against Blue Mountain College but wasn't needed in Jackson State's 75-37 win.
Worsham is currently second on the team in scoring with 12.9 points per game, rebounds with 7.6 per game, blocked shots with 17 for 0.9 per game, free throw attempts with 102, and made free throws with 56. He is third on the team in assists with 40 and 2.1 per game, second in steals with 31 for 1.8 per game, and third in minutes played with 30.6 per game.
He has also posted a double-double, which is when a player accumulates a double digit number total in two of five categories, in six games. He narrowly missed double-doubles in five games when he finished two or one rebounds short against the University of Southern Mississippi, Arkansas State University, Fisk University and Alabama State University. He also finished with nine points and eight rebounds against Grambling State for another near double-double.
Worsham's play this season earned him the Jan. 20 SWAC Player of the Week honors, which followed his 20 points and 13 rebounds in a 60-57 win over Prairie View A&M University and for 14 points and 10 rebounds in a 71-65 loss to Texas Southern.
Jackson State has a chance to make a run in the SWAC Tournament with the plays of Collins, Worsham and Chace Franklin, who is third in scoring with 12.7 points per game. All three will have to post major numbers to get the Tigers into the Big Dance come March.