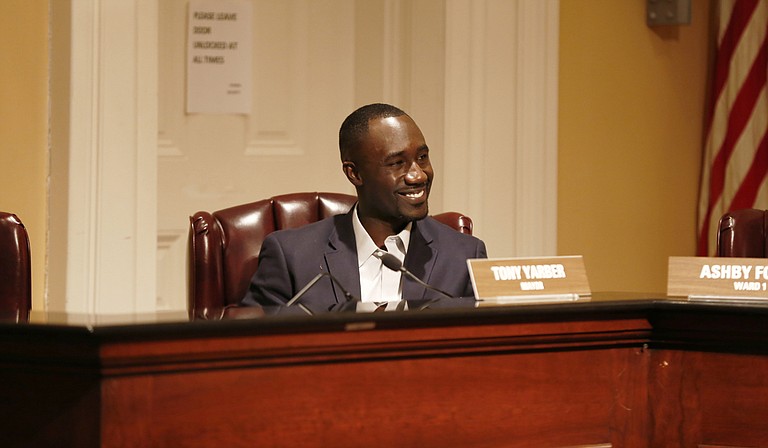 Wednesday, January 27, 2016
Year after year, the Jackson Free Press asks you—our amazing readership—to put your collective foot down and choose the greatest people, places, events and entertainment in our funk-filled hometown for the Best of Jackson awards. Of course, that isn't easy because Jackson has an incredible level of cool across the board. But the hard part is over! Now, all that's left to do is enjoy, and support, the fruits of your labor.
Within this issue, you'll find plenty of fresh faces and long-time favorites in categories such as Food & Drink, Music & Nightlife and Community. While these are by no means the only options worthy of our appreciation and acknowledgement, these fantastic finalists and winners are your choices for 2016's Best of Jackson. Thank you.
Best Barista: Molly Brantley
Cups Espresso Cafe Fondren, 2757 Old Canton Road, 601-362-7422, cupsespressocafe.com
For Molly Brantley of Cups Espresso Cafe in Fondren, earning the title of Jackson's "Best Barista" isn't just about making a great cup of coffee.
"I'm generally pretty cheerful when I'm in there, but I'm also a very real person," she says. "I have a tendency to wear my heart on my sleeve, and I think a lot of people appreciate that. They don't just get a phony smile. If they get a smile from me, they know it means something."
Brantley has worked at Cups for about three and a half years and says she's gotten pretty good at getting to know customers and their orders. As for perfecting her drink-making game, she says it's about asking one important question: "Would I want to drink this?"—Micah Smith
Finalists: Bryson Hatfield (Deep South Pops, 1800 N. State St., 601-398-2174, deepsouthpops.com) / Cody Cox (Cups Espresso Cafe Fondren, 2757 Old Canton Road, 601-362-7422, cupsespressocafe.com) / Caitlin McNally (Sneaky Beans, 2914 N. State St., 601-487-6349, sneakybeans.com) / Kevin Smith (Sneaky Beans, 2914 N. State St., 601-487-6349, sneakybeans.com)
Best Fitness Trainer: Paul Lacoste
Paul Lacoste Sports, 601-398-0950, paullacoste.com
It's a new year, and if you are like me, you've already taken on and given up several workout programs. This year, Jackson has chosen Paul Lacoste as the city's Best Fitness Trainer to help you reach those goals you keep neglecting. Lacoste's workouts are the inheritance of years spent in the NFL, CFL, XFL and at Mississippi State University pushing past the goal line. With 20 years of fitness experience, Lacoste has taken it upon himself to help coach Mississippi through its obesity epidemic. Because he believes that it takes healthy leadership to lead healthy people, he started boot camps for legislators (Fit 4 Change), clergy members (Fit 4 Preaching), and also Fit 4 Teaching, which trains educators during the summer.
"They come back because they know (I offer) the ultimate full-body workout," he says. "When people want results, they come to us."—Zachary Oren Smith
Finalists: Brandi Derrick (Baptist Healthplex at Mississippi College, 102 Clinton Parkway, Clinton, 601-925-7900, mbhs.org) / Brittany Horton (The Club at Township, 340 Township Ave., Ridgeland, 601-856-0668) / Cam Woodall (Baptist Healthplex-Jackson, 717 Manship St., 601-968-1766, mbhs.org) / Marvin Williams (Quest Fitness, 1693 Lakeover Road, 601-982-7360) / Misti Garner (Get Fit with Misti, 123 Old Fannin Road, Flowood, getfitwithmisti.com)
Best Bartender: Mark Leopold
Saltine Oyster Bar, 622 Duling Ave., Suite 201, 601-982-2899, saltinerestaurant.com
Mark Leopold, this year's winner for Best Bartender, has mastered the art of "drinking one's way to professionalism" in the classiest of ways. The Syracuse, N.Y., native also has a master's degree in fisheries from the State University of New York College of Environmental Science and Forestry, but for now, he enjoys tending bar at Saltine, working close to something he's passionate about: beer. Leopold learned how to bartend from his experience making himself drinks and learning on the fly. He has been working at Saltine's bar since it opened in 2014, and now he's comfortable behind the bar. Leopold said he's met some of his closest friends in Jacktown from working with or serving them at work. Leopold really enjoys changing out Saltine's 30 taps, rotating the beer inventory and stocking them with a lot of local beers. Someday, Leopold wants to open his own brewery.
"This experience has laid the groundwork for me to do that," he says.—Arielle Dreher
Finalists: Ashley Lewis (The Bulldog, 6111 Ridgewood Road, 601-978-3502, bulldog-jackson.draftfreak.com) / Jamie Moss (Fenian's Pub, 901 E. Fortification St., 601-948-0055, fenianspub.com) / Luke Greenlee (South Street Live, 110 E. South St.) / Natalie Long (The Pig & Pint, 3139 N. State St., 601-326-6070, pigandpint.com) / Perry Davis (Downtown Marriott, 200 E. Amite St., 601-969-5100, marriott.com)
Best Dressed: Amanda Powell
Amanda Powell, whom Jacksonians voted as Best Dressed for a second year, describes her style as "modern boho," mixing vintage and current aesthetics. She says her style depends on how she feels when she gets up in the morning.
Powell, 29, is the owner of Plush Salon, which she opened a year ago. She gains inspiration for her style from fashion blogs and other sites such as Pinterest, Styled Avenue, and model and blogger Cara Loren Van Brocklin. Powell says that it's important that she keeps up with trends not only in fashion but also in hair styles. That, she says, takes some committed research.
"It's an honor to have people nominate me because this is what I do," Powell says. "Every night, when I get home, I get on my iPad and look for fashion and hair inspiration, trying to get the latest and greatest." —Imani Khayyam
Finalists: Jimmy Wilson / Nikki Henry / Michele McGee / Tiffany Jefferson
Best Local Business Owner: Byron Knight
Sneaky Beans, 2914 N. State St., 601-487-6349, sneakybeans.com
It's hard to imagine the State Street storefront without this year's "Best Local Business Owner," Byron Knight of Sneaky Beans, but his coffeehouse almost didn't happen.
In 2006, Knight wasn't sure that he'd come back to Jackson, having just earned his bachelor's degree in music production at Middle Tennessee State University and received job offers from studios in Atlanta and Charleston, S.C. But then, while Knight, real-estate developer Mike Peters and his son Sam Peters were talking and brought up how cool Fondren was becoming, they agreed it needed something to do after 5 p.m. Knight suggested a coffee shop, and two years later, he opened Sneaky Beans.
While people can still anticipate the same chill atmosphere and hot coffee, Knight says he has big plans for Sneaky Beans in 2016, including a complete renovation of its counter and workspace and a fifth installment of the State Street Concert Series.—Micah Smith
Finalists: Cathy Joyner (Bliss Gift and Home, 4465 Interstate 55 N., 601-326-3337, blissgiftandhome.com) / Jeff Good (Mangia Bene, 3317 N. State St., 601-982-4443) / Phillip Rollins (Offbeat, 151 Wesley Ave., offbeatjxn.com) / Ron Chane (Swell-o-Phonic, 2906 N. State St., Suite 103, 601-366-9955; Studio Chane Screenprinting, 3206 N. State St., 601-362-3547; The Wonder Lab, 2906 N. State St. Suite B8, 601-720-2426, chane.com, thewonderlab.city) / Stephanie Barnes (Lacru Salon, 5352 Lakeland Drive, Suite 2000, Flowood, 601-992-7980)
Best Massage Therapist: Martha Hooey
Baptist Healthplex-Jackson, 717 Manship St., 601-968-1766; Baptist Healthplex at Mississippi College, 102 Clinton Parkway, Clinton, 601-925-7900; mbhs.org
If one of your resolutions for 2016 is to be more relaxed, this year's winner for Best Massage Therapist, Martha Hooey, can help. A graduate of the Mississippi School of Therapeutic Massage, Hooey has been a licensed massage therapist since 2006 and has worked at the Baptist Healthplex locations in Jackson and Clinton since 2008, while also serving as the events and development specialist for Baptist Health Systems. When not at work, Hooey continues to further her training. She completed a one-month internship with the Beijing Massage Hospital in China in 2011, the same year she earned a master's degree in business management from Belhaven University, and in 2013, she was one of 12 therapists in the country selected for a massage-therapy internship at the Mayo Clinic in Minnesota.—LaShanda Phillips
Finalists: April Mattern (Skin by MD, 4500 Interstate 55 N., Suite 245, 601-212-0955) / Matthew Haynes (Blue Skyz Still Waters, 4460 Highway 80 W., 601-383-4747) / Rhonda Burton (Living Essentials Wellness)
Best Chef: Derek Emerson
Walker's Drive-In, 3016 N. State St., 601-982-2633, walkersdrivein.com
Multi-year Best Chef winner Derek Emerson has been adding to the local culinary scene ever since getting his start at BRAVO! Italian Restaurant & Bar fresh out of culinary school. Now, Emerson is the owner of three successful restaurants in the Jackson metro area: Walker's Drive-in and CAET Wine Bar in Jackson and Local 463 Urban Kitchen in Madison.
While Emerson grew up in Beverly Hills, Calif., he first connected to Mississippi by spending summers with his grandparents in Meridian. He has been a semi-finalist for the James Beard Award for the best chef in the South on multiple occasions, most recently in 2014. Emerson's successful restaurants have made him a household name in Jackson, as Walker's Drive-In quickly went from being a local favorite (voters named it Best Restaurant once again this year) to being covered in numerous culinary publications nationwide.—Imani Khayyam
Finalists: Alex Eaton (The Manship Wood Fired Kitchen, 1200 N. State St., Suite 100, 601-398-4562) / Frank Signa (Signa's Grille, 680 Highway 51, Suite E., Ridgeland, 601-853-0266) / Jesse Houston (Saltine Oyster Bar, 622 Duling Ave., Suite 201, 601-982-2899) / Nick Wallace (The Palette Cafe at the Mississippi Museum of Art, 380 S. Lamar St., 601-960-1515, msmuseumart.org) / Tom Ramsey (La Finestra, now closed; Staege, stagepopup.com)
Best Hair Stylist: Emily Blocker
Fondren Barber Shop, 2939 Old Canton Road, Jackson, 601-826-0707
For men who are looking for a hair stylist that can suit their needs, Emily Blocker at Fondren Barber Shop can help. With one quick look though her Instagram page, people can see how skillful she is at transforming her Jackson-based clientele. "My favorite thing about what I do is seeing how happy people are whenever I'm done," the Utica, Miss., native says.
Blocker graduated from Hinds Community College in 2012 with a barbering degree and started working in the William Wallace Salon after graduation. When Fondren Barber Shop opened in 2013, Blocker welcomed customers into her chair. Her services include men's haircuts, straight-razor neck shaves and beard trims.—LaShanda Phillips
Finalists: Nikki Henry (Ritz Salon, 574 Highway 51 N., Suite H, Ridgeland, 601-856-4330) / Olivia Herring Barrett (LIV the studio at Sola Salon Studios, 151 East Metro Parkway, Suite 203, Flowood, 601-303-0083, solasalonstudios.com) / Sonia Cummings (Hair By Sonia, 121 Southpointe Drive, Suite D, Byram, 601-372-2324, hairbysoniasalon.com) / Tiffany Jacobs (Studio J Salon, Sola Salon Studios, 151 East Metro Parkway, Flowood, 601-212-9130)
Best New Chef: Payton Warren
Seafood R'evolution, 1000 Highland Colony Parkway, Suite 9015, 601-853-3474, seafoodrevolution.com
With a calling to the kitchen that dates back to making food with his mother, Payton Warren, Jacksonians' choice as this year's Best New Chef, is a self-proclaimed "kitchen mercenary," seeking out the biggest challenges that he could possibly tackle in the culinary world.
In 2004, Warren got his big break as sous chef at Julep Restaurant. He went on to help open Biaggi's Italiano Ristorante in 2007 and led the kitchen at Broad Street Baking Company from 2009 to 2011, when he joined the staff at Table 100 as the chef de cuisine. In 2014, Warren met Rick Tramonto, who told him about his plans to open a Jackson location for Seafood R'evolution and invited him to join the team.Today, Warren can be found spending long hours in the upscale seafood eatery's kitchen, seeing to his own high standards for the restaurant.
"You see, there aren't a lot of chefs that specialize in what I do. I like to get things moving," he says.—Zachary Oren Smith
Finalists: Andrew Allen (Saltine Oyster Bar, 622 Duling Ave., Suite 201, 601-982-2899, saltinerestaurant.com) / Connor Mize (La Finestra, now closed) / Frank Signa (Signa's Grille, 680 Highway 51, Suite E., Ridgeland, 601-853-0266) / Hunter Evans (Lou's Full-Serv, 904B E. Fortification St., 601-487-6359, lousfullserv.com)
Best Local Democrat: Tony Yarber
In recent speech to the Mississippi House and Senate, Mayor Tony Yarber addressed the false perception that many state government officials hold that Jackson has somehow gotten off course, assuring them that the capital city is in the process of righting its ship.
Yarber said: "The city of Jackson is vibrant. The city of Jackson is prosperous. The city of Jackson is yours."
Now, it's up to Yarber, winner of 2016's Best Local Democrat category, to make sure that lawmakers don't take his statement literally. Yarber is at the helm during a time when pirates are poised to pillage some of Jackson's most valuable assets, including our municipal airport. In the meantime, he must also fight the scourge of potholes, busted water pipes and a statewide economic recovery that lags behind the rest of the nation. This award may be a vote of confidence that he is well-suited to take on these challenges.—R.L. Nave
Finalists: David Blount / Dorsey Carson / Jarvis Dortch / Melvin Priester Jr.
Best Photographer: Allison Muirhead
Allison Muirhead Photography, 601-856-9814, allimphoto.com
Self-taught photographer Allison Muirhead discovered a love for photography as a child, taking pictures with a pocket-sized Kodak Instamatic. Muirhead, who has a bachelor's degree in education from the University of Mississippi, was an athletic trainer and teacher for seven years and did photography on the side until 2001 when she officially went into business.
Family and relationship portraits, commercial headshots and Muirhead's "first love"—newborn and children photography—are all part of her 40-plus-hour-per-week occupation. Taking photos that look natural and spontaneous is her forte, one of the reasons that Jacksonians voted her as this year's Best Photographer.
"Making a connection with the photographer is important," Muirhead says. "I sit down and play with kids before I take out my camera so they won't be afraid of me when I take the pictures. That's why I get the expressions."—Genevieve Legacy
Finalists: Charlotte Stringer (Charlotte Stringer Photography, charlottestringerphotography.com) / Robby Followell (followell fotography, 601-488-4423, followellfotography.com) / Sharon Coker (Sharon Coker Photography, 425 Mitchell Ave., 601-398-1345, sharoncoker.com) / Tristan Duplichain (Tristan Duplichain Photography, tdphotodesigns.com)
Best Local Republican: Gov. Phil Bryant
Mississippi Gov. Phil Bryant is all about protection—not so much of the comprehensive-sex-ed variety, but of gun owners, law-abiding citizens, veterans, and unborn and neglected children. In fact, Bryant used the word "protection," in one tense or another, seven times in his Jan. 12 inaugural speech, promising to protect 2nd Amendment rights, the civil rights of fetuses, and children who are abandoned and hurting.
Later, Bryant said protecting Mississippians from terrorism is his first and most important responsibility. It was unclear from that speech how Bryant feels about protecting schoolkids from the effects of poorly funded schools or protecting the nation's unhealthiest citizens by expanding health-care access, but maybe he'll tell us this term.
We can only presume that Bryant affirmed his intent to protect these citizens in his State of the State address, which he delivered Jan. 26, after this issue went to press.—R.L. Nave
Finalists: Andy Taggart / Nic Lott / Tate Reeves / TJ Harvey
Best Public Figure: Barbie Bassett
Barbie Bassett, whom Jacksonians voted as this year's Best Public Figure, might be best known for her television presence and meteorological gravitas, but she also has many other talents: opera singer, ventriloquist, pianist, model and author.
Her on-screen talent for weather forecasting first brought her to the channel WTVC in Chattanooga, Tenn., and later to WAPT in Jackson as the morning meteorologist. These days, Bassett works as a meteorologist for WLBT. However, she also keeps a pretty full schedule outside her weather watching.
Bassett is currently writing her third book, teaches a Sunday school class at Colonial Heights Baptist Church and a course at Mississippi College, serves on eight different board of directors for numerous organizations in and out of the meteorology field, and homeschools her three children—Grace, Will Christian and Lilly Faith. As an accomplished Mississippian, she will continue to make her presence known in a variety of ways.—Mike McDonald
Finalists: Jeff Good / Melvin Priester Jr. / Phil Bryant / Ron Chane / Tony Yarber
Best Jackson Visual Artist: Wyatt Waters
Wyatt Waters Gallery, 307 Jefferson St., Clinton, 601-925-8115
"Driven to paint" has multiple meanings for watercolor artist Wyatt Waters, winner of this year's Best Jackson Visual Artist category.
An open-air painter who works on location throughout the state, Waters spends a fair amount of time driving around, painting scenes that inspire, no matter the weather.
"My subjects have everything to do with where I am at the moment," Waters said. "If it's freezing, I'm painting; if it's raining, I'm painting; if it's burning hot, I'm painting."
Of course, it doesn't hurt that Waters has a keen eye for interesting subject matter. On a recent trip to Quitman, Miss., scouting illustrations for his fourth cookbook with chef Robert St. John, a horse tied up at a rural gas station drew his attention.
"I love Mississippi," he said. "Sometimes you get a view of what we were—I wish you were here to see it."—Genevieve Legacy
Finalists: Ellen Langford (ellenlangford.com) / Ginger Williams-Cook (gingerwilliams.tumblr.com) / Jerrod Partridge (jerrodpartridge.com) / Tony Davenport (tonydavenportimages.com) / William Goodman (enhancedmixture.net)
Best Urban Warrior: Jeff Good
Most people in Jackson will recognize the name Jeff Good; he has scored Best of Jackson wins in many different categories, categories including Best Visionary and Best Local Business Owner, over the years. He's best known as the co-owner of Mangia Bene Catering, Sal & Mookie's New York Pizza & Ice Cream Joint, Broad Street Baking Company and BRAVO! Italian Restaurant & Bar
However, it's his commitment to effecting positive change in the community that caused Jacksonians to name him Best Urban Warrior for a third consecutive year. Good has served on numerous boards such as Vision 2022, Jackson State Development Foundation and the Millsaps Else School of Management, emceed charitable functions, such as Dress for Success, Southern Christian Services and March of Dimes, and vocally supported local political initiatives, including the 1 percent sales tax initiative and the Convention Center initiative. He and his wife, Debbie Good, have also restored and rented numerous homes in the Fondren area. They have twin daughters, Carly and Alex.
"Jackson is small enough to get things done and big enough to matter," Good says. "There is no 'they.' 'They' is 'we.'"—Shameka Hayes
Finalists: Brad Franklin / Nick Wallace / Phillip Rollins / Ron Chane
Best Server/Waitperson: Christy Chambers
Soulshine Pizza Factory, 5352 Highway 25, Suite 1100, Flowood, 601-919-2000
It's a good sign when waitress and daytime bartender Christy Chambers' co-workers at Soulshine Pizza in Flowood erupted with cheers at the news that she was a finalist for this year's Best Server/Waitperson in the 2016 Best of Jackson contest. Chambers has worked at the restaurant for two years, and for just as long, customers have praised her positivity.
"I just try to make everybody's day better," she says. "Even if people come in and have a bad attitude, I try to be positive and at least make their lunch break or whatever better, maybe brighten their day a little bit."
Chambers says that one of her favorite things about being a server is forming friendships with her fellow waitstaff, who she says are like a family. When not at work at Soulshine, she is spending time with her other family—her 6-month-old son, Nathaniel.—Micah Smith
Finalists: Janis Boersma (Local 463 Urban Kitchen, 121 Colony Crossing Way, Suite A, Madison, 601-707-7684, local463.com) / Joshua Rushing (Seafood R'evolution, 1000 Highland Colony Parkway, Suite 9015, 601-853-3474, seafoodrevolution.com) / Natalie Long (The Pig & Pint, 3139 N. State St., 601-326-6070, pigandpint.com) / Ryne Morrow (Fenian's Pub, 901 E. Fortification St., 601-948-0055, fenianspub.com)