Wednesday, January 27, 2016
Best Radio Personality or Team; Best Radio Station: Carson and Bender, Y101
As a Top-40 format station that bills itself as Jackson's No. 1 hit-music station, this year's winner for Best Radio Station is like a comfort-food buffet for the ears. The Y101 meal starts off with its popular morning show, "The Morning Showgram with Carson and Bender." Given that the show has only featured hosts Carson Case and Chris Bender since October 2015, it speaks volumes that Jacksonians selected the duo as 2016's Best Radio Personality or Team. However, this isn't the first time that they've teamed up.
"We started working together (at Y101.7) about eight years ago, and then Bender thought the grass was greener somewhere else," Case says with a laugh.
"It was actually burnt, discolored and not growing well," Bender adds.
While Case stayed on and manned daytime hours over the years, Bender left in 2009 to work at stations in Reno, Nev., and Austin, Texas. After the previous morning host, Tim Murphy, left, Bender returned to spin hits and match wits with Case and their New Zealand-native compatriot, Cami Marlowe, who joined the station in September.
"We just live our lives on the radio. That's what we do," Case says.— Micah Smith and R.L. Nave
Best Radio Personality or Team Finalists: Bo Bounds (ESPN's The Zone 105.9) / Nate West (US 96.3) / Rick and Kim (Miss 103, 102.9) / Scott & Traci (US 96.3)
Best Radio Station Finalists: WJLV (K-Love, 94.7 FM) / WJMI (99 Jamz) / WMPN (MPB/NPR 91.3) / WMSI (Miss 103) / WSTZ (Z106)
Best Nonprofit Organization: Stewpot Community Services
1100 W. Capitol St., 601-353-2759, stewpot.org
Representatives from seven multi-denominational churches in Jackson, including St. Andrew's Episcopal Church and Calvary Baptist Church, came together in 1981 to discuss the numerous requests from downtown's poor and homeless for food and assistance. The outcome was the creation of Stewpot, which Jacksonians chose as this year's Best Nonprofit Organization. The original location was on West Capitol Street in an old gas station, which still stands today. When Central Presbyterian Church on that street closed its doors in 1992, the Presbytery of Mississippi entered into an agreement to donate the property to Stewpot. In honor of the church, that property is now called the Central Urban Ministry Center.
Ever since its beginning, the organization has been providing assistance to Jackson's downtrodden, from a clothing closet to a food pantry to day shelter to assistance with finding work. With its many ministries, Stewpot helps around 650 people each year. With the many things it does in uplifting the community, its no wonder the organization has won Best of Jackson awards for many years.—Amber Helsel
Finalists: Cheshire Abbey ([email protected]) / Community Animal Rescue & Adoption (960 N. Flag Chapel Road, 601-922-7575, carams.org) / Junior League of Jackson (805 Riverside Drive, 601-948-2357) / Operation Shoestring (1711 Bailey Ave., 601-353-6336, operationshoestring.org) / The Good Samaritan Center (114 Millsaps Ave., 601-355-6276, goodsamaritancenter.org)
Best Local Live Theater/Theatrical Group: New Stage Theatre
1100 Carlisle St., 601-948-3533, newstagetheatre.com
In fall of last year, New Stage Theatre celebrated the beginning of its 50th season. This year, it won the Best Local Live Theatre/Theatrical Group category for Best of Jackson, as it has many times over the years. While Jackson has plenty of great theater organizations, New Stage is the only professional theater in Mississippi.
Jane Reid Petty chartered New Stage as a nonprofit organization in 1965. Its first season was in the winter and spring of 1966. The theater's first home was in an adapted church at the corner of Gallatin and Hooker streets. New Stage produced 13 seasons until it moved to its location in Belhaven. The 12,000-square-foot structure includes the Meyer Crystal Auditorium and the Jimmy Hewes Room. The theater's complex is called the Jane Reid Petty Theatre Center in honor of Petty.
The theater started its current season off with a production of Mississippi native Beth Henley's "Crimes of the Heart" and continued the season with productions such as "A Time to Kill," "A Christmas Carol" and "Who's Afraid of Virginia Woolf?," which runs Jan. 26-Feb. 7. If you like more risque theater pieces, New Stage's "Unframed Series" shows many plays that explore topics such as sexuality, suicide and relationships.—Amber Helsel
Finalists: Black Rose Theatre (103 Black St., Brandon, 601-825-1293) / Fondren Theatre Workshop (fondrentheatreworkshop.com) / MADDRAMA (Jackson State University, 1400 John R. Lynch St., jsums.edu) / The Center Players Community Theatre (madisoncenterplayers.org)
Best Arts Organization: Mississippi Museum of Art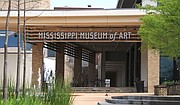 380 S. Lamar St., 601-960-1515, msmuseumart.org
Jacksonians have selected the Mississippi Museum of Art for a number of Best of Jackson categories over years, but the museum has been on a Best Arts Organization streak for at least five years running.
Since it began as the Mississippi Art Association, an offshoot of the 1911 state fair, a devoted community of artists and patrons has spurred the MMA to greater achievements, including a National Medal for Museum Service from the Institute of Museum and Library Services in 2010 and the opening of new additions, such as the Art Garden, a regular finalist for Best Community Garden/Nature Attraction since it opened in 2011.
Community remains at the heart of the museum's mission. With 29 affiliate organizations throughout the state, the MMA strives to increase engagement with the visual arts through traveling exhibitions, a growing permanent collection and special projects such as the C3 Community Art Series, which invites locals to participate in the creative process.—Genevieve Legacy
Finalists: Craftsmen's Guild of Mississippi (950 Rice Road, 601-856-7546, craftsmensguildofms.org) / Mississippi Symphony Orchestra (201 E. Pascagoula St., 601-960-1565, msorchestra.com) / Montage Theatre of Dance (Hinds Community College, hindscc.edu) / New Stage Theatre (1100 Carlisle St., 601-948-3533, newstagetheatre.com)
Best Public Forum or Speaker Series: Millsaps Arts and Lecture Series
Millsaps College's Arts & Lecture Series began in 1967 as a form of outreach to the college's community, after then-President Benjamin Graves envisioned the college as a sort of gift to the community. Now the oldest continuing program of its kind in the city, this year, the series began Season XLVIII, which began Tuesday, Sept. 15, 2015, program, "Katrina—Ten Years Later: Annual Ross Moore History Lecture" through its April 26 program, "An Overview of the Recording Industry in Jackson, Mississippi."
Over the past 48 years, lecturers and performers have included Eudora Welty, The Chinese Golden Dragon Acrobats and chef Cat Cora, among others.
The Millsaps Arts & Lectures Series is different from other series because of the $10 tickets and the variety of programs. Current director Nola Gibson has served in her role for the last decade. In that time, the only thing that has changed are the number of programs offered—growing from six to 10.—Adria Walker
Finalists: A Conversation about Community (Operation Shoestring, 1711 Bailey Ave., 601-353-6336) / Friday Forum (Koinonia Coffee House, 136 S. Adams St, 601-960-3008, koinoniacoffeehousejackson.com) / History is Lunch (Mississippi Department of Archives and History, mdah.state.ms.us) / TEDxJackson (November, tedxjackson.com)
Best Community Garden/Nature Attraction: Mississippi Museum of Natural Science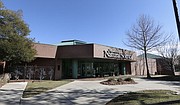 2148 Riverside Drive, 601-576-6000, museum.mdwfp.com
Mississippi Museum of Natural Science, Jacksonians' choice for the Best Community Garden/Nature Attraction, has a little bit of nature for everyone, including aquariums, dinosaur fossils and models, conservation exhibits, and its plant-life-filled walking trails. The museum, which was established in 1932, has been located on the Lefleur's Bluff State Park grounds since 2000. Before then, it was located downtown on Jefferson Street for about 30 years.
"To be in the middle of Jackson and being able to connect with nature in the middle of the city in a facility that's affordable and as well as being able to learn is really cool," Assistant Director Angel Rohnke says.
The museum also brings in exhibits from all over the country, and it rotates them every six months. The most recent, "Wolf to Woof," focused on the evolution of dogs. Rohnke says that the museum chooses exhibits based on its mission to provide attractions that families can have fun with and learn from. The newest traveling exhibit, "Tiny Titans: Dinosaur Eggs and Babies," opened Jan. 23.—Imani Khayyam
Finalists: The Art Garden at the Mississippi Museum of Art (380 S. Lamar St., 601-960-1515, msmuseumart.org) / Clinton Community Nature Center (617 Dunton Road, Clinton, 601-926-1104, clintonnaturecenter.org) / Mynelle Gardens (4736 Clinton Blvd., 601-960-1894) / The Jackson Zoo (2918 W. Capitol St., 601-352-2580)
Best Dance Group: Ballet Magnificat!
5406 Interstate 55 N., 601-977-1001, balletmagnificat.com
Religious ministry takes many forms. The company members of Ballet Magnificat! wish to bring Christian gospel teachings to a wide range of people through "dance, dance/drama and personal witness."
Their Alpha and Omega companies have recently toured works like "Snow Queen," "Stratagem," and "Face to Face" for the Jackson area.
 In February, Ballet Magnificat! is back on the road. The group will perform in Albuquerque, N.M., and then participate in a workshop Phoenix, Ariz. And those are the only first two stops for the intrepid dance group.
Through accountability between themselves and their religious community, the company members strive for excellence in the intersection of their art and spirituality.—Zachary Oren Smith
Finalists: Ballet Mississippi (201 E. Pascagoula St., Suite 106, 601-960-1560) / Dancing Dolls (The Dollhouse Dance Factory, 1410 Ellis Ave., 601-969-4000, dollhousedancefactory.com) / Front Porch Dance (frontporchdance.org) / Mississippi Metropolitan Ballet
 (110 Homestead Drive, Madison, 601-853-4508, msmetroballet.com) / Montage Theatre of Dance (Hinds Community College, hindscc.edu)
Best Stage Play: "A Christmas Carol"
New Stage Theatre, 1100 Carlisle St., 601-948-3533, newstagetheatre.com
If you're rich in money but poor in spirit, be careful—the ghosts of past, present and future may be paying you a visit.
Charles Dickens' famous novella, "A Christmas Carol in Prose, Being a Ghost Story of Christmas," known to most as "A Christmas Carol," was published in 1843. Since its first publication date, the story has gained a special place in Christmas canon and been developed in a variety of forms, including multiple movies, musicals and other media.
It's a tale that reveals the true spirit of Christmas and is loved by many, so it's no wonder that it New Stage Theatre's production of the story has won Best Stage Play three years in a row.
For many years, New Stage has performed its own biannual adaptation of Dickens' "A Christmas Carol," most recently in December 2015. The play tells the story of Ebenezer Scrooge, a wealthy tax collector who is notorious for "bah-humbugging" his way through the holidays.
Over the course of the story, the ghosts of past, present and future journey with him through painful losses in his life and reveal to him the joy of Christmas Day.—Amber Helsel
Finalists: "A Time to Kill" (New Stage Theatre, 1100 Carlisle St., 601-948-3533, newstagetheatre.com) / "Aladdin's Dance" (Montage Theatre of Dance at Hinds Community College, hindscc.edu) / "Crimes of the Heart" (New Stage Theatre, 1100 Carlisle St., 601-948-3533, newstagetheatre.com) / "The Rocky Horror Show" (Fondren Theatre Workshop, fondrentheatreworkshop.com)