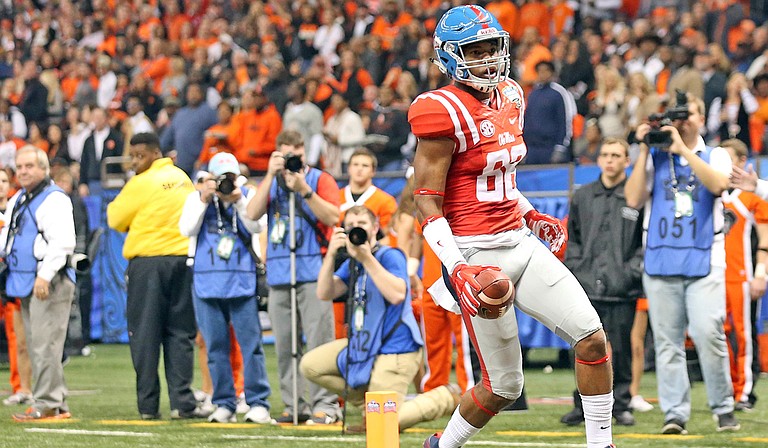 Thursday, January 21, 2016
Now that the college football season is officially over after the University of Alabama's win over Clemson University for the national championship, the offseason has begun. This is a very important time for players who have ended their college careers.
Those who either can or think they can play in the NFL can focus on preparing to show NFL scouts their skill set. They have a few opportunities to show what they can do to get to the next level.
The biggest spotlight, TV-wise, is on the NFL combine, but just as important is Pro Days, where scouts come to different campuses to scout players at nearly every university. However, players have an even earlier opportunity to showcase their skills.
That first chance to impress scouts is at one of the three college football all-star games held at the end of January. These games are great way to get a scout to notice a player or help his draft stock.
One of those games is the East-West Shrine Game, the first ever after-season college football all-star game, which started in 1925. The game helps support Shriners Hospitals for Children.
The game will also be a chance for former University of Mississippi wide receiver Cody Core to raise his draft stock. He will play on the East team, and former University of Notre Dame coach Charlie Weis will be the head coach.
Core was a standout wide receiver and defensive back in high school at Auburn, Ala. During his senior season in 2011, he caught 24 passes for 610 yards and eight touchdowns and rushed for 139 yards with two touchdowns on 11 carries.
As a senior, Core had 31 tackles and four interceptions in four games as a defensive back. He was named honorable mention All-State from the Alabama Sports Writers Association and was a participant in the Alabama-Mississippi All-Star Game.
During his time in the Rebels 2012 signing class, Core saw actions in all 13 games as a freshman on special teams and at receiver. He was recorded on catch for four yards and eight total tackles with five of those tackles being solo tackles.
The 6-feet, 3-inch, 205-pound receiver played in 12 games during his sophomore season in 2013. He played receiver, defensive back and on special teams.
Core had four receptions for 91 yards and eight tackles on defense with five being solo tackles. He also played on both offense and defense against Southeast Missouri State University.
As a junior in the 2014 season, Core had a breakout campaign at receiver. He had 41 catches for second best on the team for 558 yards, and fourth on the team with six touchdowns, which was 10th best in the SEC.
Core became one of the Rebels' valuable secondary receivers in his senior season of 2015. He finished third on the team in receiving yards with 644 yards on 37 receptions.
Joining Core on the East team of the East-West Shrine Game is fellow UM offensive tackle Fahn Cooper and Mississippi State University players, defensive end Ryan Brown and defensive back Taveze Calhoun.
The East-West Shrine Game isn't the only college football all-star game this weekend. Former University of Southern Mississippi star wide receiver Mike Thomas will be apart of the National Team and former UM players, guard Aaron Morris and defensive back Mike Hilton, will be on the American team in the 2016 NFLPA Collegiate Bowl.
The 2016 East-West Shrine Game airs Saturday, Jan. 23, from 3 p.m. to 6 p.m. on the NFL Network. Also this Saturday is the 2016 NFLPA Collegiate Bowl from 5 p.m. to 8 p.m. on ESPN2.