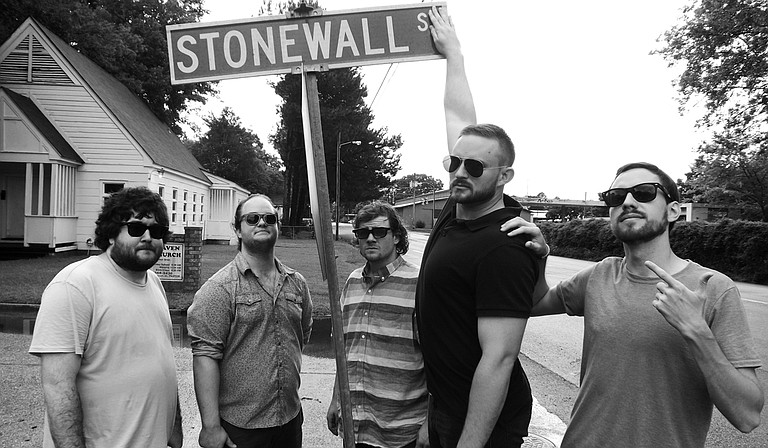 Wednesday, January 20, 2016
Since the musicians of rock-and-roll band Stonewalls first became friends while attending Florence High School, they have also worked together as band mates through various incarnations of the group.
Guitarist and bassist Zac Clarke, guitarist and keyboardist John David Harrison, and drummer Mitch Phillips first began the band as Johnny and the Appleseeds in 2007, not long after they graduated from high school. The group disbanded in 2010, but in 2013, the trio linked up again under the name Napoleon Avenue, adding Andrew Brewer on guitar. About a year later, the band changed its name to Stonewalls as a tribute to the father of the group's newest member, vocalist Matthew Simonton, who joined in summer 2014.
Since then, Stonewalls has broken into the local music circuit, playing at venues all over town and grabbing a nearly monthly gig at Fondren's First Thursday. Stonewalls is also in the process of having its upcoming five-song EP, "Change the Subject," which is slated for release in February, mastered with recording engineer Will Foley.
The group's sound, which Clarke says is unlike any other band in Jackson, ranges from guitar-laden blues-rock to classic rock, taking influence from rock groups such as Led Zeppelin and Queens of the Stone Age. At the same time, Phillips says the band doesn't tie itself to a single style.
"We're not set in going for one specific sound," he says. "People ask us what do we sound like, and I'm like, 'I don't know how to describe it.'"
"Do you like music? Then you like us," Brewer adds with a laugh.
The members of Stonewalls say they try not to take themselves too seriously and to treat each other as brothers, not just band mates. They've learned how to balance their music with lives outside the band, making time for work and families (Brewer is the married one in the crew).
Clarke says that 2015 was a building year for the band, with three and four shows a month. The musicians spend time between shows fine-tuning new sets and interpreting songs differently to switch up the sound.
"We'll start jamming on a song ... that we kind of know in the beginning where it's going to go, but we'll just jam on it, start playing different parts and improv," Brewer says.
Stonewalls performs original music, most of which Simonton wrote, with added help on melodies and other elements if the song doesn't feel just right yet.
"For me, it's been an awesome cathartic release," Simonton says. "Having somewhere to put these feelings out there and shared—that's my goal as far as music goes."
Though the musicians don't like to dwell on the difficulties of being an independent band, Clarke says one of the biggest challenges has been gaining a foothold in the local music scene. Thankfully, playing at local venues and events like FFT have helped broaden Stonewalls' audience, and in the future, they hope to branch out regionally.
"We're seeing a Renaissance of local bands playing original music," Brewer says. "People go to see this certain band because they know that all their friends like it, and they're going to go have that experience with them. ... I see it's hard to open up people's minds, to say, 'Hey, come hear something you've never heard before. Come listen to new music,'" he says. "We're not asking you to love it, you know, but just see if you like it."
Stonewalls perform at 10 p.m. on Saturday, Jan. 23, at Ole Tavern on George Street (416 George St., 601-960-2700). For more information, visit stonewallsmusic.com.