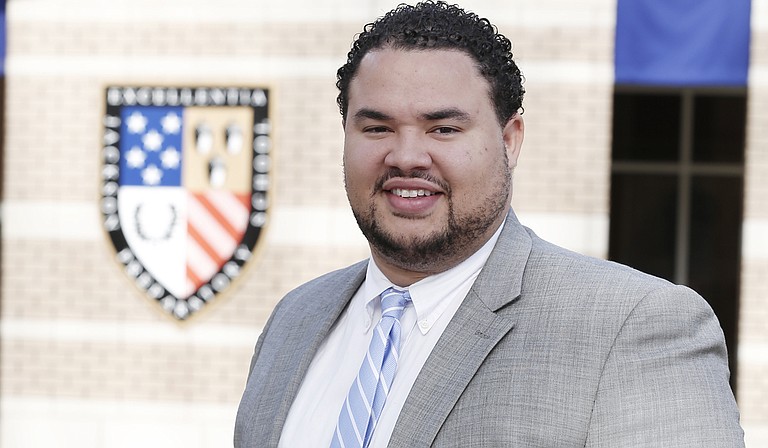 Tuesday, January 19, 2016
With a warm smile, Adam Mangana describes his first week as the chief diversity officer at Jackson Preparatory School as awesome.
"One of the things I've been really impressed by is that no one here at Jackson Prep is running from the reality of its founding. But they're excited about what Jackson Prep can do to further live out its mission of creating the future leaders of the state of Mississippi, and making sure they're doing it in such a way that gives their graduates a depth and breadth of skills and perspectives that reflect the demographics of the state," he said.
Jackson Prep was founded in 1970, when white families responded to a federal appeals court order to desegregate Mississippi public schools by starting private whites-only academies, often called "seg academies." Thirty-three-year-old Mangana, a 2004 Brown University graduate from Newport News, Va., began his career as an exceptional-education teacher in inner-city Miami, Fla., for Teach For America. In 2012 he came to Mississippi to serve as director of student life and head football coach at St. Andrew's Episcopal School. In fall 2015, he became the founding principal at Midtown Charter School in Jackson.
He recently talked about his plans for diversity at Jackson Prep.
What's the biggest difference between working at a charter school and working at Jackson Prep?
I was a product of public school, initially, but when I began to see the difference—and it started, really, in college in terms of the approaches to the two philosophies, private school versus the public (school)—I was fascinated by the difference. One model is the model that maximizes utility; the public model is about testing, high-stakes testing.
The private model is about realizing potential. The public model oftentimes will look at inputs, and the private model oftentimes looks at outputs. The charter opportunity, I felt, was an opportunity to marry those two concepts, because I think ultimately you want to be able to provide the kind of access and amazing education that you get at a place like Jackson Prep to as many Mississippians as possible.
My hope is that charter (schools) will eventually be able to get to do that. It's still in its infancy here in the state; there are still policies that will have to continue to evolve to be able to fully realize that dream. But it's a very positive step, I believe, for the state. I believe the way it's being delivered and the cautiousness with which it's being delivered is very appropriate. But, I'm excited to be in a job that says, "We want to be able to provide this excellent education to more people," and more people that have not had access to this traditionally. I feel like I can create value in that regard. And having some experience in charter (schools), I understand more intimately the challenges facing families in Mississippi trying to get their children access to a world-class education.
What was the community response to your new position?
Very positive. Organizations I've been part of were very encouraging. They understood that Jackson Prep is a great institution and will only be made greater by this investment, and then within this community I've been incredibly welcomed.
It's not that I'm surprised by that, but it's refreshing to confirm what I believed, which is that Mississippi is ready to get past a lot of very polarized racial history, and they want to be a place that gets its stars from its scars. They've paid quite a bit for a lot of the mistakes of the past, but there's a lot of amazing things happening here, and I think Jackson Prep is a microcosm of that
What are your short-term goals?
I see it threefold: Most immediately there is diversity within the (Jackson Prep) community that needs to be fully supported and fully embraced, and there are some skills and perspectives I believe that I bring to the table that can support students, families, faculty that are here and still wanting to fully realize their voice here.
The second piece of that immediate action plan is around empowering students who are traditional Jackson Prep students to get involved in their community in Jackson, to be able to equip them with skills and perspectives that will help foster relationships that are lasting and genuine in the community that they live in. I think one of the unfortunate legacies of a segregationist mindset is that it has truly been separate, that you can live in certain ZIP codes here in Mississippi and not interact at all, and I think this opportunity allows for a way to have some genuine interaction that I think will benefit all folks.
Thirdly, I think there will be an immediate impact in an increase in visual diversity in Jackson Prep, which will be a byproduct of the investment in this work. I think Jackson Prep because of its incredible education will be more appealing. This has been one barrier to families like my family being interested in Jackson Prep.
A mention of visual diversity immediately recalls racial diversity. What is your approach to handling other types of diversity of identity?
I think there is a lot of opportunity in terms of creating those supports. There is an organic sense of community that people feel, and I think there are milestones in the Jackson Prep experience that have brought the community closer. Last year there was a student who passed away at the beginning of the school year and that brought the entire community together, so there is this reflection around Jackson Prep and how it supports its students regardless of background.
One of the major challenges for a school of this ilk and experience is around socioeconomics. By all measures of diversity, the institution is in different places—on race, gender, physical ability, socioeconomically, on sexual orientation—it's in a different place on all these different measures.
Institutions have their own identity, and the fact that there's an investment in making these things better and growing the institutions' skill set—that's something to be celebrated.
Most folks' reaction around here is "we can't wait, it's about time," that kind of energy. There's been eagerness from the community to make sure all students are supported, regardless of their background.
Does this position exist in other private schools in the area?
It is the first for Mississippi Association of Independent Schools. I served in this capacity at St. Andrew's. St. Andrew's was founded in 1947, Jackson Prep was founded in 1970, so they're in different places in terms of their own institutional identity.
It's exciting for Jackson Prep to be investing in this because it's a larger school, and I think that the more young people coming out of private schools in Mississippi can be truly committed to this work, the better off our state will be.
What challenges do you predict in the future?
I think the challenges will be similar to what you find in our state whenever you're trying to influence positive change. There is some small minority that is really committed to the maintenance of the status quo. That's just the nature of humanity. But to be super honest with you, one of the reasons why I took this role is because this school is so ready.
My evaluation was that being able to be part of the work and the history of Jackson Prep in this time in its history would be a game changer for this school. And I think that many more families in the Jackson area will see the appeal of this school now, and that's exciting.
Jackson Prep is a place that's committed to excellence, and so if you are mission appropriate—meaning you are committed to excellence—regardless of your background, this is a place for you. And I think this role is a clear signal that Jackson Prep wants to appeal to any students in the greater Jackson area that want this kind of education.
Send education news tips to education-reporting fellow Sierra Mannie at [email protected].