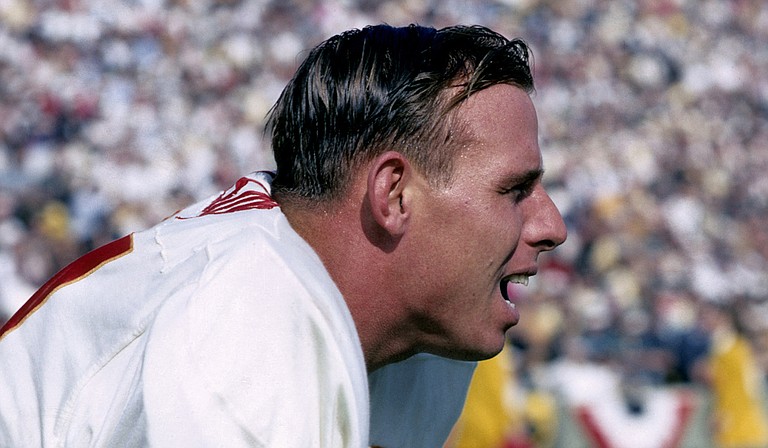 Thursday, January 14, 2016
It wasn't obvious at the time, but on Jan. 15, 1967, the sports world changed forever with the first AFL-NFL World Championship Game, now better known as Super Bowl I.
Like many Super Bowl games, players for both teams had Mississippi ties on the field. Perhaps the best football player ever at his position and one of the biggest Hall of Fame snubs from that game is Kansas City Chiefs punter Jerrel Wilson.
Wilson was born in New Orleans on Oct. 4, 1941, and Nan and Douglas Wilson adopted him at age 6. He spent his youth moving around a lot, as his adoptive father worked in various oilfields in Texas, Louisiana and Mississippi.
The punter, who would eventually be known as "Duck" and "Thunderfoot," came to the University of Southern Mississippi after two seasons at Pearl River Community College, recruited as a linebacker, punter and place kicker.
An all-around athlete, Wilson played center and fullback while at Southern Miss, as well as handling his punting duties. He was known for his booming kicks, attacking the ball with his whole body.
In the 1963 draft, the Kansas City Chiefs selected Wilson in the 11th round with the 88th overall pick of the American Football League Draft, and the Los Angeles Rams selected him in the 17th round with the 225th overall pick in the National Football League Draft.
In those days, the AFL and the NFL had not yet merged, so both leagues drafted players, who would then pick which team they were drafted to for the next season. Wilson could have played for either the Rams or the Chiefs out of USM, but he chose to play for Kansas City.
He went on to play 16 seasons in professional football, and no player for the Chiefs has spent more time with the team than his record 15 seasons. He played in 203 games for Kansas City, the third most in franchise history behind Hall of Fame guard Will Shields (224 games) and place kicker Nick Lowery (212 games).
Not only did Wilson punt for the Chiefs, but he also played running back on a few occasions. He ran the ball 23 times in his early career with Kansas City for 53 yards.
He owns the franchise record for most punts (1,014), averaged yards in a career (43.2 yards), averaged yards in a season (46.1 yards) and averaged yards in a game (56.4). He also holds the NFL record for most seasons leading the league in punting (1965, 1968, 1972 and 1973).
"Thunderfoot" had four kicks in his career travel 70 or more yards. He was named to three AFC-NFC Pro Bowl teams (1970, 1971 and 1972) and also competed in the Nevada Jaycee Rodeo several times.
Wilson came up short in that first Super Bowl, as the Packers routed the Chiefs 35-10. He got back to the big game in Super Bowl IV, where his Chiefs squad upset the highly favored Minnesota Vikings 23-7 for the victory.
Wilson was named to the AFL Hall of Fame First Team All-1960s Team and to the Pro Football Hall of Fame Second Team All-1970s Team. He finished his career playing the 1978 season with the New England Patriots.
In 1988, Wilson was named to the Kansas City Chiefs Hall of Fame and the All-Team Chiefs.
Last year, Oakland Raider Ray Guy, who also played for USM, was the first punter to be inducted into the NFL Hall of Fame last year, but the argument could be made that Wilson was even better than Guy. Wilson still holds the record for highest punt average in a Super Bowl with 46.5 yards in just two games. He also places fourth in the longest punt in Super Bowl history with a 61-yard kick against Green Bay in Super Bowl I.
Wilson died from cancer on April 9, 2005, in Bronson, Texas. He was just 63 years old.
"Duck," as his Chiefs teammates called him, wasn't the only player with Mississippi ties in the first Super Bowl. Green Bay guard Allen Brown, a Natchez native and former star at the University of Mississippi, was part of the winning Packers team.
The NFL Network will rebroadcast Super Bowl I for the first time this Friday, Jan. 14. This will be most people's first chance to see Wilson punt.