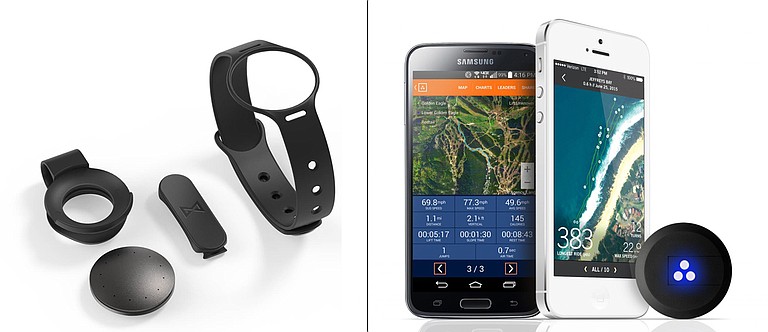 Wednesday, January 13, 2016
Every time you turn around, it seems like more fitness gadgets have appeared. They can all help you along your healthy journey. Here's a few to check out.
TrackersMisfit Shine 2 ($100)
The Misfit family of trackers are fairly simple. They have an elegant design of ring lights that give you notifications and tell time, among other things. It's pretty simple, but it's nice to look at and gets the job done.
Late last year, Misfit released the Shine 2. It's made of aircraft-grade aluminum and has glass-reinforced polycarbonate. Tech wise, it has enhanced Bluetooth capability to transmit data faster, and it has a vibration alarm.
Sony SmartBand ($106.25)
The coolest part about this tracking bracelet is that it shows you how you spend your day. It tells you how much time you spend on your computer or phone and can even display emails and texts from your Android phones. Like most tracking bracelets, it also measures your steps, calories burned and sleep patterns.
Fitbit Surge ($249.95)
If you liked the Fitbit Flex and Charge, chances are, you'll like the Surge even more. It has a bigger watch face than its predecessors but is more advanced. It can measure distance, pace, elevation, route, split times and sleeping patterns.
Withings Pulse O2 ($100)
Withings tends to have some pretty high-end gadgets, but luckily, the Pulse 02 is fairly affordable. It syncs to the Health Mate app and records steps, biking and swimming, and logs sleep patterns. But it does something else that many other apps don't do: It measures your heart rate and oxygen intake.
Microsoft Band 2 ($249.99)
Instead of just being a tracker, the Microsoft Band 2 also acts as a personal assistant for Windows phones in the form of Cortana. The tracker has aspects such as an optical heart monitor, a microphone and a global positioning system.
Garmin Vivosmart Activity Tracker ($150)
If one of your complaints about tracking bracelets is that their batteries don't last long, try the Garmin Vivosmart. It records sleep time and activities such as swimming, but it also displays notifications of incoming calls, texts and emails. The screen displays data such as steps taken and calories burned.
GadgetsSportiiiis ($149.99)
If you like cycling, using a fitness bracelet sometimes may not be the most helpful thing in the world, so a gadget such as Sportiiiiis can fill your needs. You hook it up to your sunglasses, and it has a heads-up display that uses LED lights to show you your heart rate, and it also gives you voice prompts for areas such as speed and power.
Trace ($200)
Most fitness trackers tend to be centered around activities such as walking or running, but if you're into extreme sports such as surfing, skating and snowboarding, you don't have to wear an annoying bracelet or necklace. The Trace mounts onto your board and logs the tricks you've landed, your speed and your maximum height.
Finis Neptune ($159.99)
If you like playing sports but hate not being able to listen to music, the Finis Neptune can help you. It hooks onto eyewear such as goggles and through bone-conduction audio to your inner ear and lets you listen to music while you work out.
Linx IAS Concussion Monitoring System
Athletic concussions have been on the news a lot lately. They may not seem like a big deal at first, but if left unchecked, they can lead to worse consequences. A device such as the Linx IAS system fits into headbands and helps assess the severity of a head injury.
The data syncs to an app, and athletes can share it with doctors and trainers.
Keep an Eye Out: SmartMat yoga mat
Just because yoga is a way to get away from the noise of our technology-filled world doesn't mean tech can't help you in your journey. When it becomes available, SmartMat yoga mat will use advanced sensor technology to tell you when you're out of alignment and give you feedback on how to correct your form.
Visit smartmat.com.