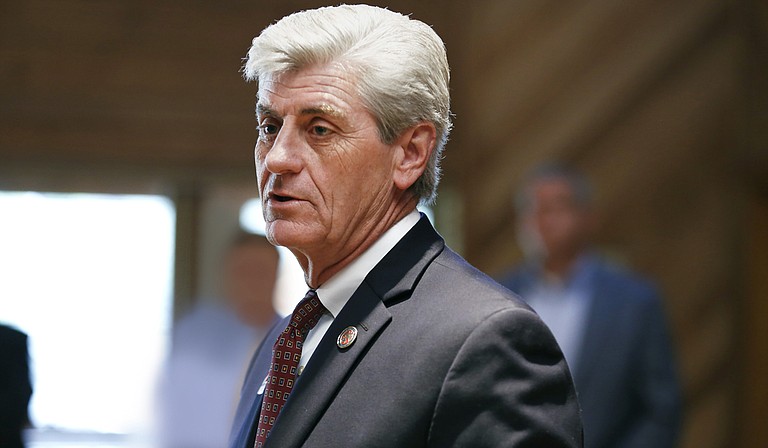 JACKSON, Miss. (AP) — Phil Bryant was at the front of the room Thursday before the Mississippi Economic Council, relishing being governor again.
He pledged to support the business group's call for higher road funding—but otherwise made no earth-shattering pronouncements. The 61-year-old was having fun, retelling the joke he uses to sum up reaching the state's top office after a two-decade political climb.
"OK, you're like the dog chasing the car," Bryant said. "Now that you've caught it, what are you going to do with it? I said, 'I'm going to drive it—full throttle.'"
That is how Bryant sees himself as he embarks on his second term as governor. He takes the oath of office Tuesday, after winning re-election with 67 percent of the vote, the largest general election margin since 1971.
"Phil Bryant is probably as popular a political figure statewide in Mississippi as I have observed in my life," said Andy Taggart, a Republican lawyer and political historian.
His critics acknowledge his political acumen but question whether his goal has been to do anything more than win elections.
"It seems that they've been more guided by political principle," said Bobby Moak, the former House Democratic minority leader who lost his seat in the 2015 elections after Bryant personally raised money for a Republican challenger.
The governor has maintained an unstinting focus on the economy, but Mississippi remains short of a full recovery from the recession.
Bryant has signed more than $350 million in tax cuts and is looking for more, even after state budget experts warned earlier rounds are sapping state revenue growth. He has also focused on education, including his signature policy achievement: implementing a reading test that third-graders must pass to advance to fourth grade. Bryant himself repeated the third grade as he worked to overcome dyslexia, as he often recounts publicly.
"You will see the economy and education take the center of any legislative agenda we will propose in the next four years," Bryant said Thursday, promising "more of the same."
Bryant shows little sign of altering the approach that's won him eight elections. His personal brand of Republicanism reflects the blue-collar, small-town upbringing that he often mentions in speeches. It's a moralistic, self-reliant populist take on conservatism.
Bryant told the business leaders about his vision of an ideal employee, a hard worker who attends church on Sunday and high-school football on Friday, and volunteers as a Boy Scout leader.
"In many ways, he's a Kirk Fordice kind of conservative," said Andy Taggart, who served as chief of staff for Fordice in his first term. Fordice served as governor from 1992 to 2000. "He draws his views on how the world ought to operate from his upbringing in a lower-middle-class kind of household."
Fordice made Bryant a statewide figure when he appointed the back-bench state House member as auditor in 1996.
Taggart said Bryant doesn't have as much power as predecessor Haley Barbour, who used national political connections and money to wield more influence than the typical governor. In a state where the governor historically takes a back seat to the power of the Legislature, Bryant has sought to preside and persuade.
"The role Bryant has played to some degree is keeping everybody on the same page," said Billy Powell, a supporter since the governor's first state House race in 1991.
The governor made the first call for tax cuts in late 2014, seeking a modest reduction aimed at households earning less than $53,000 a year.
Bryant also voiced approval for much larger proposals in the 2015 session by Lt. Gov. Tate Reeves and House Speaker Philip Gunn. Moak and House Democrats ultimately blocked tax reductions, but the shrunken minority party will struggle to do so again in 2016.
One example where he was more successful setting the agenda came earlier in 2014, when lawmakers passed a Bryant proposal to require drug tests for welfare recipients. The testing has found only a handful of people on drugs.
Bryant remains conspicuously wary of federal entanglement. He said he blocked state Insurance Commissioner Mike Chaney from setting up a state-run health insurance exchange in part because he feared low-level employees could somehow unilaterally force Mississippi to expand its Medicaid program, another part of President Barack Obama's health overhaul that Bryant also opposes.
Fighting Obama is excellent politics in a state where nine of 10 white voters cast ballots for Mitt Romney in 2012. And Bryant has maintained his popularity across his party, which split deeply between tea party and establishment wings in 2014 during the Republican U.S. Senate primary between incumbent Thad Cochran and a challenger from the state Senate, Chris McDaniel.
"He's been able to keep the people together," Powell said. "He hasn't been someone who's gone out there and made a lot of demands, a my-way-or-the-highway-type approach."