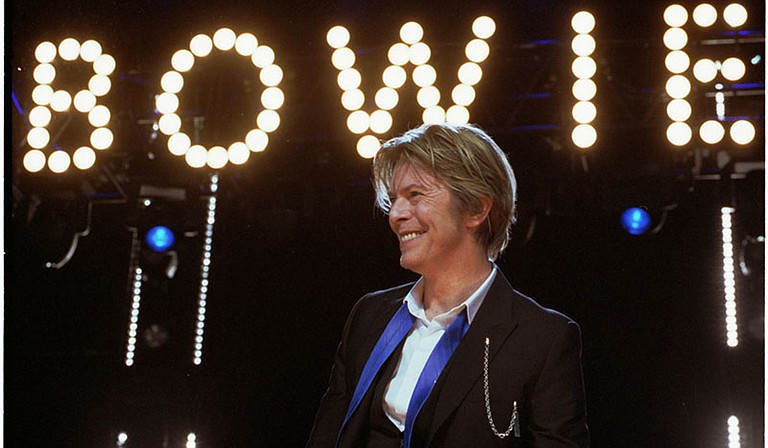 David Bowie died Sunday, Jan. 10, about 18 months after learning he had liver cancer. The world best knew the British pop-culture icon as a genre-spanning singer, songwriter and multi-instrumentalist. He was 69 years old.
Bowie was born David Robert Jones in Brixton, South London, on Jan. 8, 1947. His brother, Terry, introduced him to a broader spectrum of music, inspiring Bowie to pick up his first instrument, the saxophone, at age 13. He graduated from Bromley Technical High School at 16 years old and began working as a commercial artist while also fronting local bands, including one called Davy Jones and the Lower Third.
He took the last name Bowie from American pioneer Jim Bowie so as to avoid confusion with singer Davy Jones of The Monkees fame, and with that, he began pursuing a professional music career. However, after releasing a failed solo album, Bowie withdrew from music, even living in a Buddhist monastery in Scotland for a short time.
Then, in July 1969, Bowie made his return, releasing his first hit song, "Space Oddity," a reference to Stanley Kubrick's film "2001: A Space Odyssey." The BBC used the song while covering the Apollo 11 moon landing, spurring it to even greater popularity, though it wouldn't hit the U.S. until 1972.
Around the time he released "Space Oddity," Bowie met a woman named Angela Barnett. They married in 1970 and had a son, Duncan Jones, before divorcing about 10 years later. Today, Jones is the award-winning director of films such as "Moon" and "Source Code," and he will direct the upcoming film "Warcraft." In 1992, Bowie remarried to Somali-American model, philanthropist and cosmetics entrepreneur Iman Abdulmajid, with whom he had one daughter, Alexandria Zahra Jones, in 2000.
After his successful single, Bowie released several albums in consecutive years, including his 1969 self-titled record, which was also called "Space Oddity," and 1970's "The Man Who Sold the World," featuring the beloved track "All the Madmen," in which he wrote about his older brother's mental illness and institutionalization. Bowie would write about him again with his 1993 song "Jump They Say," which dealt with Terry's tragic suicide in 1985.
He released yet another hit record, "Hunky Dory," in 1971 that included some of his better-known songs such as "Life on Mars" and "Changes." This was also his first release on RCA Records, the major label that Bowie worked with until the early 1980s.
Then, in 1972, Bowie made one of the biggest moves of his career by unveiling his new persona, the outlandish and enigmatic rock star Ziggy Stardust, releasing one of his seminal albums, "The Rise and Fall of Ziggy Stardust and the Spiders of Mars." His follow-up album, 1973's "Aladdin Sane," further developed Bowie's Stardust persona and featured an appearance by The Rolling Stones' Mick Jagger and Keith Richards on "Let's Spend the Night Together."
While the character pushed Bowie's celebrity to incredible heights, Stardust was soon no more. By mid-1973, Bowie dropped his futuristic fashion sense for a more traditional wardrobe—a shock to fans and critics alike—and began producing albums for artists such as Lou Reed and Iggy Pop while simultaneously cutting down his touring schedule. He also released a cover album, "Pin Ups," of songs from popular rock artists.
While recording for "Pin Ups," Bowie began writing music for what he hoped would become a theatrical production of George Orwell's novel "1984." After the author's estate denied Bowie permission to create the musical, he retooled it to create a concept album called "Diamond Dogs," released in 1974.
Following "Diamond Dogs," Bowie had a string of even more commercially successful albums: his 1974 live record, "David Live"; 1975's soul-music-inspired "Young Americans"; the critically lauded "Station to Station" in 1976; and what fans refer to as "the Berlin Trilogy," a series of collaborations with musician Brian Eno that included 1977's "Low" and "Heroes" and 1979's "Lodger."
Bowie continued making studio albums throughout the 1980s, 1990s, and early 2000s, ending with 2003's "Reality," which only reached No. 29 on the U.S. charts. While he continued touring and released three live records in the following decade, Bowie didn't return to the studio with new material until 2013's massively successful "The Next Day," which topped the charts in the United Kingdom, Germany, Norway, Sweden and several other major music markets, and reached the No. 2 spot in America, Australia and Austria.
Bowie's farewell release, "Blackstar," came out Jan. 8, only two days before his death. While sales numbers are still fluctuating, the mass of fans worldwide that have followed the late musician for more than four decades will likely ensure he has one last triumph.