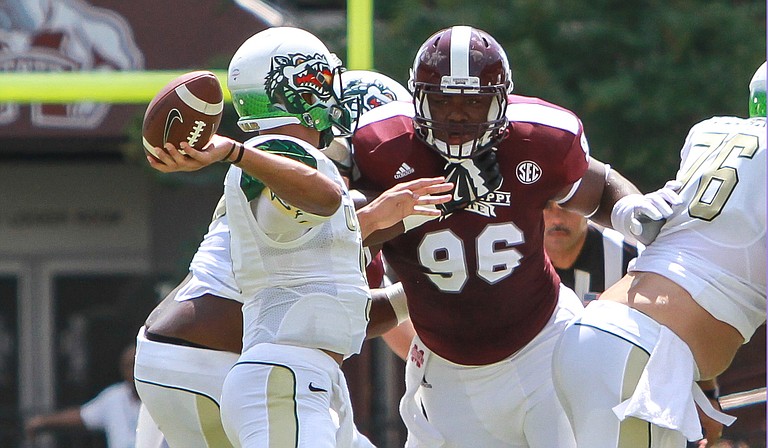 Thursday, January 7, 2016
Mississippi State University is losing its greatest and best-known player in school history in Dak Prescott after he finished up his college eligibility. Bulldog fans also found out this week that they are also losing their best and highly recruited defensive player, Chris Jones.
While most of the press on the defensive line play in this state went to University of Mississippi star Robert Nkemdiche, Jones was highly touted as well in recruiting circles.
247Sports considered him the second best recruit in the nation, and he was 46th in ESPN.com's 150 recruits. 247Sports and Scout.com ranked him as the second best defensive end, and ESPN.com had him as the sixth best defensive end.
In the state of Mississippi, the Clarion-Ledger considered him the best player in the state, and ESPN.com considered him the second best prospect in the state. ESPN.com also ranked him the 25th best player in the Southeast.
Behind Jones' play during his 2012 high-school senior year, the Houston Hilltoppers and head coach William Cook finished the season with an 11-3 record and the first playoff win in school history. Jones was a one-man wrecking crew to opposing offenses.
He finished his senior season with 160 tackles to lead the team, 14 sacks, 10 pass deflections, two fumble recoveries and a 74-yard interception return for a touchdown. He finished his junior season with 75 tackles, 32 solo tackles and five sacks in his first full season of football.
The defensive star was selected to the Mississippi-Alabama All-Star Classic at defensive end, and he recorded eight tackles, three tackles for a loss and a sack. He was named Mississippi MVP after the game.
Scout.com named Jones the top performer in practices leading up to the Under Armor All-American game. He was also selected but didn't play in the Semper Fidelis All-American Game.
It didn't take long for him to make an impact on the Mississippi State team. In his freshman season (2013), the defensive star led the team in quarterback hurries (10), tied for the team lead in tackles for a loss (7) and ranked second in sacks (2).
Bleacher Report, Athlon Sports and 247Sports named Jones freshman All-American. He was also an Associated Press All-SEC Honorable Mention as a freshman while playing in all 13 games and making three starts.
Jones had a bit of a sophomore slump in the 2014 season. He only tallied 26 tackles with 3.5 tackles for a loss and three sacks in a season where he played in all 13 games but had no starts.
He had his best season in Starkville this past season (2015) as a junior when Pro Football Focus named him Second-Team All-American. He accumulated 44 tackles, 7.5 tackles for a loss, 2.5 sacks and four pass breakups as he started all 13 games at defensive tackle.
While spending time at defensive tackle and defensive end, Jones played in 39 games with 16 starts. He totaled 102 tackles, 18 tackles for a loss, nine pass breakups and 8.5 sacks. He was also named 2013 SEC Co-Freshman of the Week (Dec. 2) and 2015 SEC Defensive Lineman of the Week (Nov. 9 v. Missouri).
Leaving school early can be a double-edged sword for players only three years out of high school. The fact that they will be able to reach their second contract quicker the earlier they leave is on the plus side. But the down side is that players could leave early and be drafted out of the top three rounds or not be drafted at all.
Jones isn't the only Bulldog leaving early. Also joining him is wide receiver De'Runnya Wilson and linebacker Beniquez Brown. UM is also getting hit hard by players leaving early with defensive tackle Robert Nkemdiche, wide receiver Laquon Treadwell and offensive tackle Laremy Tunsil all declaring for the 2016 NFL Draft.
All college underclassmen (those who aren't seniors who have used up their college eligibility) have until Jan. 18 to declare for the draft. The NFL will release an official list of underclassmen who are leaving school early on Jan. 22.
The 2016 NFL Draft will take place from April 28 to April 30 in Chicago.