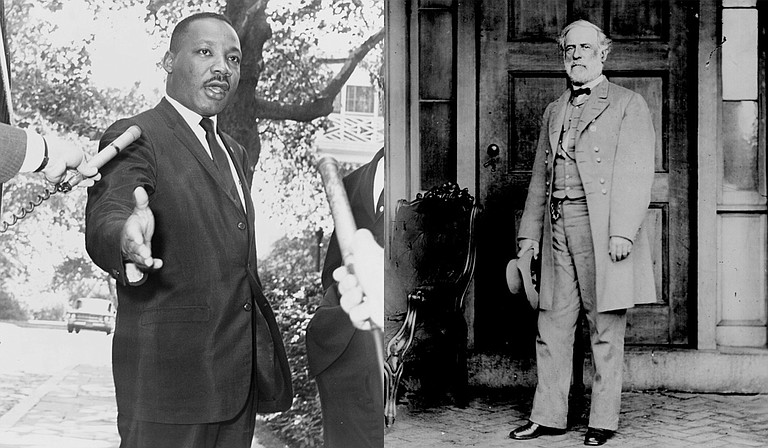 Thursday, January 7, 2016
LITTLE ROCK, Ark. (AP) — Arkansas Gov. Asa Hutchinson said Wednesday that he wants lawmakers to end the state's practice of commemorating Martin Luther King Jr. and Confederate Gen. Robert E. Lee on the same day.
Speaking to reporters, Hutchinson said the Legislature should give King his own holiday when they meet for their next regular session next year. Arkansas is one of three states to jointly celebrate the black civil rights icon and a white Confederate general on the third Monday in January, and a proposal to end that practice failed repeatedly before a House committee last year.
"I would like to see his special day, his Martin Luther King Day, be a separate day to himself and to the recognition of his role in the civil-rights movement in our country," Hutchinson said during a news conference in his office. "It's important that that day be distinguished and separate and focused on that civil rights struggle and what he personally did in that effort, the great leader he was during that cause. They need to be distinguished and separate."
Last year's push to end the joint celebration came after a photo of a sign noting the King and Lee holiday was circulated online, drawing comments and criticism. Supporters of the move say the combined holiday hurts the state's image and its efforts to attract businesses. Alabama and Mississippi also commemorate King and Lee on the same holiday.
Hutchinson's office also released a letter the governor sent to the president of the Arkansas NAACP in July where he vowed to "do what is in my power to strive for an exclusive Martin Luther King Jr. Day."
Hutchinson did not say whether he believes a separate holiday or memorial day should be established commemorating Lee.
Rep. Fred Love, who sponsored one of the proposals to separate the holidays, plans to try again in the 2017 session and believes the Republican governor's comments would help in building support in the majority-Republican Legislature.
"When we finally win the battle, it's going to be judged the right thing to do," Love, a Democrat from Little Rock, said.
Opponents of the move regularly filled the committee hearing room whenever the proposal came up last year, arguing that separating the holidays would diminish the state's Confederate heritage and that there was no proof Arkansas had lost any economic projects because it commemorates Lee and King on the same day. Several lawmakers opposed to the move also said they didn't see an outcry over the issue.
Republican Rep. Josh Miller, who opposed the move, said he would keep an open mind on the matter but would be unlikely to support proposals identical to what came before the committee last year. Miller said he thought the combined holiday showed Arkansas had "buried its past."
"I thought in that particular case we were creating an issue where there wasn't one," Miller said.