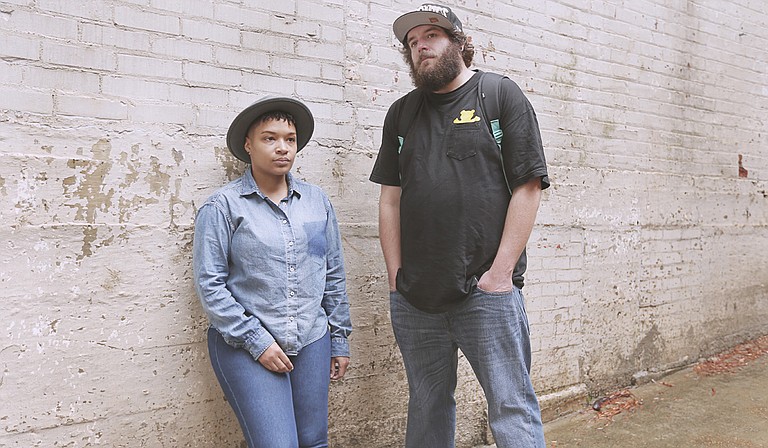 Wednesday, January 6, 2016
For almost a month, when Garrad Lee, a local deejay, show promoter and co-owner of record labels Elegant Trainwreck and Homework Town, spoke with Brad Franklin, the City of Jackson marketing specialist would hint at big plans for a city-wide music event. When Franklin set up a meeting in November 2015, a "who's who" of Jackson music makers, including Lee, Cody Cox, Chad Wesley, Tetrina Blaylock and Kerry Thomas, attended. There, the group laid the groundwork for what would become the first Jackson Indie Music Week.
"We had the basic, bare-bones idea, which was to take a week, spread it out all over the city and do things other than just shows, like showcases, and we were throwing around ideas like panels and stuff like that," Lee says. "After that first meeting, it took a rough shape, and we kind of farmed stuff out to everyone—people with connections to different venues can deal with these venues, and me and Cody with our Blender (concert series) could put something together."
Lee, 37, and more than a dozen other promoters began booking venues, contacting artists and coming up with event ideas. After only 10 weeks of planning, the resulting Jackson Indie Music Week, which takes place Jan. 11 through 17, features about 50 artists at about 10 venues around Jackson, from long-established spots like Duling Hall and Hal & Mal's to more recent additions, such as Big Sleepy's, Offbeat and The Workshop, which will host some of its first concerts during the festival.
In addition to the Jackson Indie Icon Awards on Jan. 14 at Duling Hall, the Jackson Hip-Hop Awards on Jan. 17 at Thalia Mara Hall, and showcases for Jackson-based rock, hip-hop, singer-songwriter, R&B and electronic artists throughout the week, the schedule features two music-business-centric panels on Tuesday, Jan. 12. The first, "Do the Knowledge," is at Thalia Mara Hall. Panelists such as talent manager Chris Cajoleas, Ardenland owner Arden Barnett and entertainment attorney Kamel King will discuss a variety of topics from touring to radio play. The second panel is "Critic's Corner" at Land Vs. Ocean on Tuesday, Jan. 12, where Malcolm Morrow of The Hood Hippie, Melvin Robinson of The Roguish Gent, and other podcasters will interview musicians such as SilaS, James Crow and Paper Bisons in front of a live audience.
"For the whole week, there are at least two to four events every night, so the coordination that goes into that—making sure all the promotion has the right logos on it, making sure the language is used properly across all platforms, making 30 Facebook events in a couple weeks—is daunting," Lee says.
Thankfully, as the scope of the seven-day festival grew, so did the team that put it together. Detroit native Donyale Walls, 35, is a talent manager who represents artists such as Los Angeles rapper Def Sound and Jackson rappers Skipp Coon and the Jackson Jackals. After previously studying at Jackson State University, where she earned a bachelor's degree in psychology with a minor in music education in 2003, Walls decided to move to Jackson permanently in fall 2014. She joined the planning process for Jackson Indie Music Week about three weeks after the first meeting but has quickly become one of its key figures.
"I didn't know where they were at with it," she says. "I just saw they were having a volunteer meeting, so I wanted to go and see what it was about, get more information. I went with the intention to serve as a stage manager, just helping with artist coordinating and anything like that. But the more ideas (I heard) and the more I talked to people, I learned that there needed to be someone having a bird's-eye view of the overall picture."
Since then, she and Lee have worked closely together to secure sponsorships, develop a clear social-media strategy, ensure that music lineups are locked in for each event and place volunteers where they are most needed. Walls also helped Lee, Cox and Robinson arrange one of the most expansive events of the week, "Blendsday," a multi-genre showcase on Wednesday, Jan. 13, that takes place simultaneously at Martin's Restaurant & Bar, One Block East, Hal & Mal's and Jaco's Tacos. For that event, they relied mostly on submissions, selecting performers from the 75 artists who sent in their work.
Lee says organizing the lineup for each showcase became a combination of finding artists who fit the vibe of the evening—even if they didn't match perfectly with the "theme" of that event—and asking the question, "What haven't they done?" For instance, since both The Steve Deaton Three and 5th Child have performed at Hal & Mal's countless times but never played together, "throw them on a Blender," Lee says. "It's kind of a calculus that doesn't have any rules to it, I guess, but it makes sense to us who sat down and placed the chess pieces to see how it goes."
While both Walls and Lee anticipate some growing pains in the festival's first year, they said they have high expectations for what it could become, with hopes to add a visual-art element, out-of-town showcases for acts from cities such as Birmingham and New Orleans, and the inclusion of even more local venues.
"With this being the inaugural Jackson Indie Music Week, the result that we're looking for is for people to identify Jackson as a hub for independent artists," Walls says. "There's so much of what you could call untapped talent, but some of these guys have been doing it for years. There's just not a lot of know in the city in terms of what it offers. ... We want people to have a good time but to learn about the talent in Jackson and for people from other places to see that Jackson's a place to be for music, especially if you're an up-and-coming artist."
Jackson Indie Music Week is Jan. 11-17 at various locations. Tickets are $25 at eventbrite.com and grant access to all events except for the "Kings of the South" concert and Jackson Hip-Hop Awards, which are sold separately. For more information and a full schedule, visit jxnindiemusic.com.