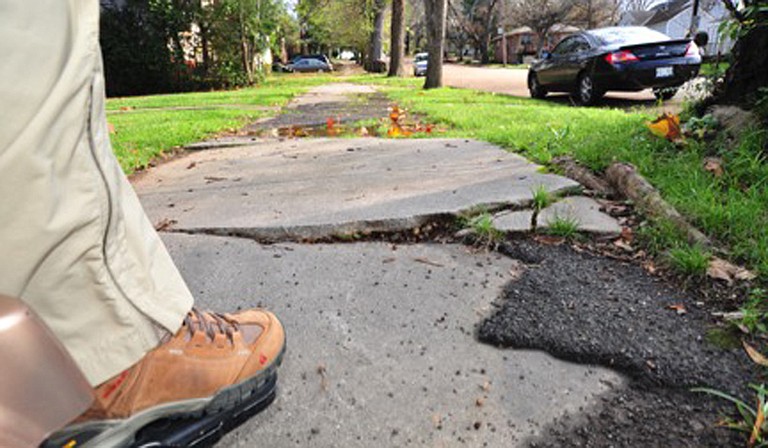 Wednesday, January 6, 2016
Around 9 p.m. on Christmas, near the intersection of Grand Avenue and Prentiss Street, a car struck 49-year-old Timothy Ward, who was riding his wheelchair in the street. He later died from his injuries.
Advocates for people with disabilities say such tragedies result from unpassable or, in many cases, nonexistent sidewalks in Jackson and happen far too frequently, underscoring the need for legal action against the city.
Scott Crawford, a member of the City's Americans with Disabilities Act advisory council, filed a formal grievance in the aftermath of what he called Ward's "unnecessary death." With his complaint, Crawford included photos from the west Jackson neighborhood where Ward was struck, showing the lack of curb cuts for wheelchair access and broken sidewalks.
"The City has its own role in this needless tragedy. If we had met our obligations under ADA, Mr. Ward would have had a safe sidewalk (to use). Mr. Ward didn't deserve to die like this. No one does," Crawford wrote to the city's ADA coordinator, Sam Gleese.
Mayoral spokeswoman Shelia Byrd said Crawford's complaint is under review. Ward, a father of four children and a stepdaughter, was a native of New Orleans who loved music and drawing, his obituary states. He makes the fourth person killed in wheelchair-related accidents in Jackson since 2009, news clips Crawford assembled show. All together, approximately 100 people have died in similar accidents in the past 10 years.
Crawford told the Jackson Free Press in November that he sees no remedy to what he calls "blatant discrimination" other than to sue the City of Jackson over failure to comply with ADA, which Congress passed in 1990. In July 2000, under then-U.S. Attorney General Janet Reno, the U.S. Justice Department settled with 17 cities, including Nashville, Tenn., which agreed to remove barriers "to all aspects of civic life, including courthouses, libraries, polling places, police stations and parks."
In 2014, two groups in California filed a class-action lawsuit in federal court against the City of Long Beach on behalf of plaintiffs alleging "a systematic failure to fix uneven and/or crumbling pavement, remove protruding and/or moveable obstructions, maintain a sufficiently wide path of travel, and correct excessive slopes and cross-slopes," all of which are items Crawford has included in formal complaints to Jackson over the years.
In late 2015, the Jackson City Council approved an ADA transition plan, but advocates say the plan is not specific enough. The city previously adopted a plan in 2011, but never formally implemented it.
Joi Owens, an attorney with Disability Rights Mississippi, which will represent Crawford in the suit, agreed that litigation is the only way to make Jackson safer for people with disabilities.
"What has to happen (for the City of Jackson) to realize this is a serious issue? Because if the loss of life is not enough, that's sad," Owens said.
Disability Rights had originally planned to file its lawsuit in January, but now says the organization will take action in the first quarter of 2016.
Comment at www.jfp.ms. Email R.L. Nave at [email protected]