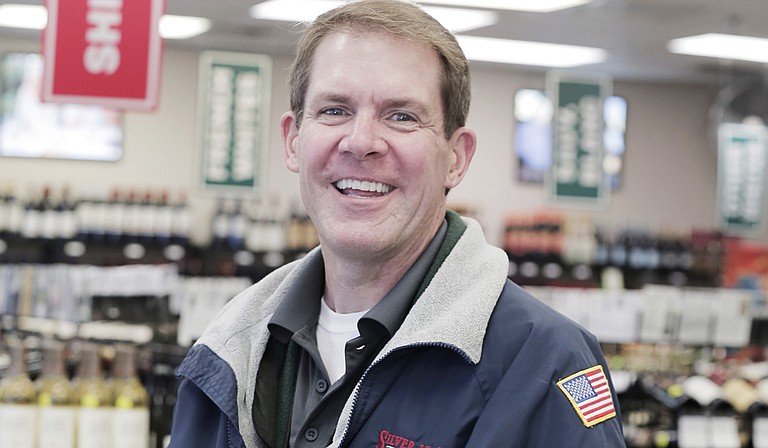 Wednesday, January 6, 2016
Victor Pittman is not pleased with a lobbying effort to lift the restriction on wine and liquor sales in grocery stores in Mississippi's wet counties. If a lobby called Looking for Wine? succeeds in getting legislation passed in the 2016 session, large chains like Walmart and Kroger can run local sellers like him out of business, he says.
"It will have a tremendous effect and put most small retailers out of business because they don't have the volume or the wherewithal to buy (wine) in volume," Pittman said. He owns Silver Leaf Wines and Spirits in Ridgeland, is president of the Mississippi Hospitality Beverage Association and sits on the national board of the American Beverage Licensees.
If the law changes, chain retailers would be able to stock their stores with the same products that the 195 local retailers of wine and liquor have access to now. The Alcoholic Beverage Control, run by the state, manages alcohol sales in the state, acting as the middleman between sellers and buyers bringing product into their stores, restaurants and bars.
Looking for Wine? has the support of Walmart and Kroger chain stores, so far, the lobby's main organizer, Camille Young, said she is seeking support from Target and other retail grocers in the state to join the coalition.
Currently, chain grocers in the state can sell beer but not wine or liquor. The ABC buys the wine and spirits from vendors and sells them to retailers which is profitable for the state, providing from $58 billion to $95 billion in revenue a year, according to the ABC's website.
Mississippi's alcohol sales are heavily regulated—allowing a person to have only one package retailer's permit—including one manager per corporation or retail chain. So currently only one store in the state per retail chain is allowed to have a package retail permit for alcohol sales.
The state authorizes only 195 wholesale package retail stores to sell wine and liquor in the state. The Looking for Wine? lobby wants that permit law altered to enable all grocery-store chains to sell wine—a move that local liquor-store owners say would destroy the business model in the state and eventually, their businesses.
Big-Box Convenience
The Looking for Wine? lobby counters that Mississippi would join the 37 other states in the country that have legalized wine in grocery stores, with Tennessee as the most recent. Tennessee's new law goes into effect in 2016, so it will be a few years before the state can determine how many local liquor stores suffer or close under the new law.
Young said the coalition's main issue is accessibility to wine in the state. Young cited a study that Mississippi State University conducted and the coalition commissioned that found if a law passes allowing wine in grocery stores, alcohol taxes will increase, jobs will increase and awareness of more varieties of wine will actually drive traffic to package retail stores as well.
Based on feedback so far, mainly on social media, Young said people seem to be excited about the convenience factor of having wine in grocery stores. "Millennials are more likely to do things—in their entire lives not just purchasing wine—that are convenient to them," Young said.
Young said retail grocery stores are less likely to carry fine wines, which would drive customers to existing package stores, and while the new law would bring more competition to the market, it would not ruin the market.
Consumers might find the law more convenient, but shouldn't see a lot of cost savings. Young says the lobby does not seek to change how alcohol is processed in the state, and a Walmart store, for instance, would have to pay the same price for a bottle of liquor as the locally owned liquor store.
If corporate retailers are able to sell the same product for a lower price, it would likely be due to corporate kickbacks, Pittman said.
"They may be able to sell for cheaper if they use kickbacks," he said. "We know some chains are using them."
'Small Business is Big Business'
Pittman fears that a law allowing wine sales in grocery stores will hurt the economy because Mississippi loses much revenue due to out-of-state retailers. Multiple studies have shown that shopping with locally owned businesses returns $45 (or more) to the local economy of every $100 spent; with chains, that number is closer to $14 or less.
Pittman said small owners he knows in Tennessee are "sweating trying to pay their houses off as quickly as they can" before grocery stores begin to sell wine there. Implementing this kind of law is bad for business in Mississippi because store owners have made their business decisions on the model that exists now, he adds.
"In Mississippi, small business is big business," he said.
The Mississippi Hospitality Beverage Association is developing strategic plans to stop such legislation. Thirty-eight percent of states have opted to keep wine out of grocery stores, and Pittman said convenience is not a good enough reason to allow retail stores to sell wine.
Selling wine in grocery stores, he says, makes a large amount of alcohol readily available to those who should not have access: minors and those who have alcohol consumption problems. He fears underage theft of alcohol could become a problem if wine is sold in grocery stores.
"Never has convenience to alcohol been a good and safe idea to the under-aged; it should only be sold by adults for adults," Pittman said.
"There is a public-health issue that should be more important than convenience."
Natchez-based Old South Winery owner Scott Galbreath had not heard of the Looking for Wine? lobby, but he said that all of the package retailers and stores in Mississippi have been good to his winery and business, selling and serving his wines.
"I hate to really jump on and support something that's going to hurt my friends even though it (might) benefit me—I'm not even sure (it would)," Galbreath said.
"This will be something for the state legislators to decide."
Email reporter Arielle Dreher at [email protected]. Comment at jfp.ms.