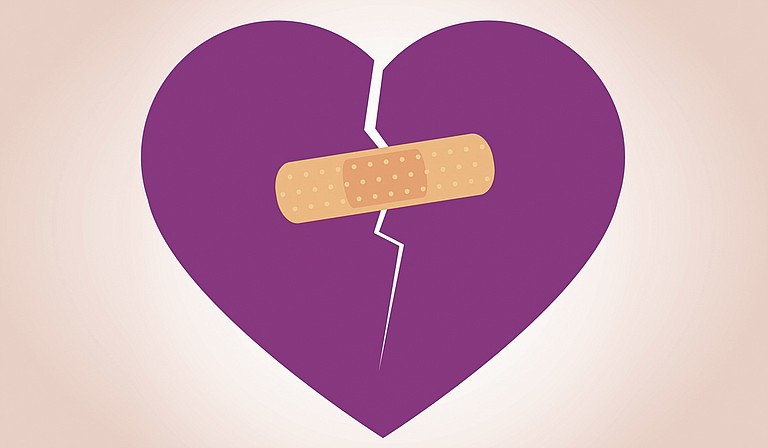 Wednesday, February 10, 2016
I lost my boyfriend at 30 years old. We had been looking at engagement rings the day before he died. The space the loss left in my heart was immeasurable. When he passed away, my world turned to gray. "How can I ever be with anyone else?" I thought as I sat in our bed and held the shirt he had worn the day before because it still smelled like him. From that moment on, everything we had together was in the past.
The month following was filled with family and friends and best wishes, but all the while I was a shell, waking up every morning just to tell myself, "Put one foot in front of another." I was that way for a long time.
I found out that people go away very quickly. Eventually, I began to settle into a new life without him and all that came with him, including birthdays and holidays.
But my heart resisted with everything in me to move on. I found myself drowning in the king-sized bed we shared. Memories were like dust particles in the air; every time I breathed, I breathed him in. Things we had started together had stopped—though in reality, the world didn't.
It never stops for anyone, and in a way, that kept me going some days, even when people were insensitive. I realized that what I was dealing with did not give me a pass to check out from the world around me. Even though the notion of dating anyone seemed so unnatural, almost wrong, I knew that eventually I had to, right? Everyone told me to get back out there, try to meet new people. So for a long time, I tried dating, but no one seemed to measure up to the person that I had spent the last three years with, and the idea of getting to know someone as well as I knew him seemed endless—nearly impossible. How could this ever work? I didn't feel single, I didn't feel alone, but I was. So, after one particularly horrendous first date that involved a terrible rendition of Jimmy Buffett songs, I realized that maybe dating wasn't what I needed. I mean, I had spent the last three years of my life devoting all this time to one person, and now, I needed to learn how to reallocate all of that time. I didn't need a man for that.
So, over the months of many firsts—holidays, work parties, birthdays, even the new season of "Supernatural"—I forced myself to make it through, alone.
My grieving started to evolve from pure heartbreaking agony to acceptance and slower than that, things began to develop into a new normal. I couldn't stay in my house forever, and I know that he would want me to move on and be happy because he loved me. I loved him, but I was the one that was still alive, and I had to start living.
So, I started reaching out to people, old friends I had long lost touch with, and slowly, I began to have a life of my own again. I started doing things again. I found myself sleeping in the middle of the bed.
The months passed, and I stopped being sad that he wasn't there with me. I would think about how much he would have loved to have seen what I was experiencing when I would do new things. I found myself laughing at how much he hated shopping for presents and was the worst at wrapping them at Christmas time. I smiled as I made his favorite jambalaya and started to be able to see pictures of us together and not be sad or longing, just OK.
In a way, he will always be my boyfriend, my best friend. Our relationship is kind of frozen in time, and I know eventually I will find love again but right now, I've just been working on coloring in the world, making it into something beautiful again.