Wednesday, February 3, 2016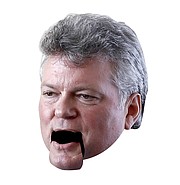 "It just provides a fallback position in case there is some declaration of unconstitutionality or some of the anti-death-penalty groups are able to shut down the flow of chemicals that are required to carry out executions."
—Jim Hood, on why alternate methods for the death penalty are necessary
Why it stinks: Last week, Attorney General Jim Hood called on state lawmakers to approve an alternative way to administer the death penalty in case the state is prevented from administering lethal injections. Those alternate means include a firing squad, electrocution or nitrogen gas. According to an Associated Press report, executions are on hold in Mississippi because the state's lethal drug supply expired.
Having lawmakers spend time debating bringing back World War II-style execution methods, deemed inhumane by human-rights groups, is a huge waste of time—not to mention patently inhumane.