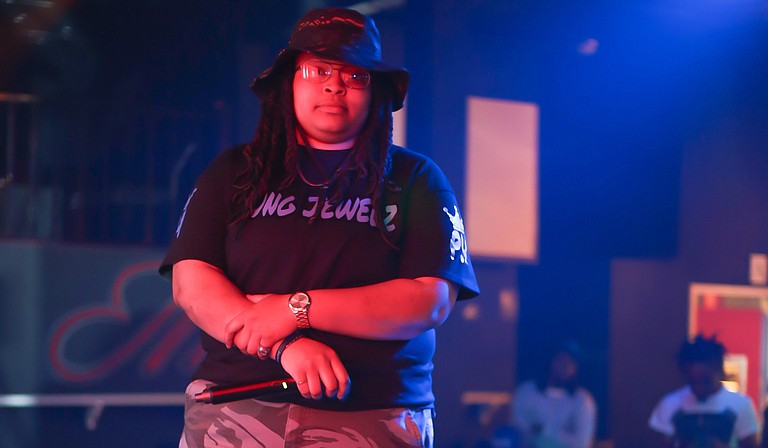 Wednesday, December 7, 2016
Although Jackson-based hip-hop artist Jewelee Wilson has only performed publicly as Yung Jewelz for about a year, entertaining audiences at venues such as Offbeat, Doc 36 Skatepark and Soul Wired Cafe, she says she has been making music all her life.
Her fascination with music started when she would bang on pots and pans as a baby and grew further as she entered elementary school.
"I remember in fourth grade, me and my best friend, we used to do the 'core trait of the month,'" she says. "We used to make a rap (about the trait) and do it over the intercom every month. That's when it really just started, and I've gotten better over time."
In February, Wilson, 22, released her debut mixtape as Yung Jewelz, "Hipster Talk," and followed that with three more singles this year—"How It Goes," "Am I Next?" and "Riot," which also got a remix featuring fellow Jackson hip-hop artist Dolla Black.
Wilson is currently working on her next recording project, "Hipster Logic," which she plans to release in early 2017. She lists musicians such as J Cole, Queen Latifah and Big K.R.I.T. among her influences, but says she prefers to describe her style as "hipster music."
"To me, hipster music is what makes you feel good and your everything—your creativity, just your persona, how you take on life, and your style and your flow," she says. "It separates you from everybody else, basically. That's what makes you a hipster—just you being you."
While Wilson is aware of the negative connotations that term carries for some listeners, she says she hasn't received any backlash or criticism to her concept of "hipster" hip-hop.
"Hopefully, I won't get any," she adds with a laugh.
As a young female rapper in the male-dominated hip-hop scene, Wilson says she knows the struggle of convincing people to take her seriously, both in regard to her age and her gender.
"(Being a woman) is a good thing and a bad thing, I guess, because the guys look at you to be like, 'Oh, well, she's a girl so she's not going to be as tough as us,'" she says. "And then, it's a good thing because they expect that, and when I do show them what I'm working with, they'll be like, 'Oh wow. I can't believe you're a girl rapping like this.'"
Wilson says there is also a struggle in trying to set herself apart from the crowd of artists making rap music. One of the ways that she works to do that is through the variety in her lyrics.
She raps about both lighter subjects, such as her own rapping prowess, and heavier topics, including the plight of black youth in America. But the easiest way to make a name for herself is simple, she says.
"The best thing I can do is be genuine and be me so that people understand I'm still this regular person just like you," she says. "I just make music, and I love doing it. So I want you to hear it so you (can) appreciate it just as much as I did when I made it.
"... I'm a normal person. Just because I think I can rap doesn't separate me from anybody else. I'm just me."
For more information, find Yung Jewelz on Facebook, Soundcloud and Bandcamp.