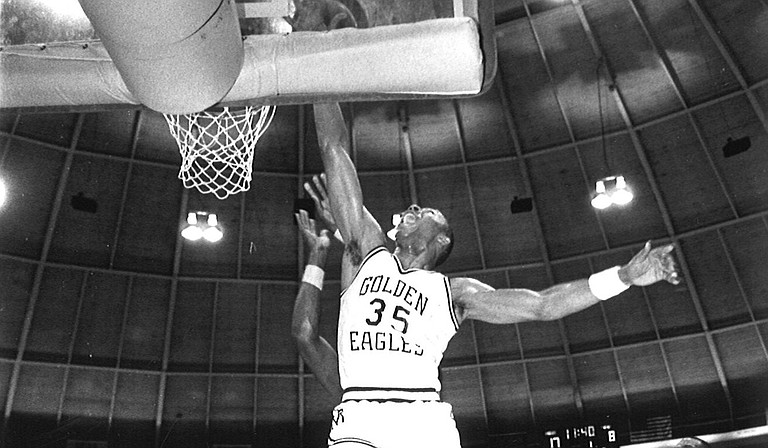 Thursday, August 25, 2016
One of the greatest men's basketball players in the history of the University of Southern Mississippi is coming home. Former USM star forward Clarence Weatherspoon is joining the staff as an assistant coach under head coach Doc Sadler.
The Crawford, Miss., native was a star at Motley High School in Columbus, Miss., where he earned All-State honors during his junior and senior seasons. Weatherspoon decided to play college basketball at USM under legendary Golden Eagles head coach M.K. Turk.
Turk and Weatherspoon were the perfect fit of coach and player. While at USM, Weatherspoon was named All-Metro Conference from 1989 through 1992. He was named Metro Conference Play of the Year in 1990, 1991 and 1992. He averaged 18.2 points and 11.3 rebounds per game during his college career.
During the 1989-1990 season, USM finished with a 20-12 record, and Weatherspoon led the school to its first NCAA Tournament appearance. The Golden Eagles, as a No. 13 seed, fell 79-63 in the first round to La Salle University.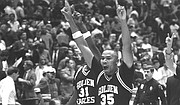 In the 1990-1991 season, the Golden Eagles reached as high as No. 9 in the Associated Press' poll, and the team finished with a 21-8 record. USM made a second NCAA Tournament appearance as a No. 11 seed but lost 114-85 to North Carolina State University in the first round.
Southern Miss didn't make the NCAA Tournament again until the 2011-2012 season. Weatherspoon is the only basketball player in school history to have his number, 35, retired.
By the end of his four-year career at USM, he was the school's all-time leader in rebounds with 1,317 and blocked shots with 227. He came in second in school history in total points with 2,130, only six points behind Nick Revon, who scored 2,136 points from 1950 to 1954.
The Philadelphia 76ers drafted Weatherspoon with the ninth overall pick in the 1992 NBA Draft. The Philadelphia media called him "Baby Barkley" because his game was extremely similar to Charles Barkley, who the team traded just before the draft.
Weatherspoon set a rookie franchise record with 1,290 points and earned NBA All-Rookie Second Team honors. As a rookie, he averaged 15.6 points per game, and in his second season, he averaged 18.4 points per game, the best in his career. Weatherspoon averaged 18.1 points per game his third season in the league and averaged double-digits his entire time with the 76ers.
During the 1997-1998 season, Philadelphia traded him to the Golden State Warriors, and he later spent time playing for the Miami Heat, Cleveland Cavaliers, New York Knicks and Houston Rockets. Weatherspoon retired in 2005 after 13 seasons in the NBA.
One of the highlights of his career was finishing second to Harold Miner in the 1993 NBA Slam Dunk Contest. Weatherspoon ended his career with 10,483 points for an average of 11.5 points per game and 6,846 total rebounds for an average of 7.5 rebounds per game.
Weatherspoon was inducted into the USM Athletic Hall of Fame in 2006 and the university's Alumni Hall of Fame in 2007. He was inducted into the Mississippi Sports Hall of Fame in 2015.