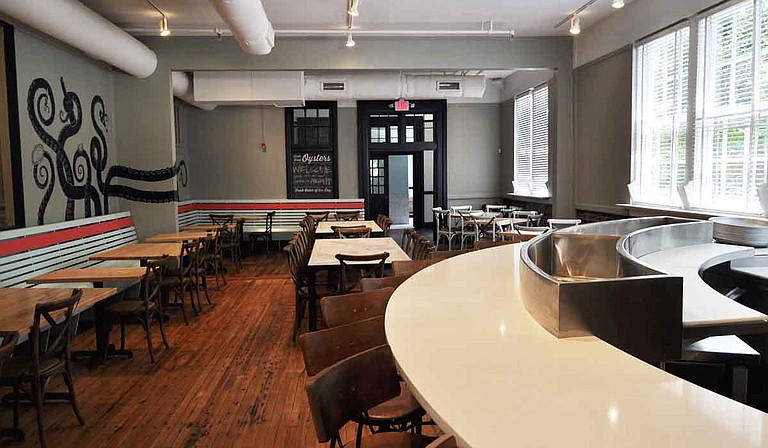 JACKSON — Birmingham, Ala.-based magazine Southern Living recently named Jackson chef Jesse Houston's Saltine Oyster Bar (622 Duling Ave.) in its 2016 list of the 25 best new restaurants in the South. In the piece, Southern Living praises Saltine's many creative menu options, including the various special ramen bowls that Houston recently began serving every Monday. The weekly events have featured dishes such as "pond ramen" with lemongrass-braised frog legs, fried frog legs and smoked Mississippi catfish.
"I actually got a bit of heads up about being featured in this list when Southern Living called to set up sending a photographer out here for it at the beginning of August," Houston told the Jackson Free Press. "It's great to be listed in something like this largely because of the incredible company we're sharing the honor with, like Staplehouse in Atlanta, which was recently named best new restaurant in the country by Bon Appetit, or Shaya in New Orleans, which just won a James Beard Award. It's awesome to be among places like that and to be bringing those accolades to Jackson. It's an especially great accomplishment for our staff, who all work so hard, and seeing them get that kind of recognition makes it all worth it."
Houston plans to bring Saltine even farther into the national culinary spotlight in the coming months by taking part in a number of events outside of Mississippi.
On Sept. 24, Houston and chef Alex Eaton of The Manship Wood Fired Kitchen (1200 N. State St., Suite 100) will travel to Dallas, Texas, to participate in a food-and-wine festival called Chefs for Farmers, which will feature chefs from all over the country. Houston will also compete against other oyster restaurant owners from across the South in an oyster cookout in Gulf Shores, Ala., on Nov. 4.
At home, Houston is currently planning his next guest-chef event, which will feature a Dallas chef that Houston said will be a surprise for his Jackson patrons. He also recently started a weekly Thursday lunch special for which he prepares a single large Texas-style brisket to pay homage to his Texas roots. It becomes available at 11 a.m. and is on the menu until it runs out, which Houston said usually only takes about an hour.
"Here at Saltine, I'd say that one of our greatest strengths is in paying homage to our roots and traditional techniques, but taking the time to play and explore with them, as well," Houston said.
For more information, visit saltinerestaurant.com or check out the restaurant's Facebook page. To see the full Southern Living article, visit http://www.southernliving.com/travel/2016-best-new-restaurants.
Playtime Entertainment Opens in Clinton
Madison resident Sancho Johnson wanted to open his own business after retiring from military service and decided that a family restaurant and entertainment center was just what Mississippi needed. Johnson opened Playtime Entertainment (1009 Hampstead Blvd., Clinton), a combination restaurant and arcade, in April of this year. The 6,000-square-foot building features 37 arcade machines, 16 55-inch televisions for sporting events and an event room with seating for 40 people.
Playtime's 37 arcade machines include a "Jurassic Park" game, racing and basketball games, a block-stacking game called "Mega Stacker" and more. Customers can also play "World's Biggest Pac-Man," a "Pac-Man" variant played on a large projection screen that allows multiple people to play at once in user-created levels.
The restaurant side of Playtime Entertainment features hot wings, quesadillas, supreme nachos, sandwiches such as clubs and blackened or grilled chicken, burgers, pizza, salads and more, with 20 types of craft and domestic beer and seven wines.
The restaurant also offers daily specials, including half-price arcade games at 50 cents on Mondays, $2 beers on Tuesdays, half-price wines on Wednesdays, "Burger Mania" featuring $5 burgers after 5 p.m. on Thursdays, and a Sunday "Fun Pak" in which customers can get four sodas, one single-topping pizza and four $10 game cards for $50.
Playtime Entertainment is open Monday through Thursday from 11 a.m. to 10 p.m., Friday and Saturday from 11 a.m. to midnight, and Sundays from noon to 8 p.m. For more information and a list of party packages, call 601-926-1511 or visit playtimeentertainmentms.com.