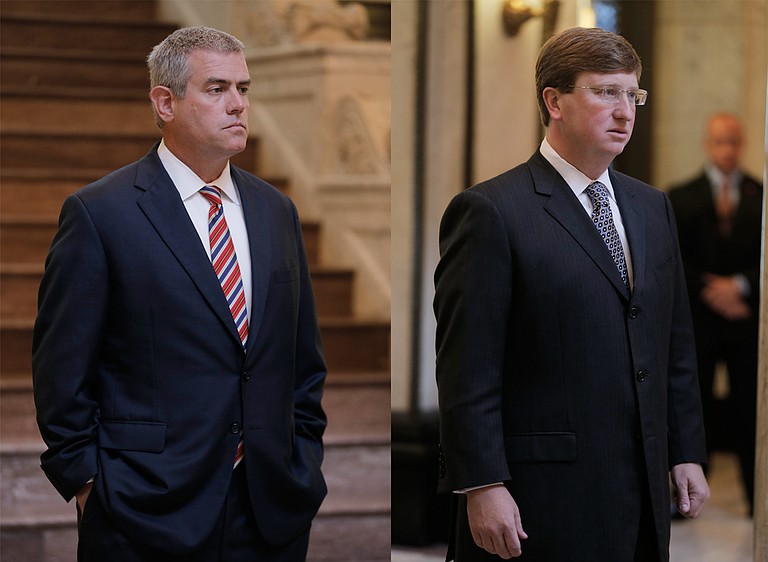 JACKSON — State leaders' efforts to reform the Mississippi's tax code set sail on Monday as lawmakers came back to Jackson to kick off the tax policy panel and state agency budget working groups.
Gov. Phil Bryant, Lt. Gov. Tate Reeves and House Speaker Philip Gunn created the panel, which Gunn said is just another step in leaders' ultimate goal of fiscal responsibility.
"The goal of this committee is to re-evaluate our tax structure," Gunn said Monday. "It seems like we have a shotgun approach to taxes—those are my words—but we've got taxes all over the place for a variety of things, and sometimes we don't know how one tax affects another or how it will all work together."
The group of lawmakers on the tax panel, most of whom chair Senate and House committees, will have the responsibility of evaluating how the state's tax structure works and how proposals on all kinds of tax cuts and new taxes can work together.
Gunn said the leadership prioritizes the elimination of income taxes and providing tax relief to citizens as well as eliminating wasteful spending by state agencies—and looking for a way to fund and create a plan to maintain the state's roads and bridges. He encouraged lawmakers to seek the help of experts as well as representatives who could explain how other states are reforming their tax codes.
Rep. Mark Formby, R-Picayune, who chairs the House Revenue and Expenditure Committee, told the panel his constituents mainly vocalize disapproval of property taxes, which are county taxes, not state taxes. As a part of evaluating the state's tax structure, lawmakers will have to look at how state policy can and will affect local taxation too.
Rep. Trey Lamar, R-Senatobia, vice chairman of the House Ways and Means Committee, told the panel that he will push the committee to look hard at the state's Internet sales tax problem. That is, the lack of revenue due to untaxed purchases on the Internet.
"We are on a runaway freight train headed straight toward the state's budget with the collection or the non-collection of that (online) sales tax—the Amazon tax," Lamar said Monday. The problem is that Mississippi collects taxes on purchases from in-state businesses but not on those with out-of-state businesses that sell products online.
The panel will meet regularly, and there is no set deadline or schedule for lawmakers to meet. Gunn said he would love for the group to have recommendations in time for the 2017 legislative session but said lawmakers should take their time.
Lt. Gov. Reeves agreed, referencing the 2008 tax study commissioned by then-Gov. Haley Barbour, which Reeves himself participated in.
"When the report was originally (published), there wasn't a lot of action taken in the Legislature immediately because tax policy should not be determined based upon revenues in any one year," Reeves said Monday. "Tax policies should be determined based on long-term policies that incentivize and encourage capital investment in our state."
State agency budget groups also met at the Capitol on Monday briefly, and Gunn and Reeves addressed the groups' purpose, highlighting much of what they told the tax panel.
Email state reporter Arielle Dreher at [email protected]. For more state news visit jacksonfreepress.com/state.