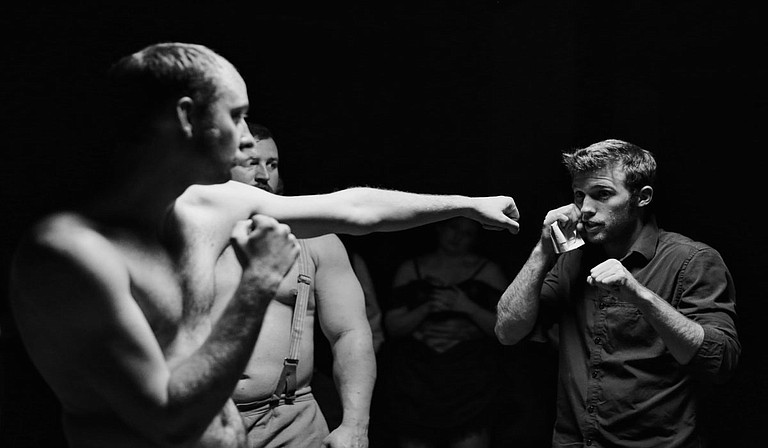 Wednesday, August 3, 2016
A tall, rather imposing man, Bruiser, steps into the ring, which, in this case, is a dirt floor with a line of tape in the middle. Bruiser's opponent is The Boxer, a small man with a handlebar mustache. The crowd cheers for Bruiser and boos at The Boxer. The referee calls out the rules of the match: 30 second rest periods between each round. The match is over when an opponent cannot get up or make it to the scratch line. Bruiser and The Boxer start out toe to toe. Then, the hitting starts.
"Bare Knuckle" is a collaboration from three Jackson film companies—Wade Patterson's Blazewalker Pictures, Joshua Powell's Sauve Maurice Productions and Cameron Wood's Revival House Pictures.
The idea for the film started with Powell's mustache. Around the end of 2014, he had grown it out and started curling it on the sides. Though hipster culture had gained popularity at the time, Powell says, he grew it out mostly because he could.
"It was easier and more maintainable if I pulled it to the sides, and then it started to naturally curl on its own," he says.
People would often see Powell on film sets and remark that he looked like a bare-knuckle boxer from the 1880s.
"As an actor, I always look out for those moments where people say, 'I saw such-and-such movie, and you could've played this character,'" he says. "I thought to myself, 'Why wasn't Josh Powell playing that character?' I want to market myself in those directions."
Powell wanted to have footage of him playing a bare-knuckle boxer. He knew he would need to shoot a good fight scene and wanted to have it also possibly be a period piece, though he didn't know how that would happen.
"Even mentally, I was kind of settling for, 'Maybe it's a bare-knuckle fight and not a period piece, and we just shoot just the fight,'" he says.
After talking to a friend, Miles Donald, who ultimately played Bruiser's corner man in the film, about the idea, Donald scripted a few pages, and the process began. A short time later, Powell discussed his ideas for the bare-knuckle film with Patterson, whom he had met when he auditioned for Blazewalker Pictures film "Captive." Patterson said he would be interested in writing some of it and ended up scripting about 12 pages.
"I'm the type that wants there to be this collaborative group," Powell says. "I want there to be a writing team, and so I got together with the (writers) on the film, and I said, 'Look, if you show up to this meeting, no matter how many pages you've brought, how many ideas you bring to the table, … you're going to be listed as a writer because we want this to have as many people's ideas and infused with whatnot as it can.'"
In early 2015, they decided to start a crowd-funding campaign on Kickstarter with a goal of $15,000. They fell short, raising $5,000, which meant the project received none of the money. After seeing a news article about the campaign, though, a private investor asked to meet with Patterson, drawn to the story's 1880s setting and the fact that the lead character is a Scottish immigrant. While the investor wasn't able to provide as much funds as the production needed, they were able to shave days off the schedule and remove a few elements of the script to make "Bare Knuckle" happen.
"What's cool about this is that the story is about overcoming impossible odds, and time after time with this project, it kind of seemed like it was dead in the water, but then somehow something would happen," Patterson says. "Another one of the people on our team would come through with something, and we'd overcome together. For me, this project taught me that if you have a good team, you can overcome any obstacle."
The premier screening of the short took place June 29 at Malco Grandview Cinema (221 Grandview Blvd., Madison), but soon, "Bare Knuckle" will play at film festivals across the United States. For his next project, Patterson is working on a short film about an interracial couple, which he hopes to start shooting this month. Powell is working on "Mudcat," a film about two brothers whose uncle passes away, leading them on a path of self-discovery as adults in their late 20s and early 30s.
For more information about the film or any of the production companies, find Blazewalker Pictures and Sauve Maurice on Facebook or visit Revival House Pictures' website.
More like this story