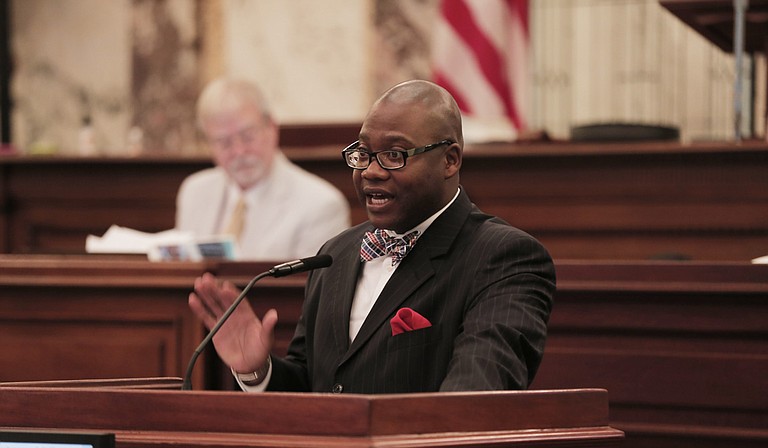 JACKSON — The state's one Planned Parenthood clinic will lose Medicaid reimbursements if Gov. Phil Bryant signs a bill headed to his desk, after the Senate voted to confirm the conference report on Wednesday before adjourning for the session. The bill would prevent the state's Division of Medicaid from reimbursing the one Mississippi Planned Parenthood clinic, located in Hattiesburg, which only offers birth control, pregnancy care, and sexually transmitted infections testing, services and treatment.
Sen. Brice Wiggins, R-Pascagoula, presented the conference report on the Senate floor Wednesday, noting that the language in the bill changed to not explicitly say "Planned Parenthood" but instead restrict Medicaid payments to any "any entity that performs nontherapeutic abortions, maintains or operates a facility where nontherapeutic abortions are performed or is affiliated with such an entity." Wiggins said the language is borrowed from the Harris v. McRae court case, which was the 1980 U.S. Supreme Court case that determined states did not have to use Medicaid funding for even medically necessary abortions.
Sen. David Blount, D-Jackson, questioned Wiggins about how the bill would affect the state's admitting-privileges law, and Wiggins said the bill did not address abortion specifically.
"Does current state law prohibit any state funds from being spent on abortion?" Blount said.
"Yes," Wiggins said.
Later, Wiggins also confirmed that the law was only about Medicaid reimbursements and not abortion.
"We are not outlawing or addressing the practice of abortion. We are only talking about the Medicaid side of it," Wiggins said.
Speaking against the bill, Sen. Debbie Dawkins, D-Pass Christian, expressed distaste for how the conference report was written, pointing out that no women were named as conferees.
"There are six guys making decisions about family planning services for all the women in Mississippi," Dawkins told the Senate.
The conference report passed anyway by a vote of 38-12.
Planned Parenthood Southeast is calling on Gov. Bryant to veto the bill when it reaches his desk. Felicia Brown-Williams, director of public policy for Planned Parenthood Southeast, said in a statement: "If Governor Bryant truly wants to reduce the need for abortion in Mississippi, the best way to do that is to expand access to contraceptives through proven programs like the Medicaid Family Planning Program. Prohibiting PPSE from participating in the Medicaid Family Planning Program would not only be a blatant violation of federal law, it flies in the face of the governor's own goals."
The Mississippi Division of Medicaid offers a family-planning waiver program for men and women aged 13 to 44 years of age that provides them with family-planning services. In order to be eligible for this waiver program, a man or woman must have a family income at or below 194 percent of the federal poverty level. The federal poverty level for individuals is $11,880, so 194 percent of that number would mean Medicaid would reimburse an individual up to $23,000 and below. For a family of two, the federal poverty level is $16,020, so the state's Division of Medicaid would cover a family of two up to $31,000 income.
'Prior Restraint' Removed from Execution Team Secrecy Bill
On Wednesday the Senate also sent the execution team bill that protects the identities of the execution team and any Mississippi supplier of lethal injection chemicals and keeps them exempt from disclosure under the state's Public Records Act.
Sen. Sean Tindell, R-Gulfport, told the Senate that all the prior-restraint language was removed from the bill, however. Previous versions of the bill allowed a person whose identity was disclosed, such as by a media outlet, the right to sue for damages, but those sections of the bill were taken out in conference.
Also gone is the amendment added on the House floor to make execution by firing squad a viable backup if lethal injection drugs were not available.
When asked if Tindell had gotten a response from the media about the bill, he told the Senate that "they dislike it less than they did before."
The bill also provides immunity for state workers on the execution team if they get sued for carrying out the duties and business of the state.
The ACLU of Mississippi is opposed to the bill and the death penalty in general and is asking Gov. Phil Bryant to veto it. ACLU of Mississippi Executive Director Jennifer Riley-Collins said in a statement: "We oppose the death penalty altogether. However, as long as Mississippi continues to sentence people to death, executions must remain transparent and our state government must remain accountable."
Punishments for 'Spice' Could Increase
The governor could sign a law that increases penalties for the sale of or possession with intent to sell synthetic cannabinoids, often called "spice." The bill would not change current penalties for marijuana, but punishments for synthetic cannabinoids will increase. A person would now serve no more than three years or pay a fine of no more than $3,000 for possession with intent to sell of 10 grams or less of a synthetic cannabinoid. A person would pay a fine of $100 to $250 for simple possession of 10 grams or less of "spice."
Sen. Derrick Simmons, D-Greenville, who spoke on the bill on the Senate floor Wednesday, said the bill came about as a response to recent deaths in the state due to spice.
"The number is about 17 recent deaths in Mississippi, as it relates to people spraying stuff on some plant whether it's marijuana or a leaf and they enhance the effectiveness of it, and it's been lethal," Simmons said.
The bill does not change punishments for marijuana possession or for other Schedule I drugs.
For more legislative coverage visit jacksonfreepress.com/state.