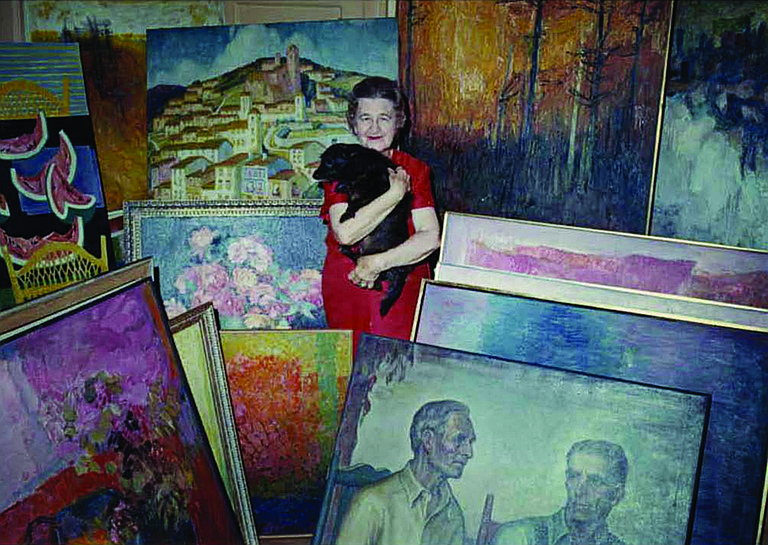 Wednesday, September 30, 2015
Walking through the Mississippi Museum of Art's latest exhibit, "Bright Fields: The Mastery of Marie Hull," is like taking a trip through time.
Each room inside the Donna and Jim Barksdale Galleries for Changing Exhibitions represents the different subjects Hull painted throughout her life.
On the front right wall is what could be her first painting: a self-portrait in which Hull wears a blue and white dress, her light brown hair pinned up. Next to it is a red woodblock print, the fourth in a series of 25, the locations of most of which are unknown. The museum's registrar, Caitlin Podas, says that Deputy Director and Chief Curator Roger Ward believes Hull's short hair dates the print to the 1920s.
As you walk through the exhibit hall, you see Hull's paintings of birds, nature scenes, architecture, portraits, flowers (which were an ongoing subject throughout her life) and the artistic medium that consumed her last few decades of life: abstract art. Her later paintings provide a stark contrast to her previous work, with bright colors that often blend together. Many of those abstract pieces feature landscapes, including her series, "Ruins," which, up close, just look like colorful paintings. If you stand back a few feet, though, the ruins become more visible.
"She was consistent, yet always changing," Podas says.
Concert pianist and Mississippi Delta native Bruce Levingston first began curating the paintings for his recent book, which is the source for the MMA exhibit's name.
"During my childhood, my family was passionate about painting and art, and particularly loved Marie Hull," he says. "I remember my mother and grandmother pointing out her paintings to me, and so when I began to spend more time back in Mississippi in recent years, I started looking at her work again and realized what a very great and important artist she was."
He says that he thought more could be written about her. In light of her 125th birthday on Sept. 28 of this year, he thought it was time to do a reassessment of the Mississippi native and artist. The Hull exhibit at MMA is the largest assembly of her works presented to the public.
Like Levingston, Hull was a pianist. She was born in Summit, Miss., in 1890 to Mary Catherine Sample and Earnest Sidney Atkinson as the first of four children. She attended Belhaven College (now Belhaven University) and received her bachelor's degree in music in 1909. After graduation, she began teaching piano and played the organ for local Jackson churches. At 19, she began taking painting lessons from artist Aileen Philips.
After two years of lessons, Hull realized that she had to leave Mississippi to further her art training. She went to the Pennsylvania Academy of Fine Arts in Philadelphia, where she studied under artists such as Hugh Breckenridge and Daniel Garber, who was part of the New Hope School, a group of Pennsylvania Impressionist artists who specialized in landscapes. After her time in Philadelphia, she joined the Mississippi Art Association (which eventually became MMA) and taught at Hillman College (now part of Mississippi College) in Clinton in 1913 and 1914. She married Emmett Hull in 1917.
Throughout her life, she traveled across the U.S., and to Spain and Morocco, received many awards and did many commissions, such as doing portraits for the Work Progress Administration in the 1930s and 1940s.
"She was somebody who had a tremendous impact on all of the arts and supported education in the arts, as well as, of course, in a very large way, painting," Levingston says. "And so I set out a few years ago to write this book and have photographs taken of as many of the great works we could find around the country."
"Bright Fields: The Mastery of Marie Hull" is in conjunction with "On the Road With Marie Hull," an exhibit in the William B. and Isabel McCarty Foundation Gallery, which features Hull's sketchbooks, doodles, drawings and watercolor paintings. Both run at the Mississippi Museum of Art (380 S. Lamar St., 601-960-1515) from Sept. 26 to Jan. 10, 2016. Admission is $10 for adults, $8 for seniors, $5 for students and free for children ages 5 and under and museum members. For more information, visit msmuseumart.org.