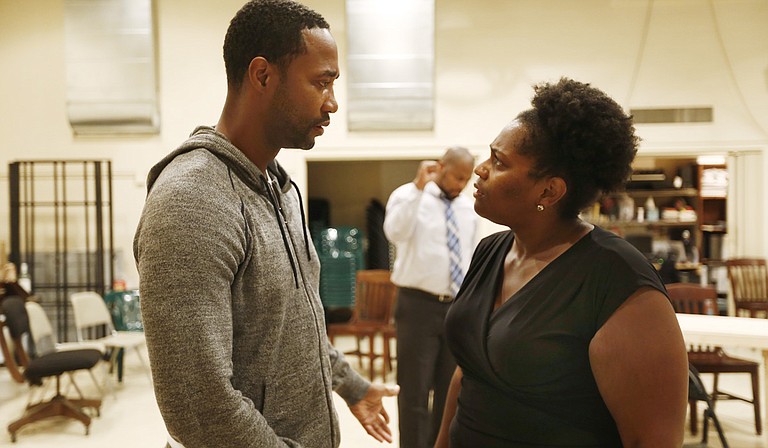 Wednesday, October 21, 2015
In the theatrical adaptation of "A Time to Kill," which opens at New Stage Theatre Oct. 27, courtroom drama unfolds after one crime leads to another, wrapping audience members into the world of a tight-knit community, where everyone knows one another's business.
Jake Brigance, a white lawyer, represents African American man Carl Lee Hailey, who is on trial for murdering his daughter's rapists. As the story unfolds, Brigance, Hailey and the rest of the characters begin to discover the different layers of what justice could mean in their community. The play explores multiple questions: What is morally right? Should justice look different for people of different races? And when is it OK to take the law into one's own hands?
New Stage is celebrating its 50th season this year by staging Mississippi-focused plays. Since "A Time to Kill" is set in the state, and the novel was written by an author with strong Mississippi ties, it fits the bill.
Adapted from the 1989 John Grisham novel of the same name, "A Time to Kill" follows Hailey's killing of two men for brutally raping his daughter, and then his subsequent trial. Grisham based the novel, which was his first, on a trial he witnessed in the DeSoto County Courthouse in 1984, where he heard testimony of a 12-year-old rape victim.
New Stage Artistic Director Francine Thomas Reynolds says that creating a small-town community feel in the cast is important. "It's like Canton ... or like Brookhaven; everybody knows each other," Reynolds says. "There's a lot of stuff underneath and stuff that's occurred that you never hear."
Yohance Myles, who plays Hailey, says "A Time to Kill" has an interesting story because its main character is a young black girl: Hailey's daughter, Tonya, whom the audience never meets. Her story is the driving force of the play. Myles says that the play's centering around a black girl's story is somewhat rare in today's society. "That's the opposite end of something that is not touched on as much when we are talking about times in America—there are young black girls, and those are untold stories, too," Myles says.
Brigance is the protagonist and hero of the story, but Douglas Everett Davis, who plays him in the New Stage play, says Hailey is the real hero of the story, because the audience will find themselves rooting for him and questioning their own notions of justice.
"... The most brave act, as terrible on one level as it is, was definitely a heroic deed when you look at how disgusting the behavior of the two men who raped (Hailey's) daughter was," Davis says.
Most of New Stage's cast is from Mississippi, but Davis came down from Brooklyn, New York. He says coming to the state where "A Time to Kill" is based has been strange for him. "There are a lot of forces clashing in this," he says. "The heart's going one way, the brain's going another way, and history is coming this way."
"A Time to Kill" runs from Oct. 27 to Nov. 8 at New Stage Theatre (1100 Carlisle St., 601-948-3533). Curtain times and dates for performances are Tuesdays through Saturdays at 7:30 p.m., and 2 p.m., Sundays. Tickets are $28 regular admission, $22 for seniors and students, and group discounts are available. All tickets must be purchased in advance. For more information, visit newstagetheatre.com.