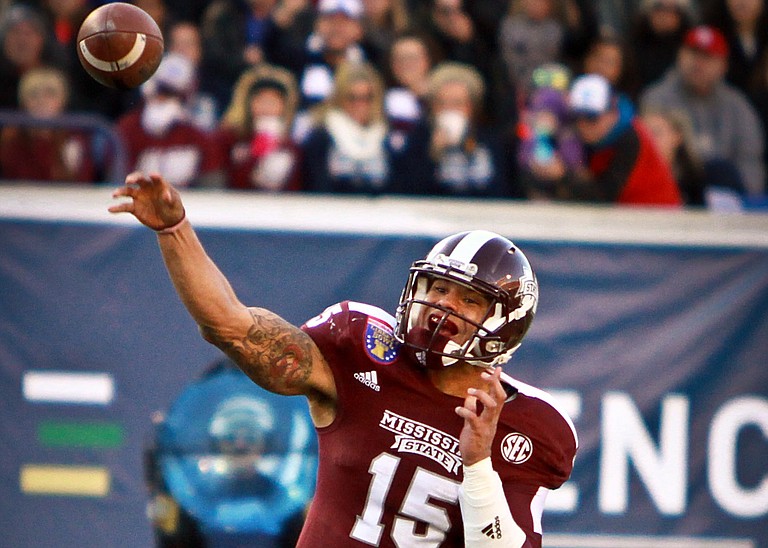 Mississippi State quarterback Dak Prescott was a serious candidate to win the Heisman Trophy at this time last year.
These days, that's not the case.
But Mississippi State coach Dan Mullen said that in many ways, Prescott is playing better than he did in 2014. The senior is having a quietly effective season, throwing for 1,373 yards, eight touchdowns and no interceptions. He's thrown 231 passes without an interception dating back to last season, which is a school record.
Mullen said a quarterback's development has little to do with flashy plays. Instead, it's all about decision making.
"I'm not talking about running over a safety and diving into the end zone," Mullen said. "He's getting into a fourth progression and getting the ball out of his hands to a guy that's wide open out on the field. I think that is a real progression he has made as far as becoming a quarterback."
The biggest reason Prescott hasn't had much national hype is simple: Mississippi State (4-2) has lost a few games.
Now the Bulldogs are looking to get some momentum going on Saturday when they host Louisiana Tech (4-2) at Davis Wade Stadium.
Louisiana Tech is led by quarterback Jeff Driskel, a transfer who previously played at Florida. Driskel had some ups-and-downs with the Gators but has revived his career at Louisiana Tech, throwing for 1,812 yards, 11 touchdowns and three interceptions.
"Their quarterback is going to make some great throws. We have to respond and stop the next one," Mullen said.
Louisiana Tech has actually won two of the past three games in this series. Mississippi State needed overtime to beat Louisiana Tech in 2011.
Even if Prescott isn't getting as much national attention, Louisiana Tech coach Skip Holtz knows he's still an elite player.
"I think it is a very talented offensive football team," Holtz said. "There is no doubt who makes the wheels on the bus go round and that is the quarterback."
__
Some things to watch when Mississippi State hosts Louisiana Tech:
PRESCOTT DOESN'T MAKE MISTAKES: Mississippi State quarterback Dak Prescott continues an impressive run of accuracy. He's thrown 231 passes without an interception, which is the longest current streak in the nation and ranks third in Southeastern Conference history. Prescott is the only active player in the Football Bowl Subdivision who has at least 6,000 career yards passing and 2,000 yards rushing.
DRISKEL IS PRETTY GOOD TOO: Louisiana Tech senior quarterback Jeff Driskel is having a very impressive final season since transferring from Florida over the summer. Driskel has thrown for 1,812 yards, 11 touchdowns and three interceptions this season, and he's a big reason why the LA Bulldogs look like one of the better teams in Conference USA.
FAMILIAR FOES: Mississippi State defensive coordinator Manny Diaz was hired last winter after spending a season in the same position at Louisiana Tech. Now Diaz is charged with trying to stop his former team. Said Louisiana Tech coach Skip Holtz: "Knowing that is a Manny Diaz defense, you know you are not going to just get that size and power, but you are going to get a scheme that will twist your head around a little bit."
ROSS IS BOSS: Mississippi State receiver Fred Ross has emerged as one of the team's primary playmakers. He returned a punt for a 77-yard touchdown and caught a 59-yard touchdown pass against Troy last week. Ross has 35 catches this season, which is tied for tops in the SEC.
DIXON THE MAN: Louisiana Tech running back Kenneth Dixon has 3,993 career rushing yards, which is tops among active players. He's also scored 69 career touchdowns.