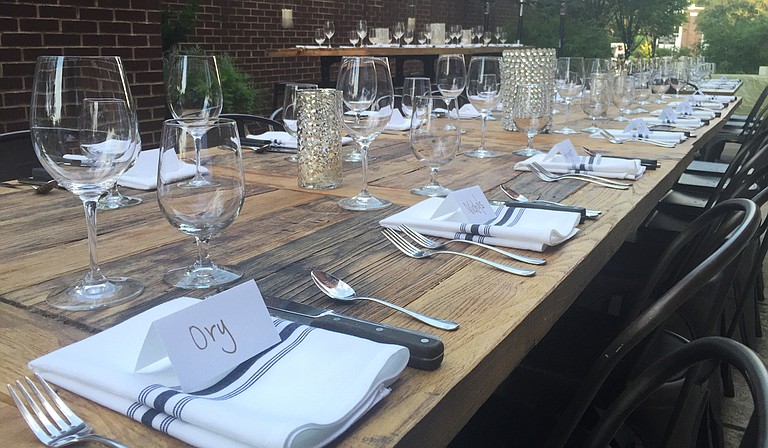 Wednesday, October 14, 2015
Two of my favorite things are wine and a patio. CAET Wine Bar in Fondren combines both, along with hospitality and good food, and all were on display on a fall evening at its latest installment of Supper Club, a monthly private dining event.
Each Supper Club event includes a four-to-six course menu that chef Derek Emerson designs, with wine pairings that wine director Dave Grenley chooses.
In September, winemaker Paris Driggers of Sika Wines by Forgotten Barrel attended and brought selections from his Napa Valley winery for the occasion. At the beginning of the event, we were greeted with sparkling wine and raw oysters and got a chance to mingle as we found our places at three long family-style tables.
I was lucky enough to be at the table where Driggers sat. To start the evening, he gave an overview of his pedigree and of Forgotten Barrel. It's a boutique winery that makes a few hundred cases each of about 15 wines, including the Sika label, and sells its products only in California and Mississippi. After working as a wine retailer for years, Driggers started Forgotten Barrel in 2009.
He says he doesn't make wine unless it's a "compelling" one and a bottle that he would drink himself if it didn't sell. Adding that the company considers its environmental impact a core value, he related that all the grapes he uses are organically grown and described some of the techniques of the growing process that minimize water use.
With that, we moved on to the main event, which consisted of five courses. With each course, Driggers spoke a bit about the wine selected.
The meal started with a crisp white chardonnay that paired well with the chef's shellfish broth and grilled bread.
Seafood, wine and family-style seating made the first course reminiscent of a low country boil, and we settled in comfortably to conversation with new friends that continued as we moved on to a pompano with basil risotto and tomato-lemon butter sauce paired with another chardonnay.
As the courses progressed, both the proteins and their pairings grew bolder and more substantial.
For course three, a cabernet Franc was served with a leg of lamb with olive-caper feta couscous and minted pesto. The last course before dessert ended up having my favorite wine of the night, a cabernet sauvignon. The course could have been a study in reds; the rich red was served with duck breast and braised red cabbage with a dried cherry compote.
Rounding out the evening was a goat-cheese cheesecake and dried fruit paired with Forgotten Barrel Red Lot #5150. Driggers shared that the wine's name is a nod to the police code number for a call involving a mentally unstable person, because other winemakers called him crazy for creating the wine by blending grapes from one of the oldest and most pedigreed vineyards in Napa Valley with a Zinfandel. When Driggers talks about this wine, and the others, his pride in his work and the care with which he makes his wines shines through, but it's also clear that he has a lot of fun.
For more information on Supper Club at CAET Wine Bar (3100 N. State St., Suite 102, 601.321.9169), visit caetwinebar.com or find the bar on Facebook.