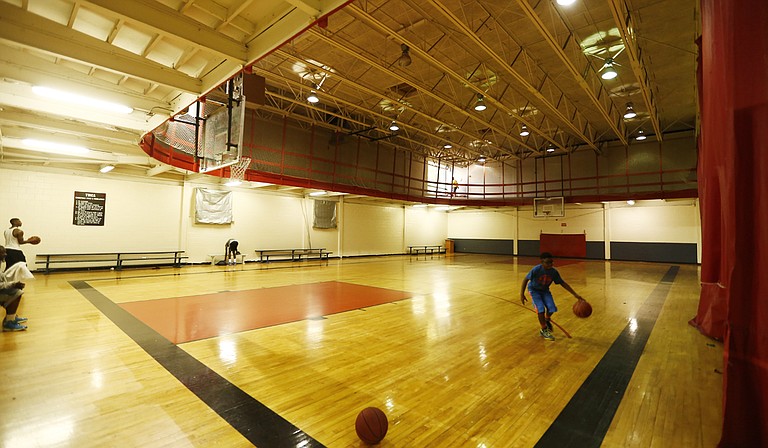 Tuesday, October 13, 2015
Jackson's downtown YMCA is undertaking a life-saving effort involving major renovations, reinvestment, and downsizing of the facility's financially draining programs and activities.
An early casualty of this process is that Y's basketball courts. The Metropolitan YMCAs of Mississippi's board of directors voted on Sept. 30 to renovate the courts into workout space in the wake of the news that the Deville YMCA in north Jackson is closing at the end of the year, leaving four locations in the metro area, at least in the short term.
The process of converting the current court space into a fully functional fitness area is already underway, said Metropolitan YMCAs of Mississippi President David Reeves, which will mean an end to all basketball for members, as well as local groups who rent the downtown Y courts, within the next couple of months.
"I hate it for those players," Reeves told the Jackson Free Press, "just like I hated it for those racquetball players who lost their court space." Two years ago, the Y converted those courts into the I.S. Sanders Early Child Learning and Enrichment Center, which currently serves more than 50 kids with daycare and preschool programs.
"We're just having to make it much more multifaceted to be able to take care of more people," Reeves said. He described the decision to close the courts as part of a larger effort to make the downtown Y more family-friendly and boost its membership to sustainable levels. The new, larger workout space will include free weights and the space to train adults, families, and school-age children in sports, speed and agility.
"We probably have 20 (to) 25 very dedicated basketball players, but unfortunately that's a lot of space for that (few) people," Reeves said, noting that other non-members come in and rent the basketball courts at a low-cost hourly rate.
The downtown Y, which operated at a loss of around $185,000 last year, needs "members, not users," Reeves said.
Every YMCA association is independently run and financed, with each facility paying a small fee—for the five YMCAs in the metro association, it's less than 2 percent of their total budget—to bear the YMCA brand and reap whatever indirect financial benefits come with the name. While all staff and payroll costs are paid directly from membership dues, fundraising and fees from various family programs and sports activities are the other two major sources of revenue keeping local YMCAs afloat.
"We are really one Y with five buildings," Reeves said of the metro association. Even though the downtown Y is the only property the association actually owns, its losses in recent years have been subsidized through the association's more profitable Ys, such as the Deville Y, which exceeded its revenue goals but recently closed due to the owners of Deville Plaza wanting to bring in a Planet Fitness.
"Unfortunately, with the competition continuing to grow, and all the discount gyms that don't offer the family activities that we do, we don't have that margin of error anymore," Reeves said. "So we've got to do something to try to get more families, more people in there, so we don't have to close the doors of the downtown Y, too. Because otherwise we're not going to have a presence in Jackson at all."
Closing the basketball courts and transforming them into a more useful space for all ages is just one of those efforts. "Will it work?" Reeves said. "I don't know. But it's a minimum investment, and it's not anything that couldn't be maybe re-done later on."
With the Deville Y closing and Planet Fitness moving in, Reeves and YMCA officials are still on the search for a new north Jackson location, while being realistic about their Big Fitness competition and the need for a "different footprint in Jackson," as Reeves put it.
"You may love the Y, but if you can go work out around the corner for $20 a week instead of $45, you're probably going to do it," he said.
This competitive environment is why Reeves said he and the board are set on reinvesting in the downtown Y, focusing on those family-friendly and community enriching "extras" that make the YMCA more than just a gym.
"We're hoping (this reinvestment) will be good for everybody," Reeves said, "bringing in families from the Belhaven, Fondren and north Jackson areas, so that we can regain that membership, and hopefully the downtown Y can start paying for itself."
The metro association's fundraising needs stand at around $650,000 a year, but generally come in at about $400,000. Even with that deficit, and with no direct financial support from the YMCA organization, the ability to devote such a large amount of resources to scholarships and grants is one upside of financial independence and local ownership.
With a new parking lot planning to break ground this coming weekend and a complete family-friendly overhaul in the works, the Jackson community should start seeing real changes to the downtown Y immediately, Reeves said.
Last year, the Metro YMCA association gave out around $1million in scholarships and subsidies for families, children and members who could not afford the regular YMCA rates. The I.S. Sanders preschool program is one area where such subsidies have an effect, offering much cheaper day care and preschool rates than otherwise on offer in the community.
One concrete way the Y hopes to ameliorate its financial woes and keep serving the community is with an upcoming benefit concert for the I.S. Sanders children's program. The "East River Rock Out!" fundraiser will be held at Hal & Mal's on Oct. 22 and will feature live music from the Southern Komfort Brass Band, and a food raffle sponsored by Hal & Mal's. Doors open at 6:45 p.m., music kicks off at 7:30 p.m., and tickets are $20, with all proceeds going directly to the costs of the day care and preschool programs.
Email metro-area development news to Scott Prather at [email protected]
Correction: Due to an editing error, the above story originally indicated that there are six YMCA locations in the metro, rather than five. After Deville closes, there will be four, pending announcement of a new north Jackson location.