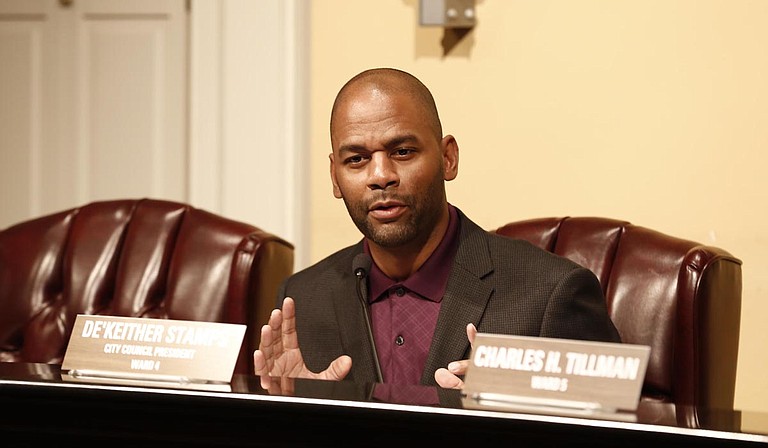 Wednesday, October 7, 2015
A controversial contract to haul waste from a city wastewater plant remains on hold pending reviews from state investigative authorities.
The Jackson City Council approved Ward 4 Councilman De'Keither Stamps' measure to send documents involving "proposals related to biosolids screening, loading, transportation and disposal" to the Mississippi offices of the attorney general, ethics commission and state auditor for opinions.
"Let's identify whether there were things done wrong with the process and hold those people accountable," Stamps said at a city council meeting on Oct. 6.
In mid-September, the council voted against awarding a contract to a joint venture between Russellville, Ark.-based Denali Water Solutions and Socrates Garrett Enterprises to remove 304,000 wet tons of biosolids from so-called geotubes at the Savanna Street Wastewater Treatment plant.
The public-works department's recommendation to award the contract to Denali-Garrett came amid a cloud of controversy as news stories in the Northside Sun and other media outlets insinuated Mayor Tony Yarber's administration wanted to steer the contract to Garrett, a close ally of Yarber during his 2014 election bid. Yarber has repeatedly said that his administration does not give preferential treatment to any contractor.
Still, it was enough to give enough council members pause when it came up for a vote in September. Yarber has asked the council to reconsider the vote, which has been tabled twice, most recently on Tuesday.
The city must move the waste by January 2018 to comply with provisions of the City's consent decree with federal environmental regulators. If Jackson misses the deadline, penalties of as much as $1,000 per day could be assessed.
City officials expect to be sued no matter which way they vote on the contract, whether it goes to Denali-Garrett or another firm that submitted a proposal, Synagro-Fisher.
"We're probably going to be sued one way or another about this. We're already in a position of issues that we state on the record may come back to bite you," said James Anderson Jr., an assistant city attorney.
Stamps believes that having opinions from state investigators might mitigate the city's losses as a result of any lawsuit.
Read more JFP coverage of the biosolids contract dispute here. Email News Editor R.L. Nave at [email protected]