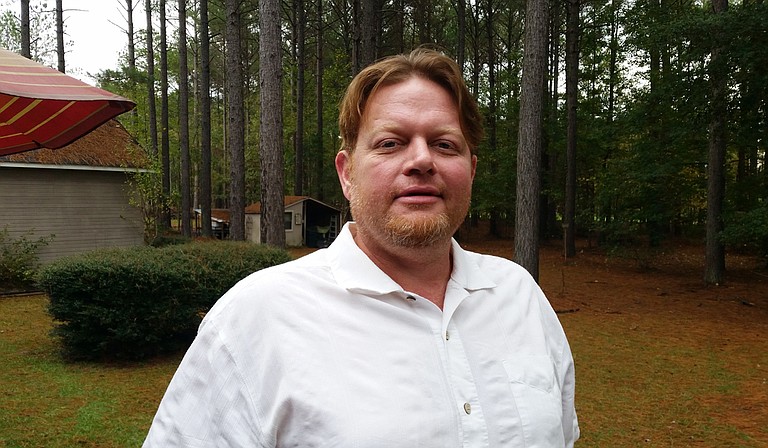 On this most important of nights, notorious mafioso Big Tony has traded his normally grim expression for the beaming smile of a proud father. It's his son Little Tony's birthday party, and the guests shuffling into the dining room are all there—by choice or by force—to celebrate that momentous occasion. The top name with a check on the guest list: yours.
That's the setup of The Detectives Comedy Dinner Theatre's latest traveling production, "Badfellas," which is a take on the tropes that have riddled mafia films for ages. But unlike the mob stereotypes the group is lampooning, lead actor Eric Riggs say that visitors haven't seen dinner theater quite like this.
Riggs created the troupe with lead actress Keni Bounds in 2009, after initially meeting through another dinner-theater group. They soon realized that they had a couple things in common besides a shared love of acting and an animosity toward bad humor.
"We're both a pretty tough audience, I'll be honest with you," Riggs says. "If anybody said to me, 'Hey, you want to go see some dinner theater?' I think I'd rather put a hot poker in my eye. That does not sound fun. So when we do it, it's almost more like stand-up comedy, the type of humor we use. It's not puns and corny stuff."
Comedy set the tone after the two actors broke off from the previous group to write their own scripts. In his early 20s, Riggs had performed as a stand-up comic, and Bounds had been writing theater pieces for a number of years, so they blended those elements with their first shows. That combination was the basis for The Detectives, which is now a full-fledged business.
The troupe performs regularly at metro-area restaurants such as The Iron Horse Grill, Jaco's Tacos, Signa's Grille in Ridgeland, Kismet's in Brandon, and Char Restaurant, where Riggs and company will present "Badfellas" on Monday, Nov. 9. The group also performs for all sizes of private parties. But of course, Riggs says, there's quite a change between performing for a dozen diners at a home show or a corporate party of 150 people.
"With a 30-person crowd, it's almost like you know everybody in that room by the end of it," he says. "In a bigger crowd, it plays just as well, but you know, it would be like going to see The Rolling Stones with 21,000 people or 100 people. It's just a different experience."
The entertainment enterprise isn't stuck to its hometown, either.
"We write about four new (plays) a year and run them probably around 30 to 40 times each, but we travel," Riggs says. "We all live in the Jackson area, but we go to Memphis, Pensacola, Tallahassee, Gulfport … you name it. We go everywhere."
Riggs and Bounds wrote their newest piece, "Badfellas," in late August, rehearsed it for six weeks and ran it for the first time in Memphis in late September. He jokes that, after writing nearly 30 shows, you can chalk the premise up to the fact that they're fresh out of ideas. However, the production has a number of layers. Like all of the troupe's plays, there are four central characters. He and Bounds portray two of the leads, and two actors of The Detective's 10 alternating talent play the remaining parts.
In "Badfellas," Riggs plays Big Tony, who is oblivious to the bratty behavior of Little Tony, who actor Chris Moore plays. Actress Cheryl Abernathy plays Dolly, the madam who runs the mob boss' brothel. Bounds fills the role of the elder Tony's soon-to-be wife, Gia, who is doing her best to curb Little Tony's terrible attitude. Plenty of the comedy comes from the interaction between those two characters.
"It's having to deal with having step kids, where it's 'You're not my mother; you can't tell me what to do,'" Riggs says. "But the irony is that the kid is 25."
The audience members fill in the smaller roles, from Big Tony's toast-happy cousin, Vinny, to the brothel workers. At each show, The Detectives select good sports to act out a few lines from cards. Riggs says these small roles sometimes get the biggest laughs in the show, but most importantly, they serve to keep the audience engaged in the world of the story.
"You can't please everybody; we do have the occasional flat crowds," he says. "But the way we look at, if we can make 85 percent of these people not only laugh but think, 'This is the funniest thing I've seen all year,' then I think we're doing good."
The Detectives present "Badfellas" at 7 p.m., Monday, Nov. 9, at Char (4500 Interstate 55 N., 601-956-9562). Admission is $49 and includes a three-course meal. For more information and additional show dates, visit thedetectives.biz or call 601-291-7444.
More like this story