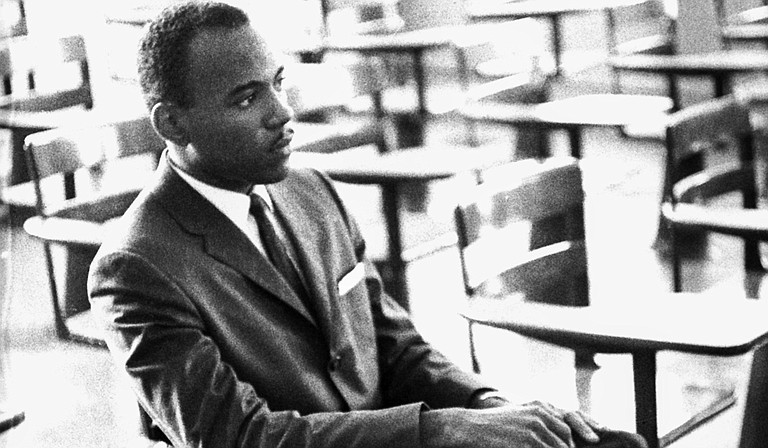 Wednesday, November 4, 2015
On the morning of Oct. 1, 1962, James Meredith walked to the registrar's office at the University of Mississippi with armed military policemen and federal marshals flanking him on all sides. While this trek was much shorter than the 220-mile March Against Fear he undertook four years later, it was no less important. By 9 a.m., Meredith became UM's first African American student, and a cub reporter and part-time university employee named Edwin Meek was there, photographing him every step of the way.
Meek has served his alma mater in various capacities over the years, including as the associate professor of journalism and the assistant vice chancellor of public relations and marketing, but no event affected him in the same way as being behind the lens in 1962. On Sept. 30, he released 120 photos from the weeks surrounding Meredith's historic first day of school in the form of his book, "Riot: Witness to Anger and Change" (Yoknapatawpha Press, 2015, $35.95).
"I'm 75. I was 22 or so then, and it was a very troubling time for me, in that I came up in the Mississippi Delta," he says. "I came to Ole Miss with the prejudices all of us had, and that just changed my heart and my soul to this day. I've become very active in equality and rights issues, but back at that time, I didn't realize how important this was."
Unfortunately, as a professor, Meek saw that many students weren't aware of what happened in 1962, when white mobs tore Oxford, Miss., apart in response to rulings from the U.S. District Court for the Southern District of Mississippi, the 5th U.S. Circuit Court of Appeals and the U.S. Supreme Court that UM couldn't deny Meredith admission due to his race. It took 30,000 U.S. Army troops to keep the peace.
Yet, most of Meek's students were unable to identify Meredith. "I was surprised how quickly important history passes from generation to generation and is lost," he says. "[T]his book is providing insight to an activity that was very important in the history of our country and the Civil Rights Movement, and it really tickles me to see people understand how serious this was, how dumb this was and how critical this was."
Even after the teargas canisters and burned husks of cars were cleared, change came slowly to the campus, to the point that Oxford became "the bell cow of the South," Meek says. Through reporting on the riots, he became acquainted with several now-famous faces in news, including Dan Rather, who covered the 1962 riots in his first-ever national newscast. So later, when national news sources wanted to know the temperature of the South, they called UM.
"Riot" contains many rare images from Meek's collection, juxtaposing normal goings-on, such as the crowning of the school beauty queen, with the aggressive on-campus rallies to shocking results. In one picture, for example, cheering co-eds hoist a student dressed in a full Confederate uniform, flashing a wide grin at the camera. At the same time, some inspirational photos are to be found, including the only in-class photos of Meredith, which Meek took despite President John F. Kennedy warning press against "disrupting the academic process."
Meek admits that, in his youth, he was on the wrong side. He "bought the line of states rights from Governor Ross Barnett," he says, and for a long time, he felt ashamed and alone in that. But in the process of putting "Riot" together, Meek worked closely with colleagues Curtis Wilkie and Gov. William Winter, who provide most of the book's text. At a recent panel where they spoke at UM's Overby Center, Winter told the audience something that lightened that weight Meek had shouldered for years.
"He said, 'All my friends drank the Kool-Aid. They were misled like Hitler misled the German public,'" Meek says. "That was a moment of freedom for me because I'd been so embarrassed. I thought maybe I was the only one that was so dumb and didn't realize. ... But there were a lot of us."
Edwin E. Meek's "Riot: Witness to Anger and Change" is available at Lemuria Books (4465 Interstate 55 N., 601-366-7619). For more information, visit lemuriabooks.com.