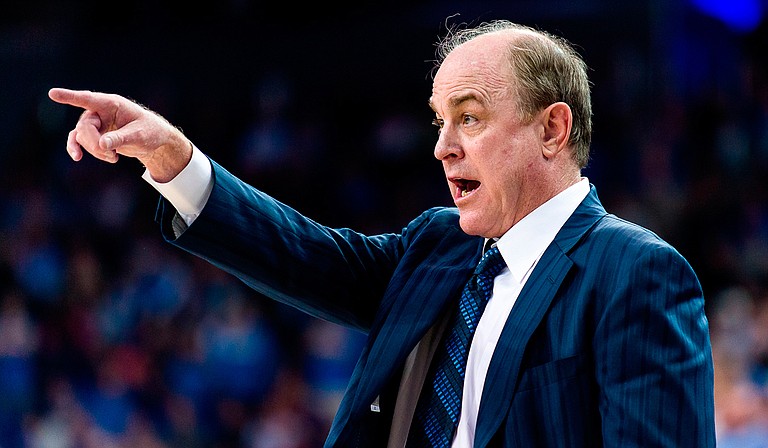 Wednesday, March 25, 2015
When Rick Ray took over the head-coaching job at Mississippi State University in 2012, he had an uphill climb from the beginning. The Bulldogs had just finished a mediocre basketball season, with the team finishing 21-12 and the University of Massachusetts bouncing the team in its opening NIT game in 2012.
Ray was already in a hole after losing all five starters from the year before, with players like Dee Bost, Arnett Moultrie and Renardo Sidney graduating or leaving for the NBA.
To make matters worse, Meridian High School star Rodney Hood decided to transfer to Duke University, and former Callaway High School star Deville Smith transferred to the University Nevada, Las Vegas. Basically, Ray was starting from scratch.
His teams struggled during his three seasons at MSU, finishing with a 37-60 overall record and 13-41 in SEC play.
It was surprising that Mississippi State made the move to dismiss Ray, but the university probably had its reasons. One could be that the day before Ray was fired, the Lady Bulldogs and head coach Vic Schaefer had just advanced to the second round of the Women's NCAA Tournament.
Under Schaefer's guidance, the Lady Bulldogs went from a doormat to berths in the Women's NIT and NCAA tournaments. That kind of turnaround didn't help Ray, who didn't even have a winning record in his three years in Starkville.
In fact, Ray had one less win this season (13) than he did the year before but did win his most SEC games (six) this season, which almost equaled the combined seven over his previous two seasons.
Also not doing Ray favors was the fact that Ole Miss went to the NCAA Tournament in two of his three seasons. If there is one certain kiss-of-death in college sports, it's not being able to keep pace with your rival.
It didn't take long for MSU to move on from Ray to former UCLA coach Ben Howland. But one has to wonder how Howland stepped in so quickly after Ray left.
MSU fired Ray Saturday afternoon, and reports flooded in Monday morning that the university was finalizing terms with Howland for the position. It takes longer to make a match on a crummy reality show like "The Bachelor." One thing's for sure: Howland has been a winner wherever he has gone. He was at Northern Arizona University from 1994 to 1999 and took that program to the postseason in two of his five seasons.
Howland's next stop was University of Pittsburgh, where he coached from 1999 to 2003. The Panthers cracked the postseason in three of his four seasons. He only had one losing season—his first—in the competitive Big East.
Howland was at UCLA from 2003 ro 2013. He took the Bruins to the Final Four in 2006, 2007 and 2008, and made the postseason seven of the 10 seasons he spent in Westwood, Calif.
UCLA fired Howland because he didn't win enough games, like the great John Wooden did. That shouldn't be a problem at Mississippi State. In the SEC, the goal is to keep pace with the schools not named University of Kentucky or Florida. Howland can certainly do that, but getting to the NCAA Tournament and going deeper than Ole Miss will matter most to Bulldogs fans.
Howland better be ready to jump-start the MSU program. If he doesn't win quickly, he could end up in the unemployment line. as the school eyes the next sexy hire.