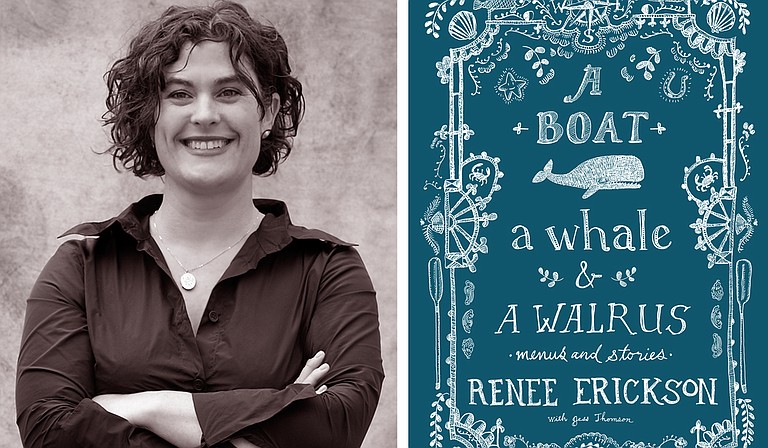 Wednesday, March 25, 2015
In "The Walrus and The Carpenter" by Lewis Carroll, a walrus and a carpenter are walking along the beach when they spot a group of oysters and try to get them to take a walk with them. The older ones say no and stay on their sand bed. However, the younger ones decide to go with them. After walking along the beach for a while, the group comes to rest on a low rock. The walrus says it's time for a chat:
"The time has come," the Walrus said,
"To talk of many things:
Of shoes—and ships—and sealing-wax—
Of cabbages—and kings—
And why the sea is boiling hot—
And whether pigs have wings."
The oysters tell him to wait before they start because they're out of breath and fat, which is beneficial for the carpenter and walrus. The carpenter tells them that there is no rush. In the end, the walrus and carpenter eat the oysters, though the walrus shows remorse as he picks out the larger ones.
After reading the poem, Jesse Houston, who was researching for his own oyster bar at the time and had decided on the name Saltine, decided to name his restaurant The Walrus and the Carpenter instead. However, after a quick Google search, Houston found out that Chef Renee Erickson had already opened a restaurant by that name in Seattle, Wash.
"As I started researching more oyster bars, I started finding out that The Walrus and the Carpenter is ... one of the top oyster bars in the country," he says. "I started looking at (Erickson's) food and her cuisine and all the different beautiful shellfish. ... When it was announced that she was coming out with a cookbook, '(A Boat), A Whale & A Walrus,' I messaged her on Instagram and said: 'Hey, if you'd like to come and do a guest chef dinner here and promote your cookbook, we would love to have you. It would be ... a lot of fun."
Erickson also co-owns Seattle restaurants The Whale Wins, Boat Street Cafe and oyster food truck The Narwhal with Jeremy Price and Chad Dale. Lucky for Jacksonians, her prolific food presence in the Pacific Northwest and knowledge of the area's cuisine and ingredients will lend a fresh element to her guest chef dinner at Saltine on Monday, April 6.
"The real reason I want to do these guest chef dinners is just to learn more myself, get to meet really diverse, interesting chefs that are successful from different parts of the country, have them come in and show us a little bit of something that they're known for or to work with the ingredients they work with on a daily basis," Houston says. "It's sort of a continuing education for myself and my staff. ... It's a nice breath of fresh air to be able to see something new that they've never seen before and try out something new ... so they can see what's going outside these four walls, outside of this city."
For the menu, he let Erickson have the reins. "I said: 'Renee, this is your kitchen. You come up with the menu, and if you want to source seafood, we would love to highlight Pacific Northwest seafood," he says.
The dinner begins at 6 p.m. with an oyster-bar reception, where diners can eat Hama Hama and blue pool oysters. The visiting chef will present the second course at 6:30 p.m., with the meals coming out every 20 minutes. The dishes include smoked herring on toast with pickled spring onions and raw halibut with mustard-seed oil.
The dessert is a British take on strawberries and shortcake, but with lemon curd and rhubarb instead of strawberries.
Erickson will sign copies of her cookbook "A Boat, A Whale & a Walrus" (Sasquatch Books, 2014, $40), which features Pacific Northwest dishes, at the event.
Houston says this dinner will be the first in a series of guest-chef dinners, the second with Jason McLeod of Ironside Fish & Oyster Restaurant in San Diego, Calif.
Saltine's guest-chef dinner with Renee Erickson is April 6 and is $75. For more information, visit saltinerestaurant.com or find Saltine Oyster Bar (622 Duling Ave., Suite 202, 601-982-2899) on Facebook.