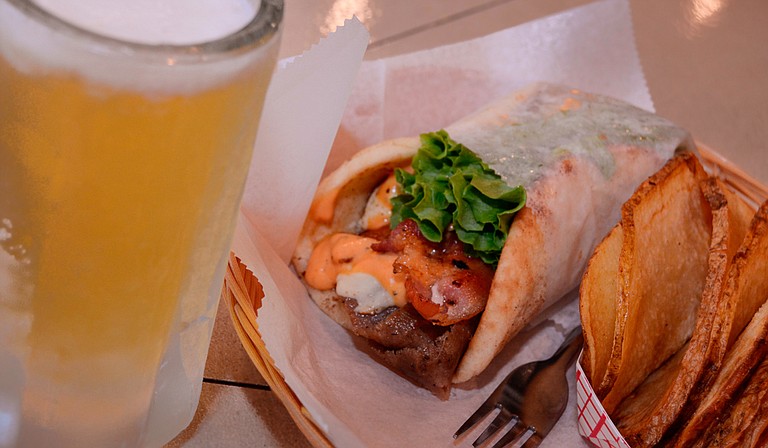 Wednesday, March 11, 2015
Even without the numerous chain franchise restaurants, you can find many different types of cuisine in Flowood, from Chinese to Japanese to Mexican to Italian. After the Flowood location of Aladdin closed in 2014, the area was short a Mediterranean option.
On Monday, Feb. 16, Sean Alexander filled that gap when he opened Zeek'z House of Gyros (132 Lakeland Heights, Suite P, 601-992-9498).
Alexander says the first couple of weeks were crazy for the new restaurant. The Thursday after opening, Feb. 19, when Doug Frank and Jeff Reynolds performed, about 700 people filled Zeek'z. The restaurant bought out its suppliers' stocks of pita bread in neighboring states Alabama, Georgia and Tennessee. Luckily, Zeek'z found a specialty supplier in Chicago to fill its quickly mounting pita needs.
"I didn't know we were going to do this well," Alexander says.
A Flowood native, Alexander has worked in the restaurant business since he graduated from Northwest Rankin High School in 2000. In eateries all over the metro area, he's been a bartender, server, busser and cook. He also studied nursing at Hinds Community College.
Alexander learned to cook Greek food after his aunt, Theresa Southerland and Alexander's mom, Paula Weggeman (then Paula Alexander), learned how to make the cuisine from Southerland's Lebanese-Greek husband.
"For Thanksgiving and all that, all we would ever have is dolmas and hummus and all different types of Greek food," Alexander says. The idea for Zeek'z blossomed about three years ago. "I just always had a passion for (Greek food), so ... I decided to open up a restaurant."
He wanted to do something different, and the specialty Alexander hit on was traditional Greek gyros, sandwiches made with flat bread. The restaurant's busyness over the last few weeks makes it evident that Alexander is doing something right.
"Apparently the people around here really wanted a good gyro," he says.
Zeek'z decor gives the place a laid-back feel. It has small palm trees, awnings in sunny blues, yellows and greens over the windows and booths, different color woods on the walls and even a water fountain. The kitchen is open so you can see the meats roasting away in the gyro pit. Alexander designed everything, from the logo to the floor plan. The only thing he didn't pick was the color palette, because he is colorblind.
"We worked really hard at this," he says. To add to the beachy decor, the restaurant plays different types of music, including songs from the '80s.
As to the food, Alexander gives many of Zeek'z dishes a southern twist. The menu features traditional dishes such as souvlaki and Greek-style gyros, but Zeek'z also offers pepperjack gyros, melding seared beef and lamb, Pepperjack cheese, comeback sauce, bacon, lettuce and tomato. Diners can choose from three types of hummus: traditional, chipotle and garlic. Zeek'z can even use gluten-free pita bread for the gluten-sensitive or for those limiting their wheat intake. Alexander says that bread is surprisingly good, though it doesn't fold as well because gluten provides elasticity to bread.
Zeek'z House of Gyros is open Monday through Saturday from 11 a.m. to 10 p.m., and Sunday from 11 a.m. to 9 p.m. The restaurant has live music every Thursday night. For more information, visit zeekzhouseofgyros.com or find Zeek'z on Facebook.
Zeek'z Traditional Hummus
2 15-ounce cans chickpeas
2/3 cup hot water
1/4 cup tahini paste
2 tablespoons fresh lemon juice
1 tablespoon garlic powder
1 teaspoon salt
Directions
Blend it all together and refrigerate overnight.