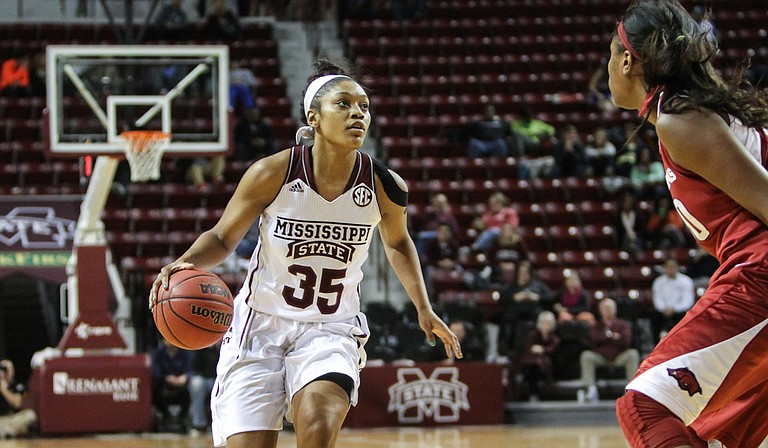 Wednesday, March 11, 2015
You won't see the biggest impact of Victoria Vivians' first college season in her statistics, although she led the SEC in scoring at 15.1 points per game. You won't see it on the shine of the Gillom Trophy, though she became the first freshman in history to win the award for the state's top female player on Monday, March 9. 
But a single glance at the Humphrey Coliseum stands in Mississippi State University's final home game of the season against rival Ole Miss showed at once the full force of Vivians' impact: A sea of 7,302 people set a state record for attendance at a women's college basketball game. Naturally, Vivians scored 17 points to lead all scorers in the Bulldogs' 55-47 win. 
The scene was the culmination of a season that saw interest in women's basketball skyrocket across Mississippi in a perfect storm of factors, with Vivians at the driving center. 
She arrived in Starkville with an already unprecedented profile in Mississippi women's basketball. Vivians made national headlines at Scott Central High School last year when she became the fifth highest scorer in national history. She averaged 46.2 points per game her senior season and scored 68 in the South State semifinals alone.
With stars in sports, timing is everything. Vivians soared to previously impossible heights at the high-school level in the digital and social-media age. News and footage of a 50-point game or buzzer-beating three-pointer, even in a place as remote as Forest, Miss., was broadcast instantly and consumed virally—something that greats, such as LaToya Thomas and Tan White before her, never experienced. 
Through it all, Vivians earned the nickname "Queen Victoria," a tall, put-together, soft-spoken girl as regal as she was dominant, as graceful as she was freakishly athletic. It all made Vivians the most-heralded recruit in program history when she signed with MSU in November 2013. Many who had never feigned interest in women's college basketball were curious how she would fare in Starkville. She delivered the answer right away with 26 points in an upset of No. 16 West Virginia in her third college game.
Fans want to see stars and wins, and Vivians brought both to Starkville. She had entered a program already on the upswing under third-year coach Vic Schaefer after reaching the quarterfinals of the Women's National Invitation Tournament a year before. Her talent put the Bulldogs over the top. The team reeled out 18 straight wins to start the season, exploding onto the national scene to join its freshman star. 
Other factors outside of Starkville certainly contributed. Ole Miss made a huge leap under second-year coach Matt Insell, setting a home record for a women's crowd in the Tad Smith Coliseum when the Bulldogs visited on January 22, and Southern Miss won 20 games for two consecutive seasons for the first time since 2004 to 2005. 
Like Vivians' own legend, a simultaneous media revolution fueled the explosion in popularity of women's basketball in Mississippi. The advent of the SEC Network brought women's basketball games to millions of people who had never had consistent cable and mobile access to them before.
The reality is that just as many viewers never really cared anyway. I was one of those people. But as a follower and fan of Mississippi sports, I, like so many others, tuned in for those early Bulldog games to see the intriguing Vivians, the native "Queen." In doing so, I experienced the final factor in the perfect storm: The women are fun to watch.
With Vivians as the hook, bolstered by her team's success and a new national television network, the product sold itself to Mississippians. The rest is state history—the kind that led to a record crowd for a women's game Sunday, March 8, in Starkville. But the storm is just beginning.
After all, Vivians is around for another three seasons. 
Jon Wiener is the host and producer of "Home Cookin'" on ESPN 105.9 FM The Zone. He has a bachelor's degree in English and master's degree in broadcast journalism.
Sports Follows of the Week
by Jon Wiener
@bdawsonrivals: Sports journalist Brett Dawson's Twitter feed is your best source for nonstop coverage of undefeated No. 1 University of Kentucky's march to history. Will it end in the SEC Tournament this weekend?
@si_vault: "Sports history, one photo at a time," says Sports Illustrated Vault's Twitter bio. More than 110,000 followers delight in the magazine's unending collection of timeless sports photos.
@thesaintsbeat: Few teams are meeting NFL free agency with a flurry like the New Orleans Saints, though it's more saving than spending. Keep up with all the moves here.
@aslanhodges: This Twitter feed is good for coverage of the state basketball tournament this week, and never one to spare opinions in the updates.