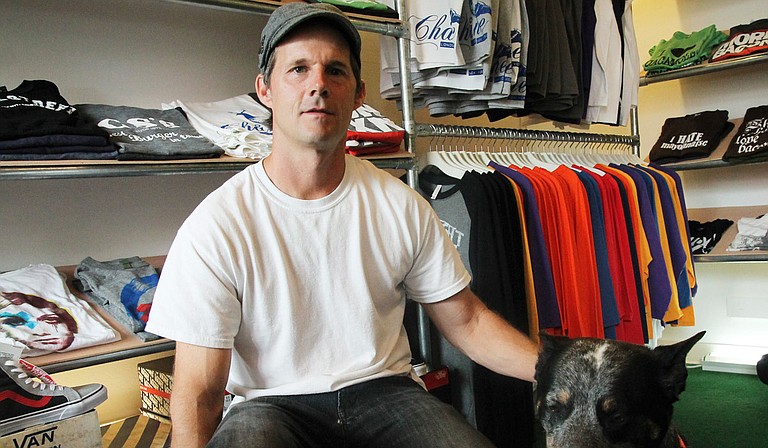 Studio Chane owner Ron Chane will soon bring a new space for local creators to Jackson in the form of The Wonder Lab, located in the basement of Fondren Corner. Jackson artisans will be able to rent a 175 square-foot space in the 1,800 square-foot facility for three, six or nine months at a time for about $400 a month.
Chane is working with Visit Mississippi to develop similar facilities around the state and draw in artists to set up shop. He has signed a five-year lease on the space, but for resident artists, the focus will be on rotation and regular change to bring in fresh new material. Chane also plans to use his monthly Fondren's First Thursday event as a platform to get local artists noticed.
In preparation for opening The Wonder Lab, he is moving his screen-printing shop, Studio Chane, out of the basement of Fondren Corner (2906 N. State St.)and into a new location at 3026 N. State. St. Studio Chane will close Thursday, July 23, and reopen Tuesday, July 28.
The Wonder Lab opens Sept. 1 this year. Visit Chane's Facebook page for an application to rent a space. He is also building a website, thewonderlab.city.
Flowood Dive Shop Prepares for Grand Opening
Flora resident Martha Lewis, who works as a dentist in Clinton, has always had a passion for scuba diving that she has long dreamed of sharing with other Mississippians. That dream came true about three months ago when Lewis opened Tanks Dive Shop (380 Ridge Way, Flowood).
Tanks is a scuba supply shop that sells equipment and accessories, and also offers classes and certification services.
Prospective divers require certification, and customers can obtain the required certification and training through Tanks. Lewis offers classes in standard diving, open-water diving, limited-visibility diving and more, all held in pool at the nearby Flowood YMCA (690 Liberty Rd., Flowood). After customers have received training, Lewis sets them up with one of several open-water certification centers in Mississippi, Alabama and other coastal areas, where they must take a final course to receive their certification.
She also works with a company called Caribbean Dive Travel to arrange diving trips to Florida, Mexico, Bonaire, the Philippines and other locales.
The store's ribbon cutting is Friday, July 24, from 11 a.m. to noon. Tanks will have a grand opening celebration Saturday, July 25, from 1 to 3 p.m. Attending customers will have the chance to win a week aboard the Blackboard Cruise in the Bahamas, diving equipment, a 20-quart YETI cooler, T-shirts and other prizes.
Tanks Dive Shop is open Monday through Friday from 10 a.m. to 6 p.m., and Saturdays from 10 a.m. to 5 p.m. For more information, visit the store's Facebook page or call 769-233-7656.
Bowties for Community at Pete's Bowtie Co.
Lando Shepherd, an engineer with the Mississippi Department of Environmental Quality, wanted to do something to give back to Jackson. Shepherd, 25, decided that opening a home business to share his love of bowties with the community was the way to accomplish his goal, leading to the establishment of Pete's Bowtie Co. at the end of May this year.
"I decided I was going to learn to sew and make something locally that I could use to give back, so I started watching videos online to learn the basics and then trained and practiced on my own out of home," Shepherd said. "I started doing this because I wanted to do something positive for my state. Pete's motto is 'Soul tied,' because I want the community to be tied together, like a family."
Pete's offers handcrafted items made from locally sourced materials wherever possible. Customers can also request particular materials if needed for custom-designed orders. Shepherd's bowties are $25 normally and $35 for custom orders.
He plans to donate some of the proceeds from Pete's to local homeless shelters, ensuring that the money goes back into the Jackson community.
Pete's Bowtie Co. is an online business only. Customers can make purchases and request custom orders at www.petesbowtieco.com. Email details for custom orders to [email protected] or contact Shepherd at 601-919-6397. Pete's also has a Facebook, Instagram and Twitter page, all @petesbowtieco.