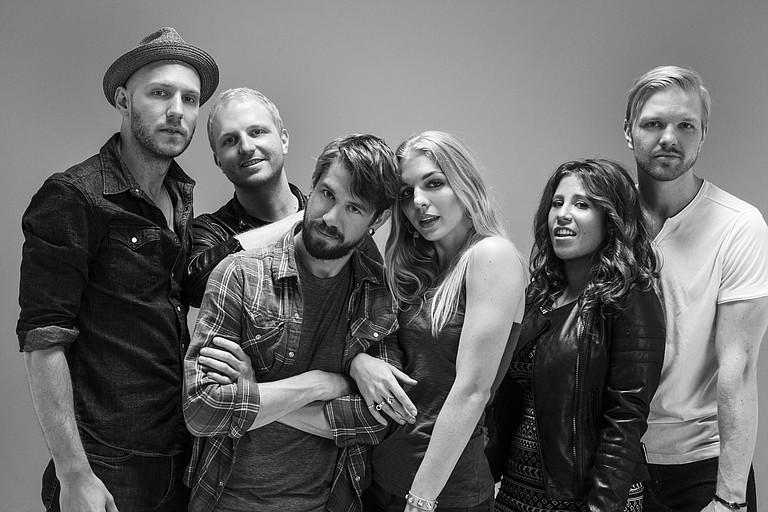 Durham, N.C., sextet Delta Rae is eager to meet more of the South and share its patented blend of blues, rock and Americana while touring for its second studio album, "After It All," which the band released April 7, 2015. Delta Rae takes the stage at Duling Hall Monday, July 20.
Comprised of three siblings—vocalist and guitarist Ian Hoelljes, vocalist, guitarist and pianist Eric Hoelljes and vocalist Brittany Hoelljes—along with vocalist Elizabeth Hopkins, drummer Mike McKee and bassist Grant Emerson, Delta Rae has grown in recognition since forming in 2009. In 2012 the band sang with artists Ne-Yo, Herbie Hancock, Natasha Bedingfield and John Rzeznik of Goo Goo Dolls on the song "Forward" in support of President Obama's re-election. Delta Rae's song "Bottom of the River" from its 2012 debut album "Carry the Fire" appeared on the popular NBC drama "Parenthood." The band has also played at many major music festivals, including Bonnaroo, Austin City Limits Music Festival, Hangout Music Festival, Lollapalooza and Farm Aid, and has shared the stage with acts such as Iggy Azalea, Trombone Shorty & Orleans Avenue, Hozier and London Grammar.
Through all the collaborations and accolades, though, Delta Rae's songwriting still centers on the same thing.
"The core has always been our voices," Hopkins says. "We start out with huge harmonies and huge percussions. The type and identity of the song falls into place after that."
At the same time, the members of Delta Rae wanted their sound to progress with their name recognition. For "After It All," the band decided to experiment.
"We brought in horn parts and sweeping strings. It feels to me a bit more dynamic as a result," Ian says in the band's bio on its website. "People will recognize what has been at the core of Delta Rae the whole time—the harmonies, the songwriting, and the real instruments, which we augmented on this album. That was really exciting for us."
During a brief respite from the road this summer, the band recorded a handful of new songs. The members hope to incorporate the new music into the upcoming shows, including a short European tour, which kicks off in September.
For those who haven't attended a Delta Rae show, Hopkins says to expect a lot of soul, harmony, percussion and energy when the band stops in Jackson. The band often opens performances with the song "Outlaws" from "After It All," which boasts a clear rock influence and six-part harmonies. Hopkins says it's "kind of a rollicking ride—our way of welcoming our audience."
"If they want to come on an emotional roller coaster and a road trip across America, we are the band to see," she says. "We have got a huge amount of energy and emotions, and no two shows are the same. The perspective is always changing, and the emotion is always changing throughout our show."
Delta Rae performs at 8 p.m., Monday, July 20, at Duling Hall (622 Duling Ave., 601-292-7121). Admission is $15 in advance at ardenland.net or $20 at the door. For more information, visit deltarae.com.