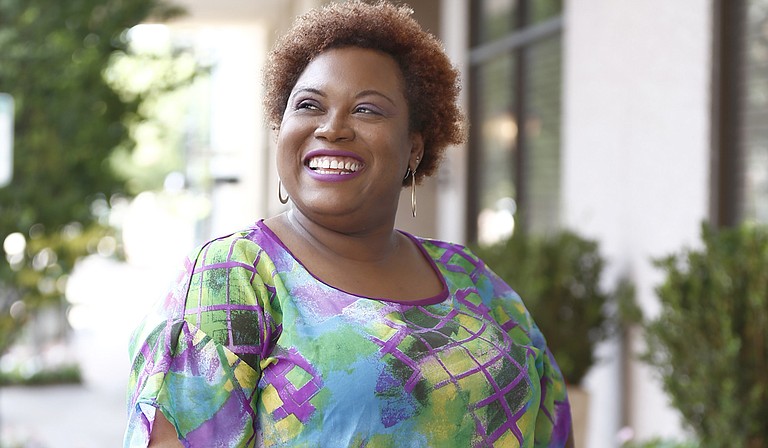 Don't worry about anything else; you'll be safe here."
Those were the exact words Jennifer Malone needed to hear. Anxious and overwhelmed with how her life had gotten to the point it had, the stranger's voice on the phone solidified her decision to leave—for good. 
 After three years together, her then-boyfriend had slapped her, and she had reached her limit.
"I made my mind up then that it was going to be hard starting over, and (I said) if I don't start over and don't stop it right here, who's going to be here to take care of my son?" Malone said.
The relationship had started OK but got more abusive as time went on. Malone—whose name has been changed to protect her identity—met him when she was 21 and her son was only 2 years old. The problems started with verbal abuse but then progressed to something like mind control and eventually, physical abuse.
When her now ex-boyfriend lost his job, the relationship got worse. The house they shared and almost everything in it was under Malone's name because he hadn't been making a lot of money. An argument that turned physical landed she and her partner in jail for a weekend in May 2013, but it would be another year before she left.
Malone said she wanted to be in love and had begun to plan her life around him, making it difficult to leave. In May 2014, however, Malone woke up to her situation and confided in a friend who had gone through a shelter program herself. Then, Malone made the call.
A month later, she had moved her and her son out of the house and into a shelter. She continued to work at a nursing home, while her son was at daycare. Malone, 24, is thankful she got out when she did. Her advice to women who are in her position? Look at your life and evaluate if the abuse is really worth it.
"I'm still choosing to see a way bigger and better picture because I am learning to have self-respect and self-love," she said. "I can be independent by myself, so when I see signs like this again, I don't have to stand for this, and that's what I am trying to get the other ladies to see—you have the choice."
Give Help A Chance
Domestic abuse is not always obvious, and someone can be completely in control of her life on paper but not at home. Malone owned her own car and most of what was in the house.
She said other victims should reach out, and if they don't have a friend to confide in, or even if they do, they can call hotlines instead of family members if they are fearful of being judged.
"Really give the idea of receiving help a chance," she said. "Don't turn it away because it's going to be hard."
Malone plans to move out of the shelter soon, likely in the next month, and find a new place for her and her son, who starts kindergarten in the fall. She plans to apply to nursing school.
Domestic violence is a serious problem in Mississippi and nationally. Last year, 10,066 offense reports were filed according to the attorney general's office. Those reports resulted in 4.941 arrests and 3,271 protection orders.
In Mississippi, 460,000 women and 268,000 men were victims of sexual or physical violence in 2010, according to a Centers for Disease Control survey on intimate-partner sexual violence.
'We Are Like the Support System'
Wendy Mahoney, the executive director of the Mississippi Coalition Against Domestic Violence, said domestic violence as an issue in the state has come a long way in terms of legislation, but now the larger issue is one of awareness and "people really understanding what domestic violence is."
The official definition of domestic violence used by the coalition and nationally is: "a pattern of coercive behavior in which one person attempts to control another person through threats or actual use of physical, emotional, psychological, financial, sexual or spiritual abuse."
Mahoney said some people don't recognize their situations as abusive, while others don't know where to turn for help. There are 13 domestic-violence shelter programs in Mississippi that do more than just provide housing for victims. Mahoney said one of the misconceptions of the shelter programs is that people think they have to move or live there, but they don't need to move in to receive counseling services and support.
The Mississippi Coalition Against Domestic Violence is the roadmap and guide to programs and support in the state. The coalition runs the state's domestic-violence hotline and helps direct men and women to resources that are nearest to them to receive help.
"We are like the support system, and we function as the experts when it comes to domestic violence," Mahoney said. "So people come to us to ask questions about domestic violence, get training and get resources."
The coalition's main focus is to educate society, providing resources for victims, training for community leaders and bystander intervention strategies for everyone else. "We've gotten to the point in our society where we stay out of other people's business, so to speak, but if you know what to do, you're more apt to do something," Mahoney said.
Nationally, domestic violence is also called intimate partner violence, meaning violence between people in an intimate relationship that could be marital, relational or familial. In the U.S. Department of Justice's most recent survey, 76 percent of domestic violence was committed against women and 24 percent against men.
Mahoney said that with more education and resources, more males will come forward and know that they're not alone as victims.
"I think with collaborative efforts with our community, our families, social service groups, our churches and community organizations coming together to all have the same information when it comes to what is domestic violence (is) how can we stop the violence," Mahoney said.
The Mississippi Coalition for Domestic Violence can be reached at 1-800-898-3234 or 1-601-981-9196 or online at mcadv.org. The JFP Chick Ball, which is Saturday, July 18, at Hal & Mal's in Jackson, is raising money for the coalition emergency funds. Visit jfpchickball.com for information.
Update: Mississippi domestic violence statistics now reflect the most current numbers from FY2015 reports.