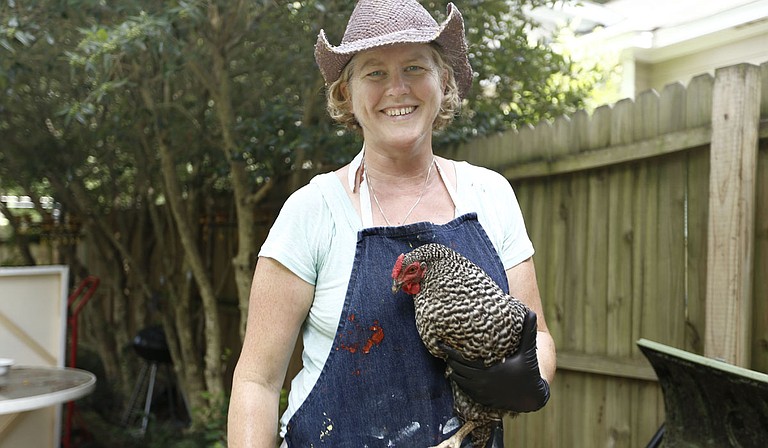 Angela Brown
Angela Brown attributes her passion for helping others in her community to seeing her grandmother, Vinnie Green Adams, do the same for the town of Edwards, Miss., where Brown is from. Adams was a fruit farmer and an usher in the community for 64 years while helping Brown's mother, Cora Mae Adams, raise seven children. "My grandmother was Superwoman," Brown says. "And if she was Superwoman, I feel I'm Wonder Woman."
Brown graduated in 1988 from Hinds Community College with an associate's degree in business. Her two daughters, Nene and Lakierra Brown, volunteered at food pantries at a young age. Nene, who has many volunteer service hours under her belt and is transferring from Jones Community College to Hinds Community College, is currently Brown's junior campaign manager for the Warren County tax assessor position, and Lakierra volunteered at the Red Cross in Oxford, Miss., before graduating from Ole Miss with a civil engineering degree this year.
As the first African American and the first female tax assessor in Warren County, Brown says she likes to think of herself as a community leader rather than a politician. She has been a public servant in Vicksburg for the past 23 years.
Brown first started at the Child-Abuse Prevention Center as a parent aide and now serves as the public-relations spokeswoman for the Men of Action organization, which calls for men to pledge to stand up against domestic violence.
Brown also serves on the board of the Warren County Summer Youth Enrichment Program, which hires 25 local youth to work in the county offices.
"You don't have to be a statistic of where you come from," she says. Whether she's teaching young girls how to carry themselves or speaking to senior citizens about their benefits, Brown, 46, says she plans to never stop helping communities and living a life of God just like 
her grandmother.
—Joshua C. Clayton
Ellen Langford
Many artists living and growing up in the South take inspiration from their surroundings, painting and drawing scenes firmly grounded in southern culture. 
 For Ellen Langford, her art, while still grounded in southern culture, is also about telling a story.
Langford's main work is in a style called narrative painting, an art form that focuses on putting stories or scenes in the art work itself, which she does with bold brush strokes. "We all respond very gutturally, viscerally to stories," she says. "We need to tell our own and hear others'."
The Jackson native has been painting professionally for about 20 years. She received a bachelor's degree in world religion from Colby College in Maine in 1990. She's studied all around the U.S., from the San Francisco Art Institute in 1994 and 1995, to the Maine College of Art in 2004, to the Corcoran School of Art briefly for the summer of 1989, but it all started at St. Andrew's Episcopal School. "I had a fabulous high-school art teacher who fashioned my appreciation for art," she says.
Langford's work is also featured in a number of art galleries such as the Attic Gallery in Vicksburg, Fischer Galleries in Jackson, and M Contemporary, an art studio in New Orleans.
Though Langford, 47, has painted all over the U.S., she often paints outside her home, in her fenced-off backyard in Belhaven. Her three dogs mill around, ducking underneath tables filled with different bottles of paint, brushes and water glasses for dipping brushes. Her chicken, Gertrude, squawks in the back of the yard in her homemade coop next to Langford's garden.
Becoming a professional painter is no easy task, but thankfully, Langford has always had people interested in her paintings. "The places that represent me have always pursued me," she says.
Langford also feels that because she hasn't had to worry about selling her paintings herself, she can focus on the painting itself.
"The painting has always been a priority," she says. "I think an artist can lose their authenticity if too much of their energy is spent trying to market themselves rather than trying to be authentic to their work."
— John William Creel
Debrynda Davey
Though Debrynda Davey left her full-time position as a nursing professor at the University of Mississippi Medical Center in 2010, the lifelong advocate for victims of sexual abuse continues to help make Mississippi a safer place. Her efforts persist in local classrooms, hospitals, transitional shelters and the Mississippi Legislature.
She teaches part-time at UMMC and holds training seminars several times a year at local health alliances.
As a teacher, she wields her passion and expertise to champion practice and policy beyond the academic walls. She encourages her students to expand their influence beyond the confines of their job as well. "As I've grown in my career, it (has become) clearer that health care is more than what happens in the hospital wing," Davey says.
Armed with a master's degree in adult health nursing from the University of Tennessee at Memphis, which she received in 1979, and a doctorate degree in education from Delta State University, which she received in 1985, Davey has consulted with public health agencies to steer changes in state law as far back as the early 1990s. Collaborations between the coalition and the attorney general's office led to the passage of the Spousal Sexual Assault Law in 1993. Before its passage, non-consensual sex between a husband and wife was not considered rape.
The 60-year-old has had her fingerprints on policy nearly every year since. In 1998, she co-founded the Sexual Assault Nurse Examiner Program, a 40-hour training course that teaches nurses how to administer health care to victims who walk through its doors.
Davey has tailored her research and outreach towards this third group. While all people are susceptible to abuse, she understands the heightened vulnerability those with disabilities face. Her research sets standards for evidence-based practices on how health-care providers should care for victims with disabilities. Davey, in turn, teaches these practices to the coalition and UMMC nursing students.
"Our health care (system) still gears (its) questions to people who don't have disabilities," Davey says. "The goal is to bring awareness about disability abuse."
Davey's daughter, JoDee, grew up with Asperger's syndrome, a disorder that affects a person's social and communicative development. With this, Davey's work took on a new meaning.
"It's not just a job for me," Davey says of her relationship to her life's work. "It's in my home, raising my children and grandchildren in a peaceful way."
Davey knows the Mississippi her grandchildren grow up in still has a ways to go before all groups are adequately protected. The mother of three—JoDee, Mason and Jonathan—and grandmother of five still wishes to see legislators allocate more funding to support domestic-violence shelters. Her hope is that shelters without sufficient food, space or even a wheelchair ramp become a thing of the past.
—Brian Gordon
Emiko Faust
As a special assistant attorney general, Emiko Faust, 27, has served the state in many ways.
While studying at Mississippi State University, where Faust earned a bachelor's degree in history in 2009, she joined the Delta Delta Delta sorority and volunteered for other campus organizations.
Faust, a McComb native, began law school at the University of Mississippi after matriculating from MSU. She received her law degree in 2012.
After being admitted to practice in Mississippi, she began working for lawyer John R. White in Iuka, Miss., and later became a staff attorney for the Mississippi Department of Human Services.
In her current position at the attorney general's office, her job duties include developing and delivering training, education, and resources to disciplinary groups such as law enforcement officers and advocacy groups, assisting prosecutors in preparing for trial when needed and acting as a liaison between groups within the criminal and civil justice system.
In terms of domestic violence, Faust says the largest part of what she does is bring awareness and train law-enforcement officers and other groups.
"Law enforcement officers, community members and agencies throughout the state are all needed to eliminate domestic violence," she says.
She says it's important to get victims to report domestic violence cases and for them to know that there are many resources and services available to them.
"We don't want it to be something that's taboo," she says.
" ... When victims (know they) have access to services, they're more likely to use those."
When she is not at work, Faust enjoys baking, reading and playing tennis.
—Guy King
T. Nicole Hardy
T. Nicole Hardy is a dynamic mix of smarts, art and style. A Jackson native and graduate of Bailey Magnet High School, Hardy received her bachelor's degree in biology at Jackson State University in 2004 before pursuing her master's degree in administration at Mississippi College, which she completed in 2008. Hardy, 33, has since become an entrepreneur and is applying her education to her business, Embellished Events and Interiors LLC.
In 2013, Hardy joined forces with her friend and business partner Tasha Rowe (see page 26) to create Embellished Events. After working separately at first, Hardy and Rowe realized they had the same goals and decided to go into business together. Hardy takes care of the floral arrangement designs, Rowe decorates, and the two collaborate in the event-planning process. Hardy, who lives in Clinton, calls Embellished a one-stop shop. It plans and manages events for clients, as well as rents out equipment for events. The two share a storefront in Brookhaven, Miss., but are looking to move to downtown Jackson or the Fondren area.
While Hardy uses her administration training in event planning, one of her main interests is botany. As far back as she can remember, Hardy has been interested in science.
Upon entering college and majoring in biology, she became enamored with plants and has used her knowledge to assist in floral design for clients.
"Science has always been a passion of mine, especially plants and plant life. It's great that I get to incorporate that into my business," Hardy says.
Hardy and Rowe also enjoy giving back. The two have collaborated with Wendy Mahoney, executive director of the Mississippi Coalition Against Domestic Violence, on events. For the third consecutive year this past May, Embellished co-hosted Cheers for a Cause, an arts and wine fundraiser that promotes domestic-violence awareness.
The event featured a silent auction and live entertainment, as well as free wine and hors d'oeuvres with the purchase of a ticket. Proceeds went to the Mississippi Coalition Against Domestic Violence, which aids the state's 13 domestic-violence shelters.
"A lot of people are affected by domestic violence but they may not know where to go or who to contact," Hardy says. "They don't know the Mississippi Coalition exists. We started Cheers for a Cause to make people aware of the coalition and exactly what they do. We just want to get people out and help them become more aware."
—Jordan K. Morrow
Constance Gordon
On Sept. 1, 2005, Constance Gordon's electricity was out. She went over to a friend's house for a shower and to catch up on the news. There was some bad weather in the gulf—a system meteorologists had named Hurricane Katrina. 
 On the screen, a helicopter was flying over people in New Orleans. Women, men and children were trying to exit the drowned city of New Orleans on a bridge, but she said there was no bridge left.
As an African American lesbian who identifies with the male gender, Gordon has been a victim of oppression since the day she was born, but the images of the refugees from the disaster struck something in her.
"We were all sitting around the TV and watching that bridge—all those people dying, all those babies dying," Gordon says.
"All those people that couldn't get out past that bridge. Then, to hear people say, 'They had a choice to leave!' They think people can just move out of New Orleans in two days, little less be able to afford to drive 90 miles down the highway. 
 I had thought it before that, but I remember thinking, 'We've got to do something about this.'"
Gordon, 32, was born in Pike County. At South Pike High School, she developed the reputation of being a class clown.
"I was the type person that the band director had pre-written office referrals sitting in his desk just waiting," she says.
Although she stirred the pot, she was also a National Merit Scholar, Junior Honor Society member, trombone player and mock-trial contestant.
After high school and a few years as a talent promoter and rapper, she began working for Barack Obama's 2008 presidential campaign. That first taste of political work led her to work at the American Civil Liberties Union of Mississippi in the summer of 2011. 
 Coming from a background of intersection, Gordon chose to focus on a wide network of advocacy that spanned from LGBT and reproductive rights and black oppression to undocumented immigrant issues.
In fall of 2014, Gordon separated from the ACLU and today is a private consultant, working with businesses to alter their models in hopes of better fitting their niche.
"Basically I'm just going through the motions," she says. "I'm just walking through life right now. Taking it where the universe is leading me. I don't anticipate anything. I don't plan for anything, but I'm looking for the next big thing."
—Zachary Oren Smith
Tasha Rowe
Tasha Rowe believes in the power of giving back. As a marketing representative for Mississippi Blood Services, she makes it her business to encourage people to give blood to help others.
"I love the mission of Mississippi Blood Services. It's getting people to get out there and letting them know that it is important to donate blood regularly," Rowe says. "I want people to see it as a daily way of life, as though they are taking a vitamin."
Rowe, 42, who grew up in Hattiesburg, says her passion for community and people stems from her father's passion for helping others. As a young adult, she worked part-time at his furniture store, where he refurbished old chairs and sofas.
Rowe would watch her father do things for the people around town even if they could not always afford his services.
"He believed in living life to the fullest and following your dreams," Rowe says.
"He had a love for the people."
Not only did she inherit her father's knack for giving back, but she also developed a passion for design and event planning. Rowe earned her bachelor's degree in microbiology from Mississippi State University in 1995. She moved to Jackson the following year.
Rowe began arranging events for herself and later worked alongside her sister at their company, Lah-di-Dah. Three years ago, Rowe and her friend, T. Nicole Hardy (see page 24), opened an event-planning company called Embellished Events and Interiors, which has a storefront in Brookhaven.
The two also started a domestic-violence awareness event, Cheers for a Cause, with the Mississippi Coalition Against Domestic Violence.
Rowe works with her sorority, Alpha Kappa Alpha, on other fundraisers such as Emerging Young Leaders, which helps girls in middle school develop leadership skills by encouraging academic achievements. When she isn't busy planning events or working in the community, Rowe is spending time with her family—her husband, Marc Rowe, and their two children, Madison and Dylan—or enjoying a meal with friends.
"One of the best parts of helping others is knowing that I've impacted their lives in a positive way," Rowe says. "It's knowing that the work is for the greater good and can encourage others to do the same."
—Deja Harris
Joy Hogge
As the executive director of Families as Allies Mississippi, Joy Hogge advocates for mental health care for children. FAAMS is the only statewide grassroots organization in Mississippi that is operated by and for families of children with mental-health challenges, such as eating disorders, attention deficit hyperactivity disorder, depression and anxiety. 
 FAAMS brings together administrators and families with quarterly training exercises and conference calls on how to handle mental challenges, and offers resources to help target issues problems at school, Hogge says.
In 1982, Hogge earned her doctorate degree in counseling psychology from Texas A&M University. She says she always wanted to find ways to make a difference and soon found that she enjoyed working on problems on a larger scale.
"As my career progressed, I saw that another way to make a difference and hopefully make things better is to work with groups of people on policies and changing the infrastructure of systems to make them responsive to a lot more people," Hogge says.
Hogge moved to Mississippi more than 20 years ago when her husband, Howard Roffwarg, took a position as a psychiatrist at the University of Mississippi Medical Center.
Their son, Sam, 15, has a chronic medical condition that makes Hogge's work at FAAMS more personal. 
 She says the most challenging part of her job is figuring out how to enact changes while maintaining good relationships with child-serving systems, as well as letting families know they have a voice to speak up for things they want or aren't happy with.
"We really want to build up a statewide network of families so that our organization is reflecting the voice of families in the state, not just what the particular people who work there think," she says.
Even though her job can be stressful, Hogge says there's nothing more motivating than getting to talk to the families.
"I know what it's like to be in a situation where you feel like you aren't getting what you want for your child," she says. "I feel so touched and honored that people are letting us share in the most important thing in their life, and that is their child's journey. You don't have to feel alone."
—Maya Miller
Gypsi Ward
Gypsi Ward, who has more than 16 years of law enforcement experience, is the first investigator to work for the Bureau of Victim Assistance at the Mississippi attorney general's office (and, thus, is not pictured). There, she does law enforcement officer training and works with sex-crime cases.
She worked with the Lauderdale County sheriff 's office as an investigator before coming to Jackson this year. In Lauderdale, Ward says, she found her passion for finding justice for those affected by domestic violence. She worked on patrol duty for nine years, but over the last seven years in that office, she worked as investigator for sexual assault, child abuse and domestic-violence cases. She was also involved with the coordinated community-response domestic-violence program through the local shelter in the county.
"This (domestic-violence) epidemic is something that we as a people can't ignore. If there is something to be done, I'll be there," Ward says. She says she wants to protect those who cannot protect themselves.
As a child, Ward loved spending time with her friends and family, something that is still a big part of her life today. All of Ward's family lives in Meridian, and staying close to each other is a family tradition. She went to Newton County High School and graduated in 1997.
Ward went into the law-enforcement field at the age of 19. She graduated from the Mississippi Law Enforcement Academy in 2001 and completed the Certified Investigator Program in 2009. While in her position at the Lauderdale County sheriff's office, she volunteered for trainings that eventually led her to turning in her resume to work directly with the AG office.
Although Ward has only been working in Jackson for a couple of months, getting a feel for the city is something she hasn't had time to do. Jackson is a place Ward says she wants to get to know, but for now, it's strictly business.
"Domestic assault and domestic violence have to be stopped," she says.
—Miles Thomas
*CORRECTION: The Chick We Love story on Angela Brown has been edited to reflect factcheck changes. Her grandmother's name is actually Vinnie Green Adams, and her mother's name is Cora Mae Adams. The Jackson Free Press apologizes for these errors.