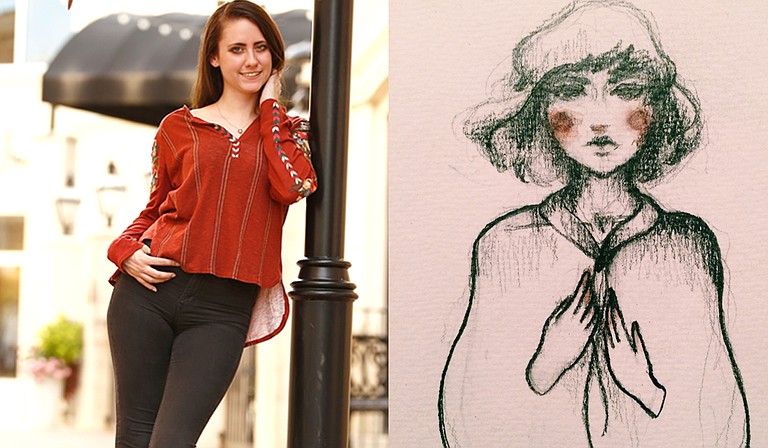 A black ship with orange sails sits on a sea of faded pink and purple, dripping dark ink down a page. A Minoan ship sails on dark blue seas. A woman with short hair stares down at an arrow in the middle of her chest, the hand of a mysterious figure near the back of its shaft. Artist Melissa Bryant likes to incorporate dark, sometimes creepy elements into her artwork.
For her senior project at the University of Southern Mississippi, she redesigned excerpts of "Don Quixote" the finished product of which combines her style of art and her love for classic novels. She created a book with excerpts of text to go with the high-contrast, moody illustrations from the novel. Some illustrations bleed over onto the facing page of text or down its own page.
Her newest book, "ABC's of Creepy," is an original collection of graphite and ink drawings of things that she finds creepy. For it, she used a muted tone of red for the main character's dress and pale yellow for the walls. The creepy characters are in monotone grays 
and blacks.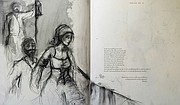 She has also done art work for local businesses. For Saltine Oyster Bar's first Ramen Night, she did a piece that features a woman holding a bowl of ramen with a sunny-side-up egg and some seaweed.
Since she was a child, Bryant says she has always found herself with a pencil in her hand, sketching her days away. Now at 25, the New Orleans native is a professional artist, illustrator and graphic designer, creating art that both piques viewers' interest and sometimes disturbs the comfortable.
In 2014, she graduated from USM with her bachelor's degree in fine arts with a graphic-design emphasis. She says she chose to focus on that area because she saw potential for a future career in the digital age, but it also allowed her to take courses in advanced drawing and illustration. Japanese artists and directors such as Hayao Miyazaki, who created films such as "Spirited Away" and "Ponyo," inspire her.
She says she loves the style of manga, which is present in most of her original illustrations.
"I like to keep that sort of Japanese manga look—that kind of magical, airy, mystery vibe that you get out of Miyazaki films," she says.
"Something pretty, kind of like a nostalgic feeling. They're always expressing something, and I usually involve a lot of ghosts or demons, which is also very traditional of Japanese woodblock printing."
Though she has studied ukiyo-e (woodblock printing), Bryant's favorite mediums are graphite and watercolor.
She's influenced by other artists, such as contemporary artists Audrey Kawasaki, J.A.W. Cooper and James Jean, as well as masters like Caravaggio, Jan van Eyck and Leonardo da Vinci.
"Looking at other artists is very inspiring because even though I can look at their work and can take something from it; that's what all artists do, you make it your own," Bryant says.
She says she keeps a sketchbook with her at all times and scribbles ideas in it whenever she has a few extra minutes. She would love to make a career out of it, traveling to Japan and painting murals. For aspiring artists, she says it's about finding the time to practice 
the craft.
"Keep your hand in it. That's something a professor told me, because if you stray away from it, you're going to lose it," she says. "So you (have to) do it every day. I can't stress that enough. You have to keep that creative flow going."
For more information or to view artwork by Melissa Bryant, visit melissabryantcreative.com.
More like this story