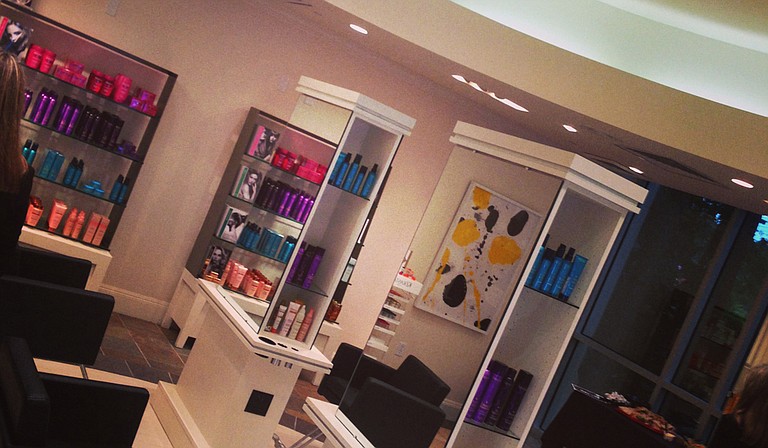 When I was younger, I remember my grandmother going to the beauty shop once a week to get her hair washed and set. I recall thinking it strange—and, frankly, gross—that she went that long between shampoos, and I wondered how on earth she stood it.
How times have changed. Though today—and for me—it's not the helmet hair of my grandmother's era; rather, it's about styling my blonde extensions in loose waves or straightening them with a flat iron. I now frequently go days, and yes, even a week between blowouts and stylings. (Thank you, dry shampoo!)
Good hair just makes you feel better, and a blowout can be a little indulgence (generally, they cost around the same or less than it would to get your nails done) that just makes you feel more confident, or a little sexier. And who doesn't like that?
The thing about a blowout is that it also doesn't require a ton of time. It's not like when you're going in for cut and color. You can get in and out fairly quickly, and, as a result, neither you nor the salon necessarily needs the whole production set entailed in a cut and color. Hence, the recent phenomenon of the blow-dry bar, where not even an appointment is necessary at all times.
Clients generally choose from a menu of styles (straight, big hair, curls) for a flat fee. You get shampooed and blow-dried, but there's no color or cutting offered, and it's, in general, a fun, lively setting.
So, when I heard about a new dry bar in town opening in northeast Jackson, I knew I needed to investigate. Barnette's Dry Bar (4400 Old Canton Road, 769-230-4648), Ralph Barnette's new foray into the world of the dry bar, is open Tuesday through Friday from 10 a.m. to 6 p.m. (which is great; you can go even if you have to work late), and Saturdays from 9 a.m. to 2 p.m., and 2 to 5 p.m. for special appointments. The shop is open Sunday and Monday by appointment only.
The space is small and modern, with colorful art on the white walls and displays of the luxury Kerastase brand of hair products the bar uses and sells that add another pop of color. During my appointment, the sound system played a fun mix that induced a little sing-along with one of the stylists.
The atmosphere is lighthearted, like you're hanging out with your girlfriends. In fact, doing just that is encouraged; the bar offers packages for bachelorette or bridal parties, girls' nights out, and proms, and each day, the shop has a happy hour from 11 a.m. to 2 p.m., as well as a Girls Night Out every Friday and Saturday from 4 to 6 p.m., until school starts back.
At my appointment, I settled on loose waves for my look, and the results were great. The Kerastase products make for an indulgent shampoo and style. My hair was soft for days afterward. Also, the chairs at the shampoo bowls were a game-changer. Unlike typical salon chairs that result in awkward neck strain, the horizontal bed-style chairs put your head in the same plane as the rest of your body. Amazing.
All in all, for roughly 30 minutes and $35, I left feeling pampered and sassy, and the style held up really well. I also left with a punch card; after you purchase five blowouts, your sixth is free, and I'm a sucker for an incentive program. Also, the shop offers monthly memberships or packages, if you know you're going to go frequently and want to buy in bulk, as it were. It's something to consider, and I feel like that could make a good gift, too. So, it turns out, there's something to the wisdom of grandmothers. While the dry bar puts a more modern spin on sitting under a dryer, each time I get a blowout, I'll feel a bond with my grandmother.