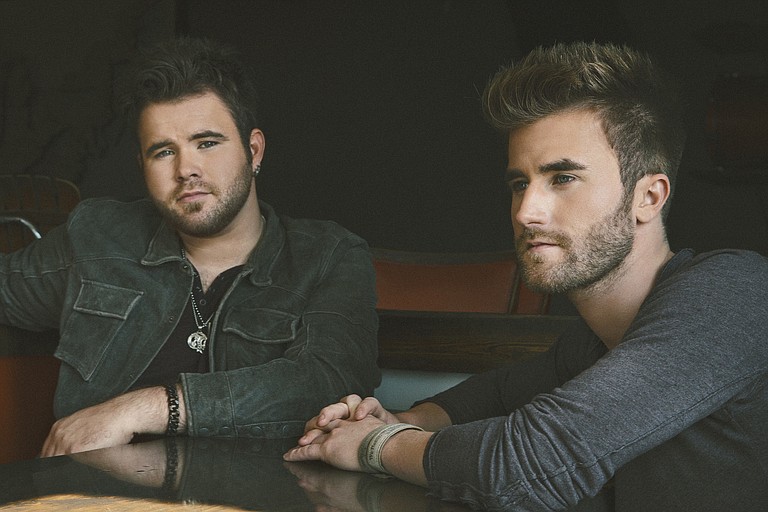 Wednesday, February 11, 2015
Television might have taken the wind out of radio's sails, but these days, it's giving it back. There's perhaps no clearer evidence of that than Muskogee, Okla., musicians Colton and Zach Swon. Since fighting their way to third place on NBC's "The Voice" in 2013, the Swon Brothers' singles, "Later On" and "Pray for You," have climbed the country radio charts.
Throughout the show's fourth season, coach and country superstar Blake Shelton praised the brothers' talents, and voters tuned in to watch them put a personal spin on classics such as Tom Petty's "I Won't Back Down" and the Nitty Gritty Dirt Band's "Fishin' in the Dark." But, as any artist who's seen success on a TV competition can tell you, that doesn't mean the work is done.
"I think, for the most part, we lucked out in where we landed with that show and with Blake," Zach says. "I mean, Blake Shelton has got a lot to do with it because he kind of prepared us for what was coming next. I think we connected with a lot of people that have stuck by us and really latched onto our music, and we're lucky for that."
More than anything, Zach says, the secret to capitalizing on TV success is to not waste any time. The Swon Brothers signed with a booking agent immediately after "The Voice," before considering any contract offers, and they began performing.
"I think we spent two days at home when the show ended, did some laundry, said hi and bye to Mom and Dad and went straight to Nashville and got to work," Zach says.
While they've collected a majority of their fans over the past few years, the Swon Brothers' musical history goes much further back. As children, Colton and Zach performed as part of their family's southern gospel band. The family travelled in a regular coach bus that they outfitted with bunk beds and couches.
"We rode that thing from town to town, and any chance we could, we'd get on stage," Colton says. "That kind of developed into a little variety show. We'd do everything from Frank Sinatra to Michael Jackson."
When the family stopped touring around 1998, the brothers started performing as a duo and began making trips to Nashville in order to earn a record deal. For 17 years, the Swon Brothers wrote original music and performed at everything from fairs and festivals to coffee shops and casinos. While they independently released three previous albums, they weren't able to fully realize their music in studio until their self-titled record hit shelves last October.
"This is something we've waited our whole lives to do: to have a real producer and a budget and just free reign to make a record on that level," Zach says. "... We got to meet a lot of great songwriters and learned really (quickly) that there are guys in Nashville that are way better writers than we are. ... I think every album from here on out is just going to be growth, and that's exciting."
While the Swon Brothers agree that there's a lot more work to be done offstage than they realized, being able to perform songs that they wrote for fans and new listeners alike is everything that they hoped it would be.
"Even out doing concerts and seeing people sing back songs that aren't even on the radio yet, that is the best feeling in the world," Colton says. "... We're just ready to get back out there. It's what we do."
The Swon Brothers perform 7:30 p.m. Tuesday, Feb. 17, at the Mississippi Coliseum (1207 Mississippi St., 601-961-4000). Visit dixienational.com. Follow the Swon Brothers on Twitter and Instagram.