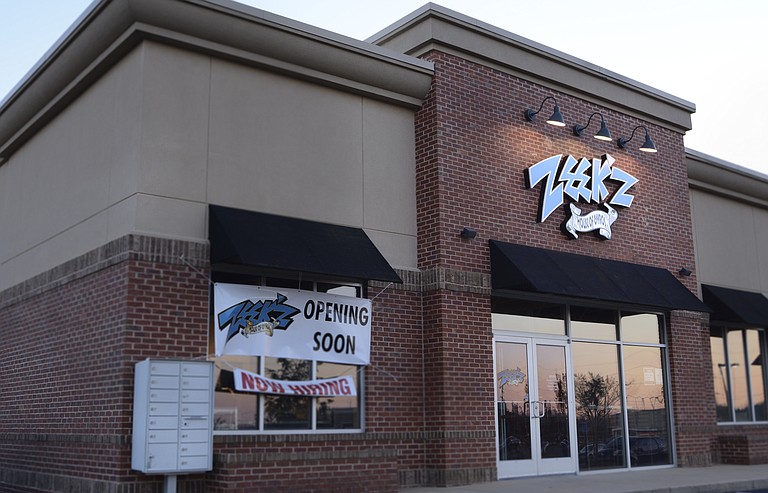 Tuesday, February 10, 2015
On Thursday, Feb. 12, Fischer Galleries (736 S. President St.) will celebrate Valentine's Day early with the Art Lovers' Soiree from 5 p.m. to 8 p.m.
The event will feature art galleries from three Mississippi artists: Andrew Cary Young, owner of Pearl River Glass Studios (142 Millsaps Ave.); photographer Jack Spencer; and painter Hannah McCormick, who will paint live portraits during the event and during the day Feb. 13.
Fischer hosts the event along with Art Space 86, The Attic Gallery, Maidenhair Floral and Event Design, Lemuria Books and other local businesses. Lemuria will have poetry and other books for lovers, and Johnny Mora and other local musical artists will perform. LurnyD's Grille and FEAST Specialty Foods provide catering.
For information, visit Fischer Galleries' website.
Zeek'z House of Gyros Coming to Flowood
Flowood native Sean Alexander will open Zeek'z House of Gyros (132 Lakeland Heights Blvd., 601-919-9832) Monday, Feb. 16, next to the Flowood Walmart.
Zeek'z will offer a variety of gyros and wraps, including beef souvlaki with sauteed onions, lettuce and tzatziki sauce, or a seasoned chicken wrap with sauteed onions and barbecue sauce wrapped with lettuce. Zeek'z will also have feta pitas, cottage-fried potatoes, curly fries with Greek seasoning and more. The restaurant will feature four types of made-from-scratch hummus, including garlic, Mediterranean olive and chipotle, as well as a special mozzarella sauce with bacon for its fries. The restaurant will also have the Almost Famous Wrap, a gyro filled with curly fries, comeback sauce and more.
Zeek'z has seven beers on draft, 10 types of craft beer by the bottle, to-go service and live music every Thursday night.
Zeek'z will be open Sunday through Thursday from 11 a.m. to 10 p.m., and Friday and Saturday from 11 a.m. to 11 p.m. The price range will be $10 to $13 on average.
The Best Places for Black Businesses
The 2.1 million black business owners in the U.S. generate more than $138 billion in annual revenue, the National Black Chamber of Commerce reports. Consumer advocacy site NerdWallet examined 109 of the largest metro areas in the country and determined that Jackson ranks eighth among the best places for black-owned businesses.
NerdWallet based its criteria on the overall strength of the economic environment in each area and the success of existing black-owned businesses. The number of businesses, median income of employees, cost of living and unemployment rates were also major factors.
The top two areas on the list are Columbus, Ga., and Montgomery, Ala. To see the complete rankings for all 109 areas on the list, visit NerdWallet's website.