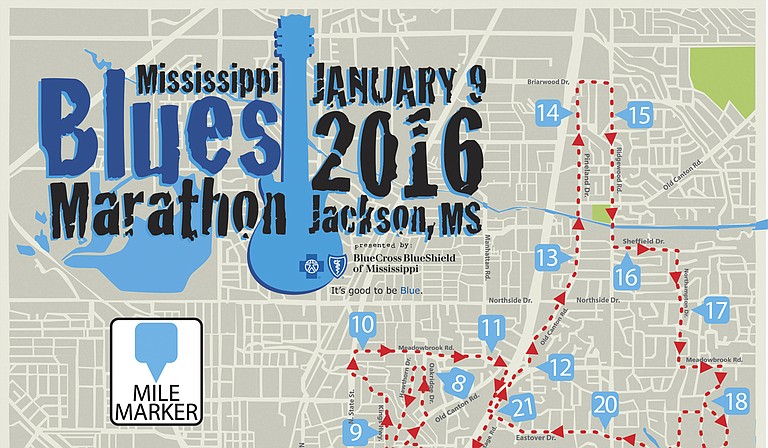 Wednesday, December 30, 2015
The ninth annual Mississippi Blues Marathon is Saturday, Jan. 9. The event showcases the city of Jackson and Mississippi's blues history. Some of the proceeds go to the Mississippi Blues Commission, which helps support local blues musicians.
Like years past, musicians will play before, during and after the race. The start and finish area for the marathon will be at the Mississippi Museum of Art's Art Garden (380 S. Lamar St.) The starting line is at the intersection of Pascagoula and Lamar streets, and the race will go through downtown Jackson to areas such as Fondren and Belhaven.
The full-length marathon and half and quarter marathons will all begin at 7 a.m., and the kids' marathon will begin at 9 a.m. Runners in the full and half marathons have a seven-hour time limit to complete the race, although runners on the course after seven hours will be able to finish unsupported. The quarter marathon and relay race were sold out at press time. The marathon is $90, the half is $80, and the kids marathon is $10. At press time, the music lineup during the race was not available.
Packets can be picked up at the pre-race Blues Expo Jan. 7 and 8 at the Jackson Convention Complex (105 E. Pascagoula St.). Vendors will have running gear and accessories and also blues-related items. Visitors can enjoy musical performances from blues artists. The expo is open from 3 p.m. to 6 p.m. on Jan. 7 and 9 a.m. to 6 p.m. on Jan. 8. Extended packet pickup hours for Jan. 8 are 6 p.m. to 9 p.m.
After the race, the Blues Marathon will host a party in the Art Garden. It will have music, food, sodas, beer, activities for kids and more.
Post-race massages will be available for the marathon's participants at 9 a.m.