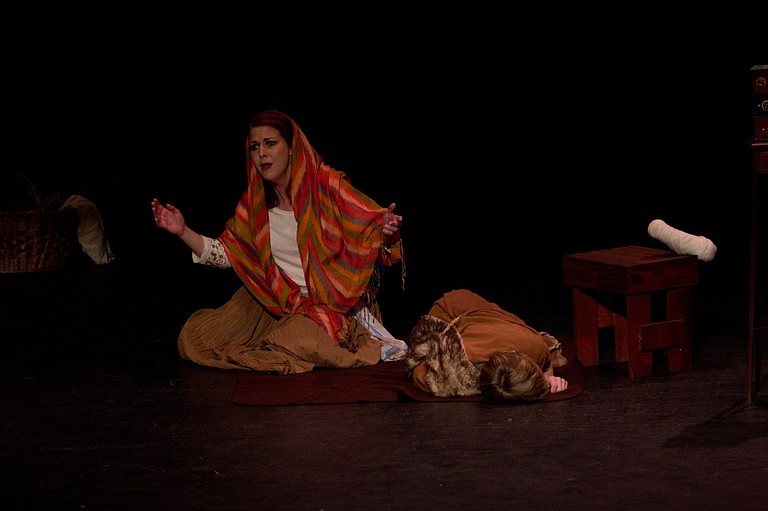 Thursday, December 17, 2015
On Christmas Eve in 1951, Gian Carlo Menotti presented the world with a one-act opera titled "Amahl and the Night Visitors" in New York City at Radio City Music Hall. The production, broadcast by NBC, was the first opera composed specifically for television.
Menotti, a Pulitzer Prize-winning author of operas and a household name at the time, was also known to procrastinate. He later told reporters that he had no viable topic for the 50-minute English-language opera until a little over a month left prior to broadcast, when he came upon the painting "The Adoration of the Magi" hanging in the Metropolitan Museum of Art in New York. As he viewed the artwork, according to the website TVParty.com, he was flooded with memories of his childhood in Italy, where young children tried to stay awake to glimpse the Three Kings—not Santa Claus— who brought them presents on Christmas Eve.
Menotti had his inspiration and his topic, delivering some of the lyric sheets just days before the live broadcast. More than five million people viewed it from coast to coast, making it, to this day, the largest televised opera broadcast. The opera became a Christmas staple for over a decade, shown live and in black and white at first, and later televised in color in 1953 through NBC and its affiliates.
This year, the Mississippi Opera will stage a production of the "Amahl and the Night Visitors" at the Madison Square Center for the Arts in Madison. This is fourth consecutive year that they've produced the opera, which Menotti said he actually wrote with the stage in mind.
In the opera, Amahl, a crippled boy, sees a large star over his and his mother's roof. Later that night, the three kings, Balthazar, Kaspar, and Melchior, visit them.
Tippy Garner, the executive director of Mississippi Opera, says that most characters will recur from last year's production.
Edward Dacus was the previous artistic director for Mississippi Opera and has been the director for each of this production's four years, including this one. His son, Jonathan Dacus, plays the role of Amahl for the second year in a row, alongside Amy Pfrimmer, who plays the role of the mother. Pfrimmer is a voice instructor at Tulane University in New Orleans. Both the director and main character are natives of Clinton, where Jonathan's parents are voice instructors at Mississippi College.
To pull off a production of this caliber, the participants not only have to memorize their lines for the role, but they also have to keep their voices prepared. Garner says that Jonathan prepared the entire summer of last year for his debut role in 2014. This year, she says his workload in the production was a bit lighter, which left him room to focus on other areas, especially on his voice (Ahmal is a soprano). He began preparation at the beginning of the fall for this year's production.
"We would love it if people would start coming to our facility in search of the same feel that they search for when they run over to New Stage Theatre," Garner says. "If people are not familiar with operas, this is a great start for a new tradition, right in Mississippi. Being familiar with Christmas productions such as 'The Nutcracker' and more should be enticing enough to bring newcomers. There are several moments throughout the production that will make you laugh and even moments of surprises."
Mississippi Opera presents "Amahl and the Night Visitors" at the Madison Square Center for the Arts (2103 Main St., Madison) on Dec. 20. General admission is $20, and tickets for students and children are $5. For more information, visit msopera.org.
More like this story