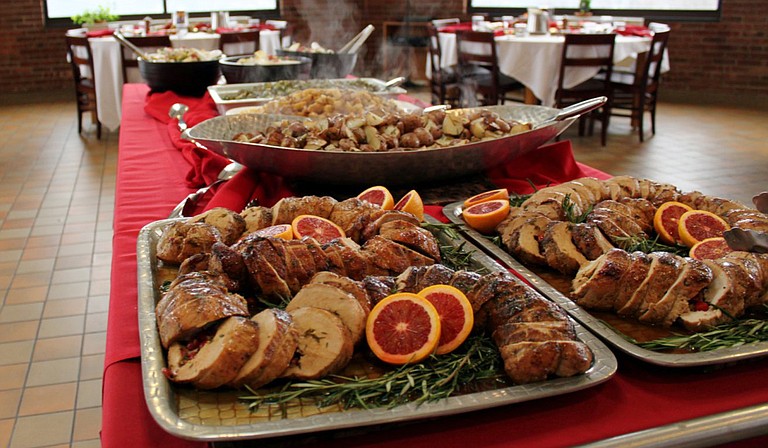 Wednesday, December 16, 2015
The holidays are officially here, so it's time to start thinking about how to feed many people. This Christmas, let local restaurants help you out.
McDade's Markets (multiple locations)
For the holiday menu, McDade's has a ham dinner that consists of a 7- to 9-pound spiral ham, homemade cornbread dressing, a choice of side and pint of gravy. The sides include broccoli-and-rice, sweet-potato, baked-potato or green-bean casseroles, and macaroni and cheese. Customers can pick up catering orders before 4 p.m. Christmas Eve. For more details, visit mcdadesmarkets.com.
Whole Foods Market (4500 Interstate 55 N., 601-608-0405, wholefoodsmarket.com)
This holiday season, Whole Foods' menu will include finger foods such as vegan pumpkin and almond whole-grain wontons, cocktail shrimp platters; turkey, ham, leg of lamb, beef tenderloin and vegan dinners; sides such as mashed potatoes and traditional herb stuffing; and desserts such as cherry pie or a gluten-free apple-almond tart. The platters and dinners feed four to 12 people. For more information, visit wholefoodsmarket.com.
Sugar Magnolia Takery (5417 Highway 25, Suite G, 601-992-8110)
The holiday menu at Sugar Magnolia Takery includes items such as cranberry salsa; desserts such as iced sugar cookies, chocolate chess pie and red velvet chess squares; ham-and-cheese party sandwiches; deviled eggs; homemade gravy; sweet-potato casserole; sausage balls; and a strawberry pretzel salad. For catering, Sugar Magnolia will take special orders up until Monday, Dec. 21, and will be open until 4 p.m. on Christmas Eve for pickup.
Table 100 (100 Ridge Way, Flowood, 601-420-4202)
Table 100 has Christmas catering packages with a choice of meat, three sides, dressing, gravy, cranberry relish and a choice of dessert. The packages feed 10 to 12 people. The restaurant also has pecan pies, bread pudding, sides such as green-bean or sweet-potato casserole and more. Orders must be placed by Thursday, Dec. 17, and must be picked up Dec. 22 or 23 during normal hours. For more information, visit tableonehundred.com.
Just Plain Good Cakes, Cheesecakes and Catering (7126 Siwell Road, Byram, 601-371-1933)
For the holidays, Just Plain Good has an assortment of Christmas cakes and pies in a variety of flavors; assorted cheeseballs; homemade candy trays; sandwich trays; shrimp-stuffed mushrooms; cheesecakes; and wings. Customers must order by Dec. 22, and pick up orders up no later than noon on Christmas Eve. For more information, find Just Plain Good Cakes, Cheesecakes and Catering on Facebook.
Ciara's Bakery and Cafe (870 Avery Blvd. N., Ridgeland, 601-707-8530)
This holiday season, Ciara's has options for home and office catering that include turkey and ham; dressing; macaroni and cheese, vegetables or salad; pies; and cakes. For more details, call 601-956-1116 or visit ciarasbakeryandcafe.net.
Primos Cafe (2323 Lakeland Drive, 601-936-3398; 515 Lake Harbour Drive, 601-898-3600)
For the holidays, Primos has a holiday catering option for office deliveries that includes sliced white-meat turkey; cornbread dressing; giblet gravy; a choice of two veggies, including sweet-potato casserole and macaroni and cheese; cornbread or rolls; cranberry sauce; a slice of cake or pie such as caramel cake and sweet-potato pie; and tea. The package includes plates, cups, straws, cutlery napkin packs, ice, lemons, butter, sweetener, serving utensils and pie serves. The restaurant also has traditional breakfast options, such as a quart of pancake batter, cheese grits and cinnamon rolls. The dinner package includes a whole turkey or ham, cornbread dressing, giblet gravy, a large vegetable, cranberry sauce, dinner rolls and a choice of pie. Customers can buy meats, sides and desserts separately. For Christmas, the pickup dates are Dec. 22-24. On Dec. 24, Primos will be open for Christmas Eve breakfast but will close at 11 a.m. For more information, visit primoscafe.com/holiday.
Strawberry Cafe (107 Depot Drive, Madison, 601-856-3822, strawberrycafemadison.com)
For the holidays, Strawberry Cafe has The Family Feast, which is a dinner for 10 to 12 that includes a choice of pork loin in an orange-honey-rosemary demi glaze or glazed boneless ham; herb-cornbread or oyster dressing; a choice of three sides such as four-seasons salad, baked apples or potatoes au gratin; homemade cranberry sauce; rolls; and caramel pie. Strawberry Cafe also has dips and trays such as spinach-and-artichoke dip or a meat and cheese tray; pick-ups and sides such as sausage-stuffed mushrooms; desserts such as caramel pie or bread pudding; and more. For more information, visit strawberrycafemadison.com.
Chimneyville Smokehouse (970 High St., 601-354-4665, chimneyville.com)
For holiday catering, Chimneyville has meats such as smoked or fried turkey, smoked ham, beef brisket, pork ribs and smoked chicken; and items such as barbecue sauce; cornbread dressing; giblet gravy; green-been casserole; lima beans; purple-hull peas; cranberry sauce; and banana pudding. To see a full menu, find Chimneyville on Facebook. Pick up or delivery is available, and Chimneyville can serve parties on site or at the restaurant. To order, call 601-354-4665.
Broad Street Baking Co. (4465 Interstate 55 N., Suite 101, 601-362-2900)
This holiday season at Broad Street, customers can choose items such as muffins and biscones; brunch items such as potato-hash casserole, a rustic deep dish vegetarian or regular quiche; specialty breads and king cakes, including an apricot-ginger Christmas wreath king cake, monkey bread and stolen, a traditional German Christmas bread; soups such as BRAVO!'s tomato-basil soup and a smoked chicken-and-andouille sausage gumbo; desserts such as crack pie and bread pudding; sides such as Yukon gold mashed potatoes and corn maque choux; and main courses such as grilled salmon, honey-glazed ham and fried turkey.
Nandy's Candy (1220 E. Northside Drive, Suite 380, 601-362-9553)
For the holiday season, Nandy's Candy has treats such as chocolate and caramel popcorn; pralines; holiday-themed petits fours; 
decorated cookies; chocolate-covered strawberries; chocolate-dipped, holiday-themed Oreos; buckeyes; gingerbread people; chocolate Rudolphs; mint-chocolate drops; and other treats. For more information, find Nandy's Candy on Facebook.
Grant's Kitchen (2847 Lakeland Drive, Flowood, 601-665-4764)
For the holidays, Grant's will have dinner packages that serve 12 to 18 people and include a whole roasted turkey, two sides, a dozen rolls and two pies, as well as a wide variety of dressings, desserts and other menu options available individually. Customers can get vegetables and sides in pints, quarts, gallons and half gallons. For pricing, visit grantskitchen.com.
Cookin' up a Storm (1491 Canton Mart Road, 601-957-1166)
Cookin' up a Storm's holiday menu includes stuffing with sage sausage, apple and pecans; sweet-potato casserole; scalloped pineapple; roasted seasonal vegetables; corn souffle; cranberry salsa; coffee-liqueur mustard sauce for beef; banana pudding, key-lime pie with a pecan praline crust, pecan pie, chocolate pecan pie; mint lemonade tea; breakfast casserole; and pecan pie muffins. Call 601-957-1166.
Campbell's Bakery (3013 N. State St., 601-362-4628)
For the holidays, Campbell's has holiday-themed iced teacakes; caramel cake; holiday-themed petits fours; and peppermint bark. The bakery sells the teacakes by the dozen. For more information, find Campbell's on Facebook.
Seafood R'evolution (1000 Highland Colony Parkway, Ridgeland, 601-853-3474, seafoodrevolution.com)
On Dec. 21, Seafood R'evolution will host a Reveillon Creole Christmas dinner following the long-time holiday tradition in New Orleans. The menu includes a "'Twas the Night Before Christmas" soup, which has lump crabmeat, spinach and artichoke; a reveillon salad with red and golden beets, late fall greens and a cane syrup vinaigrette; fillet of speckled trout Nicholas, which has spinach Rockefeller and sauce Acadian; roasted mallard duck with a farre dressing, white asparagus and a sauce forestiere; and buche de Noel, which is a triple chocolate black cake with brandied cherries and creme Anglaise. The dinner is $100 per person and will begin at 6 p.m. For more information and to see a holiday catering menu, find Seafood R'evolution on Facebook.
Que Sera Sera (2801 N. State St, 601-981-2520)
For the holidays, Que Sera Sera will have its regular catering menu available. For more information, call 601-981-2520.
Char Restaurant (4500 Interstate 55 N., 601-956-9562, charrestaurant.com)
For the holidays, Char will have a catering menu that includes cornbread dressing, creamed spinach, mashed sweet potatoes, butter beans and green beans. Orders for Christmas must be placed by Dec. 18 and must be picked up by 2:30 p.m. on Dec. 24. To place an order, call 601-956-9562.
The Pig & Pint (3139 N. State St., 601-362-6070, pigandpint.com)
For the holidays, The Pig & Pint has a menu that includes meats such as pecan-wood smoked turkey, turkey breast, or pulled pork, and a smoked Angus brisket; sides such as collard greens, Momma Hutcheson's cornbread dressing, potato salad and smoked tomato aioli cole slaw; pecan-wood smoked gravy and Carolina mustard sauce; and desserts such as banana Foster pudding and white chocolate and cranberry bread pudding. Orders must be placed and paid for by Monday, Dec. 21, and picked up by Wednesday, Dec. 23.
Babalu Tacos & Tapas (622 Duling Ave., 601-366-575)
This holiday season, Babalu has a cocktail party menu that includes bites such as black-bean fritters, crab fritters, mini Baba burgers and pico de gallo; desserts such as spicy Mexican fudge and dulce de leche cheesecake bites; and you can also get Babalu's hand-crafted cocktail mixes. For dinner parties, Babalu's menu includes salads such as the Babalu chop salad; a taco bar that includes ones such as pollo (chicken), carne la vaca (beef) and vegetal (vegetables); dips such as guacamole and yellowfin tuna ceviche; and tapas such as enchiladas, grilled chicken satay and torta Cubana bites. Babalu also has an office lunch menu. For more information on the options, visit babalutacos.com or call 601-613-6679.
Sal & Phil's (6600 Old Canton Road, 601-957-1188 )
For the holidays, Sal & Phil's will have items such as boiled and peeled shrimp, marinated crab claws, gumbo and red beans and rice. For more information, call 601-957-1188.
This isn't an exhaustive list. Restaurants and caterers can add more options at jfp.ms/holidayfood15. Remember to support local restaurants and caterers this holiday season and through the entire year.