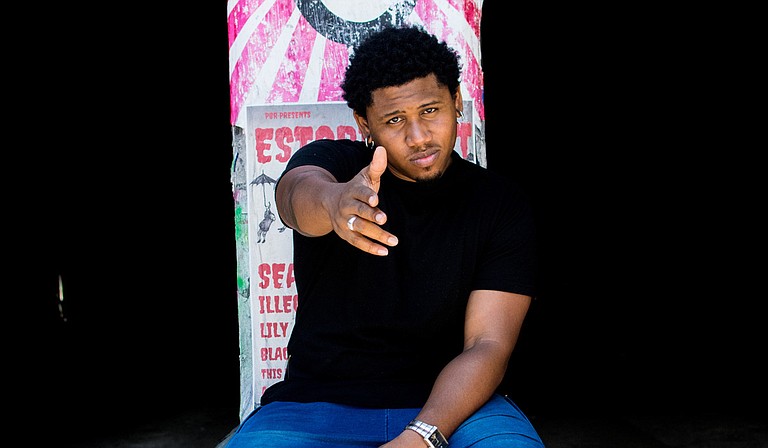 Wednesday, December 9, 2015
Mississippi hip-hop fans may be familiar with the wistful flow of rapper Justin Johnson, a Jackson native who performs under the moniker LV Baby, but his latest release, "Blu Moon," begins a new phase of his career—one that he says is all about imparting truth in the present.
"With 'Blu Moon,' what I wanted to focus on was this period in our culture and our society," Johnson says. " ... I reflect back on conversations I've had with co-workers, who were a little uneasy with things turning more violent. I have to remind them that, you know, we've had a lot of peaceful movements, but the most renowned peaceful leader we've had, Martin Luther King Jr., was shot. That's the reality of the situation. It's a very hard thing to talk about, but I wanted to make something that's difficult to talk about easy to listen to."
While several tracks take on current issues, he also wanted the music to be timeless, which he says is about "noticing what's happening now and tying it in with where we should be or will be in the future."
For Johnson, 23, that also meant reflecting on modern rap music.
"I'm trying to bring that raw honesty and reality back into hip-hop, especially because it's an oversaturated market with a bunch of people fabricating or stretching the truth to the point that now it's just kind of lie after lie," he says. "People say it because it sounds cool, but it's not really true. We don't recognize what it's doing to us. We're all about the appearance of wealth rather than establishing it, sewing the seeds and producing more wealth in our community."
Despite all the heavy material on the album, Johnson's laid-back delivery, smooth beats and refined musicality keep it from feeling too dour. "Blu Moon" is about providing light in a dark time, which means letting listeners enjoy the ride.
"I tried to make something that's deep but simplistic in sound that sounds really good," he says. "At the very least, if you don't get everything from the first listen, it's 'riding' enough, as I like to put it, where you can listen to it again, and over time, you'll have those 'aha' moments."
Johnson's work as LV Baby is a far cry from his earliest songwriting. After transferring from Jackson Public Schools to St. Joseph Catholic School in Madison as a freshman, he met Jared Pellerin and Jonathan Faulkner and formed rap group Homesick Astronauts. The trio continued throughout high school, even after Johnson transferred to Murrah High School for his junior and senior years, graduating in 2010.
"The beats we first made and the songs we first made were just wild," Johnson says. "We Googled the craziest things to rap about. Like, 'Monkeys in Space' was a song from that. We just exercised that creative portion, and that's what developed our ability to write verses, bars and whole songs that are specific to one topic but might be about anything."
Although Johnson and Pellerin continued making music while attending Mississippi State University, they chose to do so as solo artists—Johnson as LV Baby and Pellerin as Pell. However, the two remain close and recently worked together on Pellerin's track, "The Never," which appeared on Comedy Central TV show "Broad City" in January 2015. Before graduating from MSU with a bachelor's degree in marketing in 2014, Johnson also connected with Sir Flywalker and Staccs, his main producers on "Blu Moon."
Even with a new album on the horizon, Johnson, who is now based in Atlanta, is already preparing for his next studio project, which he says you can find hints of on his self-produced, guitar-laden "Blu Moon" bonus track, "American Pie."
"My sound tends to be really chill, relaxed and easy to listen to, which typically in hip-hop is done over sampled beats," Johnson says. "... That's kind of like piggybacking on someone else's creation. Incorporating my own guitar and making my own beats, it's all made from scratch."
LV Baby's "Blu Moon" is available Friday, Dec. 25, at lvbaby.life.