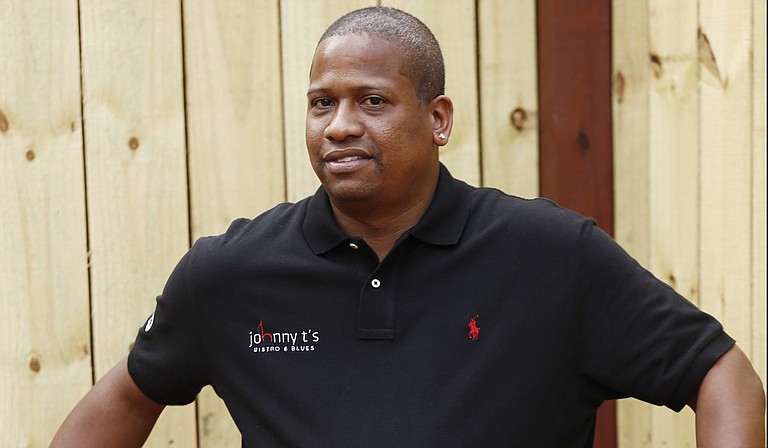 Wednesday, December 9, 2015
After being open for six months, John Tierre says his Johnny T's Bistro & Blues and the adjoining lounge called 540 are holding their own in spite of, literally, being the new kids on the block—without the same rights.
Just a few blocks to the south on Farish street, patrons of F. Jones Corner can dance until dawn thanks to the club's presence in what is known as a qualified resort area. A stone's throw away, on Mill Street, is Freelon's Bar & Groove, which also enjoys resort status.
When the city created the Farish Street Entertainment district in 2004, it meant that two blocks of the historic boulevard as well as Freelon's would have resort status, a legal designation that allows those establishments to remain open and continue pouring spirits after 2 a.m.
Nonetheless, Tierre believes Johnny T's has a competitive advantage because of the quality of its menu and the ambiance of the historic building where it sits. Still, when the city announced recently that it would create a new entertainment district that would provide resort designation to one business, Cathead Distillery on South Farish, Tierre thought it was "really weird" that existing businesses wouldn't benefit from the incentive tool.
"I don't want to be at a disadvantage. They're creating resort statuses all around me, and it's giving other bars and other restaurants an advantage over me so I want to be on the same playing field," Tierre told the Jackson Free Press.
Tierre's sentiment echo those of Malcolm White, a co-founder and owner of Hal & Mal's, and others in panning the City's newly formed Pascagoula Entertainment District.
After the city council unanimously voted in favor of the new district, White even took to social media blasting the plan as "piecemeal, helter-skelter, unorganized." As a result, several businesses that normally compete against one another are coming together to advocate for resort status for all the watering holes downtown.
"I think we have to take care of the businesses that have been loyal to the city of Jackson for years and years," Ward 6 Councilman Tyrone Hendrix told the JFP in response.
State law permits certain establishments with resort status to remain open 24 hours a day and allow establishments to sell alcohol without 25 percent of sales coming from food. After some city council members opposed to an earlier version of the proposal because longtime restaurants, including Hal & Mal's, would not benefit, a new plan emerged to keep the entertainment district but to grant resort status only to the new Cathead Distillery on South Farish Street.
"We're in conversations with Johnny T's and Hal & Mal's and the other potential people so that we can get them to get the necessary letters," Mike Davis, the City's economic-development manager, told council members, referring to a provision of state law that requires applicants for qualified resort status to collect "endorsement letters" from area civic clubs.
Specifically, Davis said applicants would need letters of support from nearby churches; St. Alexis Episcopal is a third of a mile south of Hal & Mal's. With the letters, Davis said other establishments would be eligible "on the next go around" of applications for resort-area applications but did not specify when that would take place.
White said a story on the Jackson Free Press' website was the first time he'd heard about needing letters from the church and that none of his employees had met with City officials. Shelia Byrd, a spokeswoman for Mayor Tony Yarber, said Davis spoke with a representative of Hal & Mal's but did not make contact with White; Byrd did not know the name of the representative with whom Davis met.
Tierre said he recalls once mentioning to city officials around the time the bistro opened last summer that he would like resort status for Johnny T's if possible, but that there has not been an ongoing conversation.
"It just came out of nowhere, and we saw it was approved," Tierre said, adding that he planned to contact the Rev. Hickman Johnson at nearby Farish Street Baptist Church.
The new entertainment area would roughly encompass an east-to-west span from Mill Street to Lamar Street and Pearl Street to South Street. The plan, Davis said, would also pull in One Jackson Place, an office building on Capitol Street, as well as an area near East Silas Brown Street near The South, a popular event space downtown.
White said although the restaurant has not advocated for resort status, he believes all downtown bars and restaurants should be able to participate to keep the playing field level.
"If the city is going to expand on resort status, they need to include everybody who wants to be in that business," White said. "It's not just about Hal & Mal's and Cathead. It's about (Underground) 119, and it's about The South and all these other places."
Yarber has said that the City had a better chance of success with a more modest proposal. Ben Allen, president of the Downtown Jackson Partners Inc. business-improvement district and a former Jackson City Council member, disagrees with the mayor, saying that a more comprehensive plan would have the best chances of success.
Allen, who was the only lone "no" vote when the council extended resort status to Farish Street and Freelon's in November 2004, told the JFP: "I strongly felt then, and I strongly feel now that both should be resort status after a long-range land-use plan is done for all of downtown Jackson that includes future land-use proposals."
At the Dec. 15 city council meeting, Hendrix said he plans to introduce an order of the city of the council establishing qualified resort-area status for restaurants along the Commerce Street corridor, which includes Hal & Mal's.
Comment at www.jfp.ms. Email R.L. Nave at [email protected]