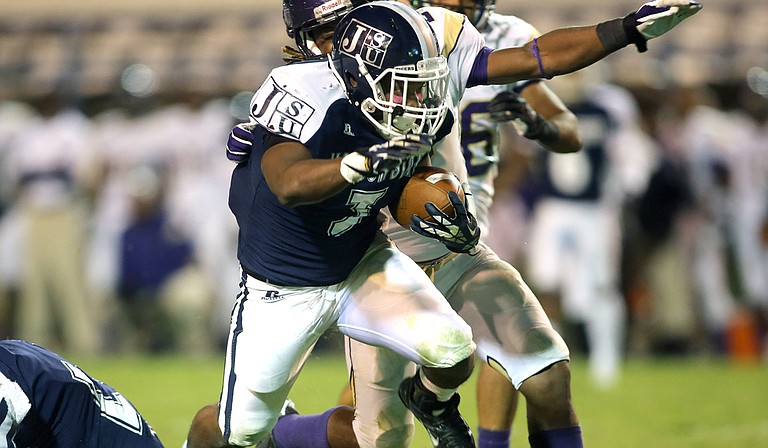 Thursday, August 20, 2015
Jackson State University hoped to rely on senior running back Rakeem Sims to carry the rushing attack last season. Sims' season ended with a knee at the end of a 33-30 victory over the University of Arkansas at Pine Bluff.
The Tigers then turned to highly touted sophomore Jarius Moore to lead the ground game. In his first game as the starting running back, Moore rushed for 54 yards on 13 carries and made a touchdown in a 27-23 loss to Mississippi Valley State University.
Moore finished the season with 380 yards on 77 carries with three touchdowns in 10 games of action. He added 121 yards receiving on 12 catches with a touchdown as well last season. The sophomore also had eight kickoff returns for 152 yards. He averaged 4.9 yards per carry and 38 yards per game last season. Moore also averaged more than 10 yards per catch.
The 5-feet 11-inch, 205-pound running back was a star at Terry High School. Moore passed for 1,305 yards and had a 118.6 passer rating his senior season there. Moore also rushed for 1,207 yards to finish in 6A and second in Region 3 in rushing, and he also had 38 yards receiving. He finished his senior season with 2,551 yards, which was fourth best in 6A, and he added 83 yards on four kick returns.
Moore could have added even more to his offensive totals, but he only played seven games on offense and was moved to defensive back. He made 12 tackles and four pass deflections on defense.
The Terry native started his career as a Tiger during the 2013 season, spending most of that year returning kickoffs, with 295 yards on 23 returns.
During his freshman season, Moore got few chances to rush the ball in the 11 games he played in. He finished the season with 87 yards on 27 attempts with a touchdown. He also had two receptions for 32 yards.
One thing that has kept Moore from reaching his full potential on the field has been injuries. During spring training of 2014, the running back suffered a leg injury similar to quarterback LaMontiez Ivy.
He has not been able to have a completely healthy season at Jackson State, and a healthy Moore will go a long way in improving the Tigers' running game. Last season, Jackson State finished last in rushing as team in the SWAC with just 100.3 yards per game.
The Tigers finished 111th out of 121 teams in FCS in rushing last season. It is not just injuries that have hurt Moore's production, as the lack of good offensive line play has hurt that as well.
Moore will combine with fellow Terry High School star Robert Johnson IV to provide a nice one-two punch in the back-field for the Tigers. Johnson finished behind Moore in rushing on the team last season.
Jackson State opens its season on Sept. 5 at 6 p.m., on the road against Middle Tennessee State University of Conference USA.
More like this story